United States Donizetti, Roberto Devereux: Soloists, chorus and orchestra of San Francisco Opera / Riccardo Frizza (conductor), War Memorial Opera House, San Francisco. 8.9.2018. (HS)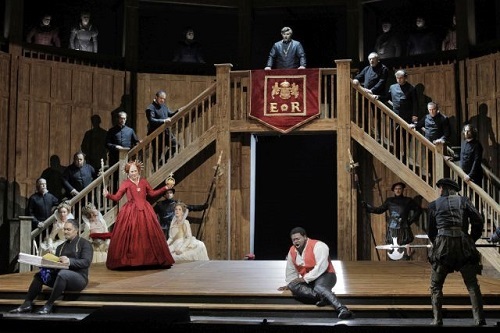 Cast:
Elisabetta (Elizabeth I) — Sondra Radvanovsky
Roberto Devereux — Russell Thomas
Sara — Jamie Barton
Duke of Nottingham — Andrew Manea
Lord Cecil —Amitai Pati
Walter Raleigh — Christian Pursell
Production:
Director —Stephen Lawless
Set Designer — Benoît Dugardyn
Costume Designer — Ingeborg Bernerth
Lighting Designer — Christopher Akerlind
Chorus Director — Ian Robertson
Although Roberto Devereux, the final installment of Donizetti's trilogy of operas centered on historical English queens, carries the tenor's name in the title, the composer lavished its most extraordinary music on the soprano and her character, Queen Elizabeth I. And indeed, despite a powerful cast top to bottom, there's no doubt on whom the spotlight shone brightest Saturday, in the first of six performances of this notoriously demanding role at San Francisco Opera.
Quite simply, Sondra Radvanovsky delivered a stupendous, intense and nuanced performance that ranks among the very greatest of any ever heard in this opera house.
The production, from Canadian Opera and the London-based director Stephen Lawless, sets the proceedings in a tall wooden semi-circle that calls to mind Shakespeare's Globe Theatre. The historical plays of the best-known non-royal from the Elizabethan era clearly inspired Lawless' emphasis on big emotions leading to high drama.
The cast reunites key players from San Francisco's superb Norma (2014), including Radvanovsky, mezzo-soprano Jamie Barton as Sara (Nottingham's wife and Elizabeth's confidant), and tenor Russell Thomas as Roberto, the Earl of Essex and the queen's inamorata. In smaller roles, tenor Amitai Pati as Lord Cecil and baritone Andrew Manea as the Duke of Nottingham contributed exceptional portrayals.
Italian conductor Riccardo Frizza, who has done fine work here leading Donizetti's Lucrezia Borgia (2011), Bellini's I Capuleti e i Montecchi (2012) and Puccini's Tosca (2014), struck a welcome balance musically between moments relishing the sheer beauty of the composer's bel canto writing and a supple rhythmic pulse that kept things from ever hinting at indulgence. He drew idiomatic and polished playing from the orchestra.
No one benefited from that more than Radvanovsky. In total vocal and dramatic command, she caressed the sweetness of the bel canto flow, floating or piercing high notes as necessary, low notes exploding with richness and dark tone. She deployed the peppery reserve power of her dramatic side, underlining the character's seething emotions.
In the Act I scene when Roberto gives the queen reason for a memorable eruption of jealousy ('Nascondi, frena i palpiti'), she was alternately regal, coquettish, and stern. Her voice and body language conveyed the queen's conflicting tides of duty to country and rage. She painted a vivid personality, a three-dimensional human being coming to life before our eyes and ears.
In confrontations with every major character, we could feel Radvanosky's emotions boiling, revealing themselves in pungent flashes of edgy vocal tone in a sea of flowing melody. In the final scene, set in the queen's chambers, alone in turmoil after sentencing Roberto to death, Radvanosky delivered a searing 'Vivi ingrato, a lei d'accanto'.
Barton, whose romanza 'All'afflitto è dolce il pianto' is the first aria heard, set the tone with liquid phrasing and her signature burnished sound. Her Act III duet with Nottingham, 'Non sai que un nume vindice', introduced enough grit to make it work dramatically. With his soft-edged baritone, Manea (replacing Artur Rucinski, who withdrew from the role of Nottingham when he suffered a bicycling injury) acquitted himself well with a sympathetic Act I cavatina, 'Qui ribelle ognum ti chiama'.
With a pure, focused tenor sound, remarkably even from top to bottom, Thomas managed to convey both the nobility and anguish of the title character, pressured to name the queen's rival for his love. If his Act I aria, 'Nascondi, frena i palpiti', emphasized vocal beauty over the underlying nervous energy, he created a time-stopping moment as he awaited his execution with his Act III aria, 'Bagnato il sen di lagrime'.
The chorus, mostly arranged in shifting patterns in the higher reaches of the Globe's tiers, contributed lusty singing.
If a pageant-like parade during the orchestral prelude of historical characters (including William Shakespeare), an armada of boat models depicting England's naval victories, and a floor-to-ceiling map of the British Isles as a backdrop weren't obvious enough, Lawless applied directorial touches to the staging, such as portraying the queen's counsel as highly conflicted over the death warrant.
In the end, the fireworks came, as they should, from the music, a cast that injected a little pungency to the score's beauty, and most especially, a tour-de-force from an indefatigable Radvanovsky.
Harvey Steiman