United Kingdom Wagner, Schoenberg and Bruckner: Angela Denoke (soprano), Philharmonia Orchestra / Esa-Pekka Salonen (conductor), Royal Festival Hall, Southbank Centre, London, 27.9.2018. (AS)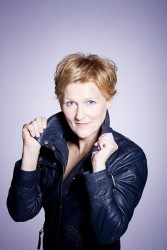 Wagner – Gotterdämmerung – Siegfried's Death and Funeral March
Schoenberg – Erwartung, Op. 17
Bruckner – Symphony No. 6 in A
A successful performance of Schoenberg's Erwartung depends largely on the quality of the soprano soloist. She must be able to convey vividly the anguish and changing states of the mind of the sole protagonist, an unnamed woman, who after searching for her lover in a forest then finds his dead body near the house of another woman. The German soprano Angela Denoke filled the role wonderfully well. She has the asset, first and foremost, of a warm, beautiful and powerful voice, and though Schoenberg takes care not to let his huge orchestral forces swamp the soloist, the solo line was always clearly projected by Denoke. Her pitching of the awkward intervals in that solo line seemed perfect, and though she has an attractive vibrato that enhances her varied tone colours it never threatened to impinge on her pin-point intonation. Denoke's superb technique was the secure base on which she developed a powerful representation of the work's highly charged dramatic element. Every twist and turn of the woman's tortured feelings was conveyed with maximum intensity. It certainly helped, too, that a line-by-line English translation of Marie Pappenheim's German text was projected in the form of surtitles: this enabled audience members to follow every strand of the woman's thoughts with perfect clarity.
The orchestral contribution was also superlative. Under Salonen's clear direction a high degree of tension was maintained throughout, and Schoenberg's extraordinarily innovative scoring was conveyed accurately, expressively and confidently by the Philharmonia players. What a pity that the performance seems to have gone into thin air, for no recording equipment was in evidence.
The concert had begun with a spacious, magnificently dramatic performance of 'Siegfried's Death and Funeral March' from Wagner's Gotterdämmerung, and the concert's second half comprised Bruckner's Sixth Symphony, played as it usually is in Leopold's Nowak's 1952 edition of the original 1881 manuscript.
The eloquent opening theme of this work, with its persistent triple-time accompaniment, quickly seizes the attention, and Salonen's urgent conducting made the most of it all. His tempo was quite fast, but this particular movement responds well to such an approach, the symphonic argument being more tightly argued than is customary for Bruckner. The playing of this recently much improved orchestra was of a high standard, and as a whole it was a most satisfying and indeed exciting reading of the first movement. Would Salonen relax a little in the solemn Adagio? Yes, he did, and his lovely shaping of the music's long melodic lines gave much pleasure, as did the warm tones of the Philharmonia's string section. The Scherzo was played at an ideal basic tempo, its abrupt changes of dynamics well brought out as well as the music's dancelike quality, and the trio sections were conveyed with a good deal of charm. The finale was notable for some marked changes of tempo that however seemed not at all contrived, since they dovetailed into one another quite naturally. As is his usual wont, Bruckner provides a potentially triumphant conclusion to this symphony, with brass ablaze, and Salonen gave his players every encouragement in fulfilling the composer's intentions.
All in all, it was a most successful evening of musicmaking, and a good beginning to the Philharmonia's new concert season.
 Alan Sanders   
 For more about the Philharmonia Orchestra's 2018/19 season click here.