United States Festival O18 [2] – Lembit Beecher, Sky on Swings: Soloists and Orchestra of Opera Philadelphia / Geoffrey McDonald (conductor), Opera Philadelphia, Kimmel Center for the Performing Arts – Perelman Theater, Philadelphia, 22.9.2018. (RP)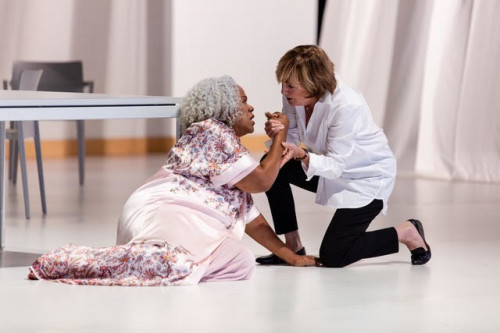 Cast:
Danny – Frederica von Stade
Martha – Marietta Simpson
Winnie – Sharleen Joynt
Ira – Daniel Taylor
Elder #1 – Veronica Chapman-Smith
Elder #2 & Elderly Woman – Maren Montalbano
Elder #3 – George Somerville
Elder #4 – Frank Mitchell
Production:
Director – Joanna Settle
Set designer – Andrew Lieberman
Costume designer – Tilly Grimes
Lighting designer – Pat Collins
Sound designer – Daniel Perelstein
Wig & Make-Up design – David Zimmerman
Opera audiences are no strangers to female heroines dying from fatal diseases. Two of the most beloved, Verdi's Violetta and Puccini's Mimì, die from consumption or, in modern medical parlance, pulmonary tuberculosis, a disease for which there was no cure in the nineteenth century. Those women also happened to have been from the lower fringes of society and thus safely removed from the lives of the respectable folk sitting in the opera house.
Their fates were also wrapped up in love stories, and their heart-wrenching deaths bring a semblance of dignity and purpose to their plights. So too with Danny and Martha, the two women afflicted with Alzheimer's disease who are at the heart of Sky on Swings, a powerful new opera by composer Lembit Beecher and librettist Hannah Moscovitch that received its premiere at Opera Philadelphia's Festival O18 on 20 September, the eve of World Alzheimer's Day. The trouble with dementia is that we can't keep it at a safe distance in the twenty-first century.
Danny and Martha are among the lucky ones, with children who care deeply for them, visit regularly and accept the great blessing that while their mothers are lost to them, they are not to each other and, most importantly, are at peace. (They also have the funds to spend their final days in a spotless modern facility.) It's a love story occasioned by the loss of cognitive abilities and delusion, but no less real to Danny and Martha.
The heroes are their children: Martha's daughter, Winnie, played by Sharleen Joynt and Danny's son, Ira, performed by Daniel Taylor. Winnie's marriage fell apart over the time she spent tending to her mother; her ex-husband was a good man who just couldn't share his wife with someone who probably didn't know who he was. Now a single mother, she is all brisk efficiency. Her vocal lines are angular and treacherously high, as to if to symbolize the tightrope that she walks balancing life as a single parent with time spent with her mother.
Daniel Taylor as Ira was a bear of a man dealing with the impossible, convincing his mother, a woman of formidable intellect with a career as a researcher, that the time has come. (One of the Elders observes that it is those who took pride in the quickness of their minds that suffer the most.) Ira coerces his mother into playing a simple memory game that she fails abysmally. It was heartbreaking to watch, as was his cry of 'Mom!' that ached with love and frustration.
Frederica von Stade was Danny and Marietta Simpson was Martha. In the program booklet, Beecher wrote that he enjoyed writing vocal lines suitable to where their voices are now. Of course, it was an act of love: snippets of melody, humming and nonsense syllables that resonated with the deepest of emotions.
Time has not diminished the artistry of either singer or the innate beauty of their voices, and has only enhanced their communicative powers. Their faces have become magnificent canvasses on which the characters' deepest feelings are painted. In contrast, the perfect, wrinkle-free complexions of their children seemed blank and fresh in spite of their cares.
The Four Elders displayed the various stages of the disease's cruel progression. Drifting on and off the stage, they acted as a Greek Chorus observing and commenting on what they saw, even if it was inaudible or unintelligible to anyone but themselves.
A dozen or so silent men and women also rambled about the stage. Nothing rang truer to me than the scene where Winnie and Ira were waiting in the lounge making small talk. A woman with a walker entered the room and stood staring vacantly at the TV, never uttering a sound. Someone had experienced the reality of such care facilities to render that scene so perfectly.
Beecher's score almost defies description except that it created an atmosphere in which one is suspended in time. There were definitely melodies, most often heard in the strings, but the transitions between tonality and dissonance were barely perceivable. One of the most beautiful sounds was Simpson's voice paired with the marimba, their vibratos perfectly synchronized. Conductor Geoffrey McDonald made it all seem so simple and easy, but it couldn't have been.
The set was stark, a neutral light gray for the walls with white furniture and curtains. A large horizontal rod wrapped in LED lighting and suspended above the stage was raised and lowered, and it changed color as well. I'm not sure what it was meant to be, but to me it depicted the plaques and tangles that damage and kill the nerve cells of those afflicted with the disease.
The love story was a simple one. Martha imagined that Danny was the girl that she had a teenage crush on many summers ago. At first Danny protested, but it was the spark the formed the bond between the two women. Martha died cradled in her arms leaving Danny in a happy far-off place singing of her love.
Rick Perdian
For more about O18 click here.