The Royal Opera House celebrates 10-years of live cinema broadcasts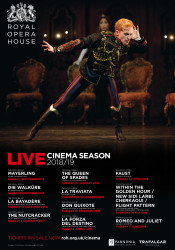 For the first time, the Royal Opera House has sold over one million cinema tickets reaching this target in the 2017/18 Season. Featuring 12 productions broadcast in 51 countries across the globe, the Royal Opera House's Season achieved a new goal simultaneously as the organisation celebrates 10-years of live cinema since the inaugural broadcast of Mozart's Don Giovanni in 2008.
The Royal Opera House's exciting 2018/19 Season will feature six ballets including Mayerling (live 15 October, encore 21 October), La Bayadère (live 13 November, encore 18 November), The Nutcracker (live 3 December, encore 9 December), Don Quixote (live 19 February, encore 24 February), A Triple Bill (live 16 May, encore19 May) and Romeo and Juliet (live 11 June, encore 16 June) and five operas Die Walküre (live 28 October), The Queen of Spades (live 22 January, encore 27 January), La Traviata (live 30 January, encore 3 February), La forza del destino (live 2 April, encore 7 April) and Faust (live 30 April, encore 5 May) – all dates based on the UK schedule.
Phyllida Lloyd, Director commented:
'I am thrilled that the Royal Opera House are celebrating 10 years of cinema broadcasts in 2018. As live cinema screenings continue to grow in popularity, I am pleased to see art in all its forms reaching new audiences around the globe.'
Audiences are never far from a performance at the Royal Opera House with most UK viewers located within 30 miles of a cinema screening. The Royal Opera House 2018/19 Season will be broadcast in over 1,500 cinemas across the globe featuring a range of classic and contemporary repertory from The Royal Ballet and The Royal Opera. The cinema screenings provide the best seat in the house with exclusive interviews, behind-the-scenes footage and close-ups of the performers in action – audiences are transported into the world of opera and ballet, feeling something new with each screening.
 Tony Followell, Head of Broadcast and Distribution, the Royal Opera House commented:
'Over the last 10 years the Royal Opera House has broadcast breath-taking live performances of world-class opera and ballet to audiences across the globe and we're thrilled that last season over a million people attended one of our screenings. You're never far from a Royal Opera House cinema relay and we aim to provide an unforgettable experience meaning that everyone can truly feel something new. In 2018/19 we hope to build on this success, bringing ballet and opera to ever-widening audiences.'
For further details of the worldwide screening of Mayerling, Die Walküre and the rest of The Royal Ballet and The Royal Opera cinema broadcasts click here.
For Seen and Heard's reviews from cinema broadcasts and film worldwide click here.