Germany Mozart, Le nozze di Figaro: Soloists, Dancers, Saxon State Opera Chorus (chorus master: Cornelius Volke), Sächsische Staatskapelle Dresden / Kristiina Poska (conductor). Semperoper, Dresden, 30.9.2018. (MB)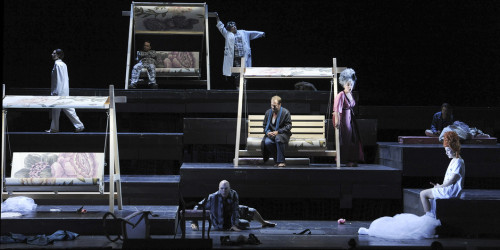 Cast:
Count Almaviva – Sebastian Wartig
Countess Almaviva – Iulia Maria Dan
Susanna – Athanasia Zöhrer
Figaro – Martin-Jan Nijhof
Cherubino – Grace Durham
Marcellina – Sabine Brohm
Bartolo – Matthias Henneberg
Don Basilio – Aaron Pegram
Barbarina – Tahnee Niboro
Don Curzio – Gerald Hupacj
Antonio – Chao Deng
Bridesmaids – Beate Apitz, Heike Liebmann
Production:
Director – Johannes Erath
Set designs – Katrin Connan
Costumes – Birgit Wensch
Revival director, Costumes – Noëlle Blancpain
Lighting – Fabio Antoci
Dramaturgy – Francis Hüsers
Rarely can an opera house run on full cylinders night in, night out – especially when the night before has entailed a Moses und Aron premiere. One would not necessarily expect a starry Elektra or, indeed, a starry Figaro to follow. If the performative musical side of this Marriage of Figaro rarely scaled the heights, nor was there anything truly to complain about. Sebastian Wartig's Count came close at times, often strangely underpowered, although he marshalled his forces well at the very close. Matthias Henneberg's Doctor Bartolo, moreover, made a strangely reticent impression in his first-act aria, not helped by Kristiina Poska's breathless tempo, surely more suited to Rossini than to Mozart. Otherwise, Iulia Maria Dan increasingly impressed as a graceful, gracious Countess, Athanasia Zöhrer's Susanna likewise grew in communicative character, and Grace Durham's Cherubino came up trumps. (When was the last time you heard a Cherubino who did not?) Nevertheless, when the most memorable singing came from the Barbarina (Tahnee Niboro) and the Antonio (Chao Deng) it can hardly be accounted a vintage night in vocal terms.
Poska's tempi were not, thank goodness, universally fast, although a brutal Overture had had me fear the worst. Some, indeed, proved slower than one might have expected, never ponderous. Given what ghastly perversities we must often endure in Mozart performance today, there was much for which to be grateful, and it is always a pleasure to hear the Staatskapelle Dresden in this music, its woodwind section here especially fine. No, it was not Sir Colin Davis – 'Der Sir', as this orchestra lovingly used to call him, his bust not so far from my seat, in the First Balcony foyer – but it was a more than competent account of one of the most cruelly unsparing, cruelly familiar works in the repertoire: Kapellmeisterei in a far from negative sense, and not, I suspect, with a great deal of rehearsal.
The problem, however, really lay with Johannes Erath's 2015 production. It was once the case that Figaro seemed relatively director-proof; more recently, however, it seems to have proved as difficult for large houses to pull off as that notorious directorial graveyard, Don Giovanni. It may sound as if I exaggerate when I say that most of the excellent Mozart opera I have heard over the past few years has come from conservatoires, but it is genuinely the case, the Royal Academy's 2015 Figaro a case in point. I say this not, I hope, from a reactionary standpoint. The most searching, revelatory staging of this opera I have yet to see was Claus Guth's Strindbergian reimagining of the work for Salzburg. (Alas, Salzburg's record in Mozart since has struggled even to reach mixed; I was relieved not to have to write for this year's intolerably vacuous Magic Flute.) Erath tries to do something with the work, which is surely only to be applauded; any putative prize for effort, however, is immediately and, moreover, increasingly obscured by condescension, disrespect, and such tone-deafness as to have one wonder that the director began his career as a violinist.
The concept, if one may call it that, seems to be to set the first act, the second and third acts, and the fourth in different theatrical periods, with nods to their styles (or rather to their hoariest of clichés as seen, not by them, but by directors of little imagination yet much talk). The first act thus seems to nod to origins in the commedia dell'arte, but that is really nothing more than a matter of stylised (twenty-first-century stylised) costumes. The rest is mostly silliness: Figaro singing whilst his face is up Susanna's absurdly large dress and so on. For some reason – or none – Marcellina lip synchs along to much of Bartolo's vengeance aria until she, well, stops doing so. Cherubino, pointlessly, sits on an electronically elevated table rather than hiding as he normally would. (It really is not difficult to get that scene right, although arch-mediocrity Jean-Louis Martinoty in Vienna must take the palm for having got it catastrophically wrong.) There are some interventions from stagehands, here as elsewhere splendidly executed themselves by dancers. I think, though, we need a little more – or a little less – metatheatricality than that for it to be worth our while.
The second and third acts proceed in that all-purpose 'pop-eighteenth-century' look favoured by directors who have no idea what to do with eighteenth-century opera: wigs with an attitude that is far fainter than their perruquiers fancy. Keyboard continuo, in itself excellently played by Sebastian Engel, moves from harpsichord to fortepiano. As we move toward the fourth and final act, textual 'interventions' by the director become more and more irritating, until we endure interpolations of French popular song and the removal of all secco recitative in favour of his own dialogue. All, meanwhile, lounge around the stage – generally at great distance from one another – in pyjamas. For once, it was a relief to have the 'traditional' cuts observed. Mozart will survive, of course; so will Lorenzo Da Ponte. But why?
Mark Berry