Spain Bernstein, Candide (concert version): Liceu Chorus and Orchestra /John DeMain (conductor), Gran Teatre del Liceu, Barcelona, 18.10.2018. (JMI)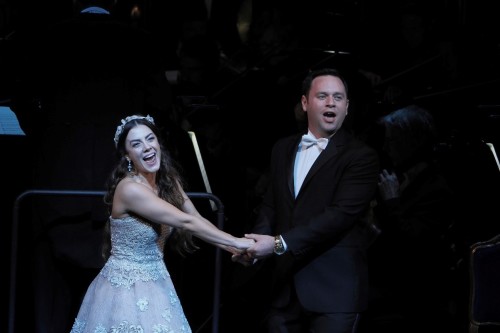 Cast:
Candide – Paul Appleby
Cunegonde – Meghan Picerno
Pangloss/Voltairer/Martin/Cacambo – Kevin Burdette
Old Lady – Doris Soffel
Souza/Vanderdendur/Ragotski – Chris Merritt
Maximilian/Captain – Josep-Ramon Olivé
Paquette – Inés Moraleda
Narrator – Jordi Boixaderas
This year marks the centenary of the birth of that great composer, conductor and communicator, Leonard Bernstein. Many theaters have joined the commemoration by programming his works, including the Liceu's two performances of Candide. The opera premiered in 1956 in New York, and then went through subsequent revisions. This is the first time that the final version, which premiered in Glasgow in 1988, has taken the stage at the Liceu (although it could be seen in Barcelona in 1996 at the Romea Theater).
It is no exaggeration to say that this performance, with its strong musical direction and an excellent cast, was a tremendous success. It was one of those nights that the entire audience seemed to enjoy – and many were introduced to a work that it is definitely worth knowing. A fully staged Candide would have been a treat, but in this concert version all the soloists sang without reference to the score and with great naturalness and enthusiasm.
John DeMain offered a reading full of life and joy, demonstrating a clear mastery of the work and a more than remarkable degree of familiarization with Bernstein's music. The orchestra was superb under his baton, and the same can be said of the chorus, which sounded even better than usual.
There were no big, flashy names in the cast but all were convincing interpreters and up to the demands of the score. Candide was played by tenor Paul Appleby, who was terrific in the character. His voice is not extraordinary in terms of timbre and volume, but it is well handled, and he sang with gusto, especially in his aria in the Act II Eldorado scene.
A relatively unknown young soprano, Meghan Picerno, was announced to play Cunegonde, and any doubts one might have had were quickly dissipated. From the first scenes it was clear that she is a singer who can dominate this character from top to bottom. A light soprano with an attractive voice, she showed an enormous ease on stage. She had no problems with the most difficult passages and was exceptionally bright in the aria 'Glitter and Be Gay', earning a huge ovation from the audience.
The philosopher/teacher Pangloss was sung by baritone Kevin Burdette, who also played Martin in the second act. He is a true stage animal and gave a magnificent performance – he was the focus of interest every time he came on stage. The singer is extremely good, but the actor is outstanding.
The Old Lady was appropriately performed by mezzo-soprano Doris Soffel, whose voice is still impressive and who sings and acts in a remarkable way. Another old glory, tenor Chris Merritt, sang the parts of Governor Souza, Vanderdendur and Ragotski. He  has a commanding voice, although with some instability at the top, but it is a pleasure to see him on stage again for veteran fans like me, who remember his Rossini performances of the 1970s and '80s.
The secondary characters – baritone Josep-Ramon Olivé as Maximilian and Captain and Inés Moraleda as Paquette – did a fine job.
 José M. Irurzun