Germany Wagner, Tristan und Isolde: Orchestra and Chorus of the Deutsche Oper/Donald Runnicles (conductor), Deutsche Oper Berlin, 3.10.2018. (JMI)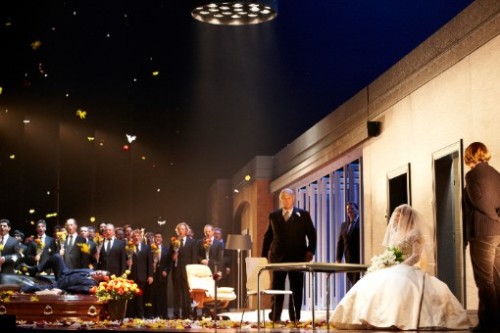 Cast:
Tristan – Peter Seiffert
Isolde – Ricarda Merbeth
King Marke – Georg Zeppenfeld
Brangäne – Daniela Sindram
Kurwenal – Samuel Youn
Melot – Thomas Blondelle
Steersman – Matthew Newlin
Shepherd – Peter Maus
Production:
Director – Graham Vick
Sets and Costumes – Paul Brown
There is no doubt that Berlin is one of the most important music and opera centers in the world. The possibility of coming to this city and enjoying splendid performances in a short and intense period of time arises several times each season, and thus my presence once again in the German capital.
My visit began with this Tristan und Isolde, which will be followed by Tosca with none other than Anja Harteros, accompanied by Marcelo Álvarez. At Unter den Linden I will be attending Die Frau ohne Schatten, and I will finish up with a new production of Cherubini's Medea, conducted by Daniel Barenboim. In between there's a performance of Die tote Stadt (The Dead City) at the Komische Oper in a new production by Robert Carsen.
Tristan und Isolde featured a remarkable musical version with a capable – and often brilliant – vocal cast. But the production still seems as capricious to me as it did on the previous two occasions I saw it. This Graham Vick staging premiered here in March 2011 and received – and rightly so – a tempest of boos. Nothing has changed from 2016 when I last saw it: (review click here).
Donald Runnicles was once again in charge of the musical direction, and it is always a pleasure to see him in the pit of this opera house. His reading was superb, especially in the magnificent and inspired second act where one could enjoy Richard Wagner's extraordinary music in a way that rarely happens. Under his baton, the orchestra was excellent, as was the chorus.
The part of Tristan was interpreted by German tenor Peter Seiffert, and the power and musicality of this singer, who is in his sixties, are extraordinary. He maintains the quality of his timbre perfectly and is an excellent singer. He acted wholeheartedly during Act II and overcame all the difficulties of his monologue in Act III. I almost dare to say that he is a miracle of nature.
Isolde was soprano Ricarda Merbeth, who is well known to opera lovers. She had not attempted this character until her debut in the part a little over two years ago in Hamburg. Merbeth is not as powerful an Isolde as others such as Nina Stemme, but she is a convincing interpreter and sang with gusto, especially in the final 'Liebestod'.
Even substitutions work well in Berlin. Albert Pessendorfer had been announced to sing King Marke, but he fell ill and had to be replaced at the last minute. And the substitute was none other than Georg Zeppenfeld, a real luxury in the circumstances. He was convincing both vocally and dramatically, and magnificently expressive in his two monologues.
I would also highlight the performance of mezzo-soprano Daniela Sindram as Brangäne. She has a broad and attractive voice, and her warnings in the second act were excellent. Samuel Youn was well-suited to the part of Kurwenal, although he overdid it at some moments in the beginning of Act III.
The part of Melot was well covered by tenor Thomas Blondelle, who was a real treat in this secondary character. Veteran Peter Maus did well as Shepherd, as did Bryan Murray as Steersman.
José M. Irurzun