United Kingdom Haydn, Brahms and Schubert: François Leleux (soloists and conductor), Scottish Chamber Orchestra, City Hall Glasgow, 5.10.2018. (GT)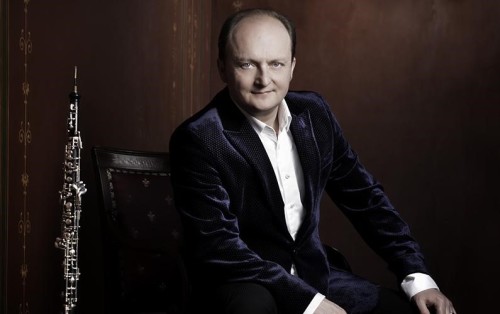 Haydn – Symphony No. 82 'The Bear'; Oboe Concerto in C major
Schubert – German Dances (arr. Webern)
Brahms – Variations on a Theme of Joseph Haydn
This concert marks the first of four scheduled concerts featuring the celebrated French oboist François Leleux who delighted audiences last year with both his playing in and direction of a concert of French classical pieces.
With his downbeat, the Frenchman fashioned an explosive opening from his musicians, there was a clean and immaculate finish in the strings, playing with gusto, there was a mix of elegiac, and grandeur in the harmonies produced from the whole ensemble. Often I think this orchestra can play with this degree of brilliance without a conductor in front of them, but Leleux has a style of conducting which is attractive to watch, if not orthodox in his gestures. He is a musician first and foremost, and allows his musicians the freedom for expression. In his hands, there were some rather thundering celebratory chords alternating with graceful transcendence, and singing strings, and of course the dance-like rhythms that Haydn was famous for especially in this symphony – sometimes one could close ones' eyes and imagine bear cubs at play. Of course, we know that the composer did not have a bear in mind when he wrote his symphony, however the rumbustious frolicking that his writing suggests was quite apparent in this performance. In the eighteenth century bears were often to be seen in chains made to look as playthings for the citizens of Vienna, their movements viewed humorously, and here Haydn's music is so bustling with ideas, more upbeat than not, and his use of rustic ideas allow us to imagine pastoral scenes with animals at play. Certainly, Leleux allowed us full opportunity to allow us to daydream giving colour and dynamic tension in the two central movements, especially in the menuet-trio. For the Finale-vivace, with a beautiful idea from Alison Mitchell on flute, the rather exciting folkdance invoked the connotations with a bear rumbling about, and drove to a dramatic culmination, especially with the cavernous roar from the basses, and the shrieks from the violins, we rapidly advanced to the exciting close.
In his solo piece, Leleux displayed all the virtuosity of a world-class musician, following the grand opening to the Oboe Concerto, and the roll on the timpani, we entered a courtly dance. Leleux is good to watch not only as a conductor but demanding your attention with his almost exhibitionist movement giving full expression to his instrument, rapidly fingering along the oboe, his playing beautiful to listen to, even if one is not familiar with the oboe as a solo instrument. Surely he can bring more popularity to this fascinating instrument? He eloquently characterised the harmonies of the piece, colourful and piquant, brilliantly elegiac, and at times lamenting too, Leleux is like a singer expressing himself in music and throughout creates a narrative in what is almost a symphonic work. The finale was bright, artistically finely executed.
Returning to his role as conductor, the collection of six brief Schubert Dances in Anton Webern's fine 1931 orchestration, continued the pastoral and rustic theme of the Haydn symphony, yet here was quite different music, graceful, almost idyllic, beautiful in its rounded notes and harmonies, the dances were however rather one-paced, and seemed to look ahead to the dances of Johann Strauss with their sparkling exciting ideas. This was a rare hearing and one would like to hear them again.
The evening came to a close with Brahms's Haydn variations and here Leleux provided a very musical direction of these wonderful little pieces, sounding so beautiful in chamber ensemble when we hear them so often played by large orchestral forces. Here the musicians of the Scottish Chamber Orchestra gave total commitment, each variation given with a brief interval between allowing his audience opportunity to digest what they had just heard and what was to come. Too often conductors approach this work as an overture and not as a serious piece here played as the closing item in what was a momentous concert. One can certainly look forward to Leleux's forthcoming concerts here with great anticipation!
Gregor Tassie