Canada Vivaldi: Enrico Onofri (violin/director), Pacific Baroque Orchestra (Chloe Meyers, leader), Christ Church Cathedral, Vancouver, 29.9.2018. (GN)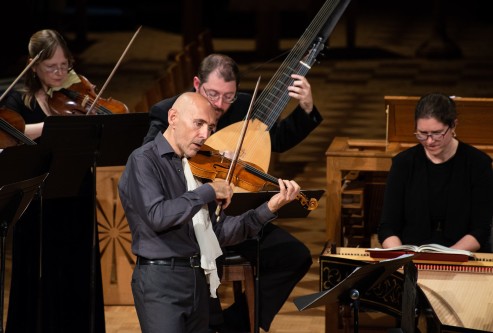 Vivaldi: L'estro armonico Op.3 Nos.1, 8-11; La stravaganza Op.4, Nos.1, 4
One often discounts all-Vivaldi programmes as lighter fare, but the season opener of Early Music Vancouver hardly fits this category. Under the guidance of esteemed Baroque violinist Enrico Onofri, leader and soloist of the Giardino Armonico from 1987-2010, one was taken into the range of Vivaldi's expression in a way that was almost unique in its precision, energy and feeling. In a programme of seven concertos, the Pacific Baroque Orchestra performed with complete commitment, and one came away feeling that Onofri and the ensemble had re-lived and re-thought this celebrated music.
It has been a sizeable journey from the classic Italian 'modern instrument' versions of Vivaldi (Virtuosi di Roma, I Musici) to the 'authentic' treatments of Fabio Biondi and Europe Galante, Giardino Armonico and, later still, Rinaldo Allesandrini and Concerto Italiano. The early approaches had considerable rhythmic energy and feeling but, in retrospect, they were too slow and heavy, often coated with an unnecessary romantic veneer. Biondi, in particular, showed how vividly contrasted this music could be: sparser and more intimate on one hand while having greater dramatic range on the other. Giardino Armonico wedded striking precision of ensemble to a flaming passion.
Onofri's current performances share some of the intensity of Giordino Armonico, but the violinist's combination of strength and subtle expressivity – in both his own playing and the layering of the orchestral texture – produced something individual and special. It was less consciously virtuoso and perhaps more contemplative and human. A clear virtue of his approach is that one seldom notices Vivaldi's routine, the linearity of his musical pacing or the omnipresent rhythms; each concerto is distinguished by its own special colour, vertical coherence and dramatic narrative. The starkness of the bold unison statements preceding allegros and at the beginning of many slow movements is also distinctive and adds a dramatic, recitative-like quality to the proceedings – each chording decisively in stone, with telling musical space between. But energy comes quickly in the allegros, cultivating a continuing sense of build-up and release. Ascending lines typically blossom with joy but, as their projection is intensified gradually, one also feels a sense of struggle being overcome at each step. In the slow movements, the stark opening statements make way for 'song', leading to refined and beautiful expression for the violin soloist(s).
Onofri is a master of historical violin practice, and the variety in his ornaments and dynamics is stunning. Yet his artistry is elegant and unassuming: Onofri is a man of both steel and deep sensitivity, and one marvels at his reserve and discipline in displaying his virtuosity. It is fascinating to watch him play his highest notes with the truncated fingerboard of his Baroque instrument.
The opening concerto of L'estro armonico (No.1 for four violins) illustrated these attributes perfectly. The Allegro was tight, exact and full of energy but still overflowing with joy. It featured splendid give-and-take among the soloists, and the music moved with great anticipation. After the severe opening statements of the Grave, feeling again flowed forth from the soloists, only this time with lovely patience and refinement.  Both postures figured in a finale of great accuracy, colour and dramatic shape.
One could hardly help but notice the attentiveness and precision of the Pacific Baroque Orchestra. Onofri seems to have infused the ensemble with a true love of Vivaldi, and it showed in the intense emotional commitment of the playing. Leader Chloe Meyers was particularly absorbed in the spirit of the occasion and consistently pushed herself to her finest, but the other violin soloists were not far behind, and the bottom strings (led by cellist Beiliang Zhu) contributed lovely thrust and sinew throughout.
The two concertos from La stravaganza Op.4 (a set of 12 pieces, all for one solo violin) were as inspiring. In the allegros of both No.4 and No.1, Onofri's success in finding lyrical reach within an otherwise tight structure was illuminating, while the succeeding movements displayed a natural inevitability in their motion. The violinist's solo excursions were structurally aware and precise. In slow movements, he would work to such refined, penetrating expression that he could not help but draw us into his private world. There wasn't a trace of sentimentality here – only perfectly distilled beauty. The cunning balance and accuracy in the quicker movements was engrossing too – and what incredible speed there was in Onofri's fingering at the end of No.4.
Returning to L'estro armonico, the inspired No.10 (for four violins) was given a strongly dramatic profile. No.8 had delicious point and variety in its opening foray, with beautiful suspension in the Larghetto; Onofri and Chloe Meyers played together in manner born. Nos.9 and 11 were illuminating much beyond exposing their links to Handel; indeed, the latter closed the concert as a real tour-de-force. From the light violin brushes of the opening through the fugal development to the spiccati and wondrous gossamer-like weaving of the two violins in the Largo (probably the highlight of the night), this closing piece was overwhelming in its communication and variety. Onofri and Meyers again worked together as one expressive instrument.
This was an inspiring and memorable evening of music making. There can be little doubt that patrons left the hall thinking Vivaldi was a much greater composer than they had previously surmised. I know I did.
Geoffrey Newman
Previously published in slightly different form on http://www.vanclassicalmusic.com.