United Kingdom Wagner, Die Walküre: Soloists and Orchestra of The Royal Opera House / Sir Antonio Pappano. Directed for the screen by Jonathan Haswell and broadcast to Cineworld Basildon, Essex, 28.10.2018. (JPr)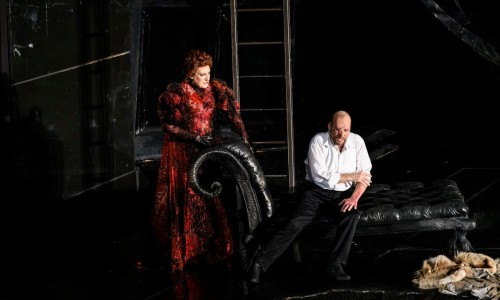 Production:
Director – Keith Warner
Associate directors – Amy Lane and Michael Moxham
Set designer – Stefanos Lazaridis
Associate set designer – Matthew Deely
Costume designer – Marie-Jeanne Lecca
Lighting designer – Wolfgang Göbbel
Original movement director – Claire Glaskin
Movement director – Michael Barry
Video designers – Mic Pool and Dick Straker
Cast:
Siegmund – Stuart Skelton
Sieglinde – Emily Magee
Wotan – John Lundgren
Brünnhilde – Nina Stemme
Fricka – Sarah Connolly
Hunding – Ain Anger
Gerhilde – Alwyn Mellor
Ortlinde – Lise Davidsen
Waltraute – Kai Rüütel
Schwertleite – Claudia Huckle
Helmwige – Maida Hundeling
Siegrune – Catherine Carby
Grimgerde – Monika-Evelin Liiv
Rossweisse – Emma Carrington
It is difficult coming to see just Die Walküre because – as hopefully everyone knows – it is part of Wagner's Ring cycle and any staging demands a sense of coherence, so it is logical that Walküre must continue where Das Rheingold leaves off.
Director Keith Warner – looking very much like a young(ish) Alfred Hitchcock in some pre-recorded footage – was shown walking us through Stefanos Lazaridis's set for the prologue to the Ring. I saw this of course when Das Rheingold was first put on at Covent Garden in 2004 – and a few times since then – but actually learnt something now. Warner said nothing new with 'Love throughout the cycle is cursed' (because of Alberich's actions in Rheingold) and how 'we see this very painfully in the relationships in Die Walküre' but I never knew – or maybe I forgot? – about the significance of the Rhinemaidens' blue hair and how it is 'the symbol of anti-love [that] becomes the driving obsession of Wotan's, that somehow this power of hatred – the opposite of love – is taking over the world'. Additional things to look out for were explained by Warner and others: these included the black marbled walls of Wotan's Victorian drawing room with a huge window to the rear through which Valhalla could be seen; a long ladder (Valhalla at the top, via the Earth, to Nibelheim at the bottom); a giant stage deep helix (described as representing genetics, DNA and regenesis); the fur coat bequeathed by Wotan to his mortal children (Siegmund and Sieglinde); and a long red rope of fate.
It always seemed a very cluttered world that Warner and Lazaridis created for their 2005 Die Walküre. While clearly there has been attention paid to characterisation and relationships over the intervening revivals, nevertheless this time – apart from Ain Anger's Hunding, Dame Sarah Connolly's Fricka and John Lungren's Wotan – I got little sense that anyone else had got 'under the skin' of their character's part in the story. This was a surprise given how experienced some of the singers were and this might reflect more on the vocal demands of four Ring cycles – this was the last – than their acting abilities. Certainly, we heard signs of some very tired voices, though I am worried about commenting too much about this because I was hearing them through cinema speakers. However, it was significant that in his interview committed Wagnerite Stephen Fry – who otherwise praised what he had seen so far – did comment that for him some of the voices were 'underpowered'.
Hunding's hut in Act I is clearly surrounded by Wotan's Victorian world from Das Rheingold with its black leather chaise longue with its ram's horns (Brünnhilde's final resting place in Act III) and chairs. Brünnhilde precariously enters down the ladder that also previously featured prominently. The helix makes its first appearance and ends near the floor as some gnarled roots. One of its bands has the sword Nothung – which Siegmund will claim at the end of Act I – handily stuck in it and they will provide the channels down which Wotan's 'magic fire' will traverse the stage at the end of the opera.
The Valkyries are a bedraggled looking bunch of bloodied warrior women and apart from the regal looking and corseted Fricka all the women look rather bedraggled in Marie-Jeanne Lecca's costumes. They ride 'horses' that are just skulls and reassemble body parts into the heroes they once were (on an old mattress!) and send them – shown as video – up to Valhalla. Other video shows us – and I missed this in the theatre – a monumental white rectangle slowly revolving at the back during the Todesverkündigung (Brünnhilde's annunciation of Siegmund's death). Was this symbolically supposed to be Valhalla that we heard Warner speak about? Certainly this comes to the fore – literally – at the start of Act III as around it – and through a door – the Valkyries try to protect Brünnhilde from her angry father.
It was a long evening, though thankfully not as long as it was for those in the Royal Opera House where the second interval was not far off 1½ hours! Introducing the broadcast Clemency Burton-Hill constantly said what we were seeing was live when it was actually recorded live! It is a shame that no one other than Antonio Pappano has conducted Warner's Ring as someone with a better over-arching understanding of Wagner's musical architecture might have supplied this Die Walküre with the dramatic continuity it was lacking in his episodic approach to the score. All the great moments – and there were many – never coalesced into something bigger and better. This may not have been entirely Pappano's fault as some of his singers, particularly Nina Stemme, were constantly looking in his direction – perhaps they were missing the prompt box they would get in other opera houses? – and this hint of insecurity might have trickled down to the orchestral accompaniment.
My impression of the performances begins with Stuart Skelton's Siegmund that was rather ungainly physically and sometimes vocally too. He was indulged with the way he was allowed to hold onto his cries of 'Walse!' and while his softer singing during 'Winterstürme' and elsewhere had its radiant moments it wasn't always appropriately supported, perhaps through tiredness. Neither he nor Emily Magee – who was clearly uncomfortable and out-of-sorts as the downtrodden Sieglinde – projected much personality. This possibly would have been one of the worst first acts I would have seen if it had not been for the Ain Anger's brutish, menacing – yet surprisingly nuanced – axe-wielding Hunding. Another highlight of this performance followed at the start of Act II, with a vignette from Sarah Connolly singing the fearsomely manipulative Fricka with imposing mezzo vehemence. The eight Valkyries were feisty enough but did not sound an ideal blend of voices and, as to expected, Lise Davidsen (a Brünnhilde-in-waiting) caught the ear as Ortlinde.
I saw in a Das Rheingold review Nina Stemme's Brünnhilde described as 'incomparable' before she had sung a note in these cycles! No performance is 'incomparable' and certainly Stemme is not 'up there' with some great Brünnhildes of the past. Her voice was admirably tireless, though extraordinarily dark and mezzo-ish, and she never personified a creditable warrior maiden who should be girlish to begin with (her 'Hojotohos' were not particularly secure) and go on a 'journey'. This is her fourth cycle and tenth current Brünnhilde so again tiredness might have crept in.
Apart from Anger and Connolly what lifted this Die Walküre for me was John Lundgren's Wotan despite occasional evidence (again!) of fatigue. Carefully harnessing his resources throughout his two acts by the time of his confrontation with Stemme's Brünnhilde in the third, he created a Wotan full of conflicting emotions and contradictions. (After the incest in the story already there between Siegmund and Sieglinde, Warner has Wotan give Brünnhilde a full-on kiss and this is a disturbing image in 2018.) Vocally there were some glorious moments, from an intriguingly conversational Act II monologue to a rapturous Farewell. Most importantly Lundgren brought deep meaning to every word he uttered.
If this Die Walküre – broadcast to 884 cinemas in 23 countries throughout the world – makes more people want to explore Wagner's operas further then I am happy. I wished they had been seeing a stronger – or maybe even fresher – cast!
Jim Pritchard
For more about what is on at the Royal Opera House and at the cinema click here.