United Kingdom Schubert: LLŷr Williams (piano). Dora Stoutzker Hall, Royal Welsh College of Music and Drama, Cardiff. 11.10.2018. (GPu)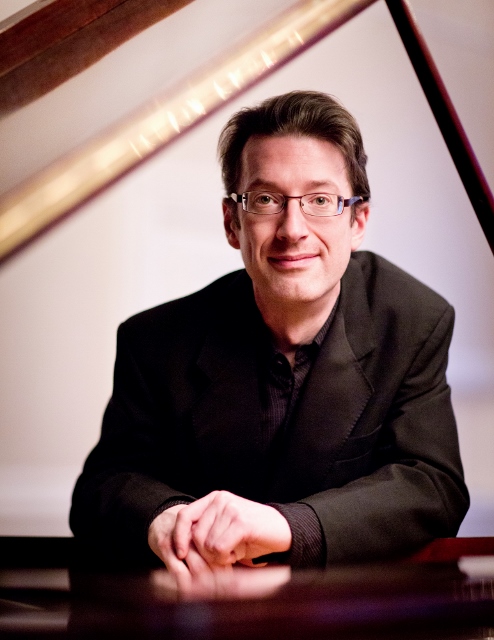 Schubert – Piano Sonata in A major, D664; Piano Sonata in A minor, D784; Four Impromptus, D899; Fantasy in C major, D760, 'Wanderer'
In the latest in his ongoing series of Schubert recitals, Llŷr Williams put before us a well-programmed selection of works written between 1819 and 1827 – i.e. between the composer's early twenties and a point just a few months before his death at the age of 31. 'Intimations of Mortality' (to adapt Wordsworth) might have served as a subtitle for this excellent recital.
The earliest work here, the Sonata in A major, D664, is sometimes called the 'little' A major to distinguish it from the much longer (and very different) sonata of 1828, in the same key (D959). Though the evidence is not conclusive, it seems probable that D664 was conceived and, at least, sketched in the summer of 1819, during a holiday shared with the singer Michel Vogel, near Steyr in Upper Austria. Its predominant mood is of a kind of serene happiness – of the sort that might be stimulated by the surrounding landscape or perhaps, by some beautiful human individual. Williams' lovely performance brought out all the lyricism of the opening allegro moderato, in delightfully cantabile fashion, with the melodic line(s) growing and spreading over some finely judged and lightly etched accompaniment. Schubert's mood and vision seem almost wholly untroubled here – there is an essential optimism, even a kind of youthful innocence, to much of the writing, even if, as Williams made clear, the ensuing Andante is not without some mild melancholy; still, this is the music of reflection and thoughtfulness, not of anguish or deep sadness. The finale (Allegro) is wholly free of anxiety or any other kind of clouds. Its radiance is, one is tempted to say, full of joie de vivre; but it might be more precisely accurate to say that it is full of joie de jouer, of Schubert's sense of his own gifts, of the music he could produce and play at the piano. Williams certainly communicated such a joy.
The recital continued with D784, composed only four years later in 1823, but sounding, in many respects, like the work of a different man. And, in an important sense, it was. By now Schubert knew that he was suffering from terminal syphilis. He knew, even at the age of 26, that he had not long to live. The 'intimations of mortality' (the words seem too weak) spoken of earlier were now a central factor in his mental and emotional make-up. Williams' compelling account of the first movement (allegro giusto), powerfully articulated its turbulent moods, disturbed and disturbing; there are some hints of lyrical beauty, but they are not allowed to develop. Whenever there is any 'brightness' of mood it is always undercut by very different elements – of anger, frustration and fear, for example. Williams maintained an iron grip on the listener's mind and heart in the following Andante, though I did wonder if perhaps he flirted with melodrama (rather than tragedy) in the way that he articulated the emotional contrasts, as every time a melodic idea was proposed by the left hand, it was ruthlessly crushed, before it had time to take root, by the aggressive utterances of the left hand. In the final movement (Allegro vivace) the vivacity felt troubled and forced. Williams played the movement at a whirlwind tempo, but one felt that Schubert's energy, here, was more manic than joyful. When 'joy' was seemingly expressed it rang hollow. Taken as a whole, D784 seems to me essentially a 'confessional' work – I am using the term 'confessional' as it was used of a group of poets in the 1950s and 60s, such as Robert Lowell, Sylvia Plath and Anne Sexton, whose work was written out of, and about, personal trauma.
Few works can have been more inappropriately named than the Four Impromptus making up D899. Beautifully well-made, they have no air of the improvisatory about them; nor are they 'intimate' in the sense in which that term is often deployed in discussing piano impromptus. Though relatively brief – the longest (No.1) generally takes around 9:30 to 10:15 in performance, the shortest (No.2) takes less than five minutes in all but an inappropriately lingering performance – these are not, in any sense, 'slight' pieces. All, except the second, contain 'more' than most pieces of considerably greater length. The first of the set (a set written in 1827) is emotionally ambiguous, juxtaposing (and even mingling) resignation and defiance, allowing each to 'blur' the other. Williams played it with great certainty of touch and an empathetic understanding of its essential ambivalence. No.2 is rather 'simpler'; there is a momentarily revived (or remembered?) innocence here, in what is an almost prelapsarian expression of blissful innocence. Williams' choices of tempo and dynamics brought out the piece's almost transparent beauty very effectively. In No.3 there are hints of that same 'lost paradise', but they are clouded and finally hidden, by a growing sense of troubled distress. In No.4 (marked Allegretto) Schubert seems to want to persuade himself (and us) to believe in what the superficial 'glitter' of the writing suggests, but it is difficult to do so, and one suspects that Schubert himself couldn't quite either. Williams was very impressive in his negotiation of these emotional tensions and ambiguities, refusing to succumb to the temptation to simplify things, and sustaining the trickier, but more rewarding, ambivalence throughout, thus doing justice to Schubert's coincidentia oppositorum of emotions.
With the closing work of this concert we were back with what Robert Schumann (discussing the Symphony in C major) called Schubert's 'heavenly length'. Even in a composer whose output is full of the remarkable, not least in its straddling of the border between the classical and the romantic, the Fantasy in C major, D760 is perhaps the most extraordinary of all. Composed in 1822, it is the most technically challenging of Schubert's works for solo piano – the composer confessed himself unable to play it, famously declaring 'let the devil play it'. The best of our modern generation of pianists (and I would place Williams in that category) take it in their stride, though I cannot believe that any of them find it other than daunting (emotionally as well as technically). It is a titanic work, a piano epic of sorts. Its name comes from its repeated use of a rhythmic motif taken from Schubert's song 'Der Wanderer', published in May 1821. The song 'made a profound impression with its Byronic gloominess' (Alfred Einstein). For a literate English hearer it is Byron that one thinks of when listening to this remarkable work, its four sections played as an unbroken whole. Its imagined protagonist, its 'wanderer' has things in common with the protagonist of Winterreise – both are outsiders (like Byron and many another Romantic 'hero', real or imagined) doomed to wander in exile, both geographically and emotionally, as it were. Both of these protagonists are expressions of Schubert's own troubled relationship with life and society at large. Where the protagonist of Die Schöne Mullerin wanders because 'wandering is a miller's delight', these wanderers are strangers in their own lands, misfits in various ways, alienated figures. In being so 'Byronic' and in being so ambitious both technically and in emotional range, Schubert's Fantasy anticipates much in Liszt's sensibility. Given that Williams has often shown himself to be a fine interpreter of Liszt – and has often included Liszt's transcriptions of Schubert's lieder in his recitals – it came as no surprise that his performance of D760 was memorable. From his powerful opening – powerful but far from being heavy-handed – Williams deployed a panoply of appropriate Romantic rhetoric to ensure that the Fantasy, in all its 'wanderings', traversed a richly varied emotional and spiritual landscape – at times ruminative, at others, fierce and troubled, angry or charming, aggressive or elegant, heroic and strong. This was high Romanticism à la Byron or Liszt. Williams' performance made the whole (and his sense of shape and structure ensured that it did feel like a unified whole) a process of discovery. Whether communicating the protagonist's moments of eagerness or of fear, his determination or his ambitious defiance, it was impossible not to join Williams on the journey, so compelling was his playing. The protagonist is so much an 'exile', or like the protagonist of Winterreise, a stranger in his own land, that there can be no simple return 'home' at the end of the Fantasy – though there is, perhaps, a cry of joy to be heard in the final bars. But it would go beyond the proper purpose of a review such as this were I to speculate on the origins and nature of that 'joy'.
Being based in Wales – Williams' native land, I sometimes wonder if I am guilty of a certain bias where he is concerned. Browsing on the web recently, I came upon a Washington Post review by Patrick Rucker of a concert given by Williams and was pleased to see that he shares my enthusiasm, writing 'the sound Williams creates has an irresistible singing quality like no one else's. His infallible technique serves a keen musical intelligence'. Certainly the audience at this concert seemed to find Williams irresistible, as I did. It was a privilege to have Llŷr Williams as one's guide to Schubert's late works for piano.
Glyn Pursglove