United Kingdom Verdi, La traviata: Soloists, Chorus and Orchestra of Welsh National Opera/ James Southall (conductor). Theatre Cymru, Llandudno, 19.10.2018. (RJF)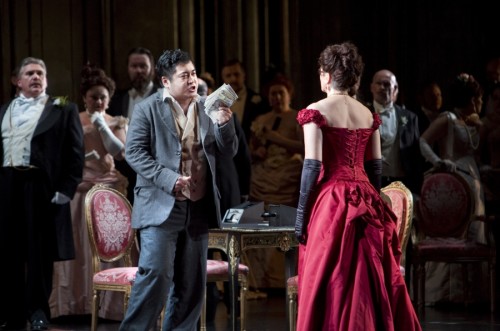 Cast:
Violetta Valéry – Linda Richardson
Alfredo Germont – Kang Wang
Giorgio Germont – Roland Wood
Flora – Rebecca Afonwy-Jones
Annina – Sian Meinir
Baron Douphol – James Cleverton
Marquis of Obigny – Philip Lloyd Evans
Doctor Grenvil – Martin Lloyd
Gaston – Howard Kirk
Production:
Director – David McVicar
Revival director – Sarah Crisp
Designer – Tanya McCallin
Lighting designer – Jennifer Tipton
Choreographer – Andrew George
Revival choreographer – Colm Seery
In what I might term near desperation, after a series of filmed opera performances for review that owed more to the producer/director's imagination than that of the composer of the accompanying music, I sought a production that married taste with veracity to the composer who, looking down from whatever celestial seat he occupies, would recognise as his creation. The latter is far too infrequent in this period of producer concept and Regietheater. I had missed out on seeing Glyndebourne's 2015 Die Entführung aus dem Serail but had read the reviews which extolled how the director, David McVicar had kept true to the composer's intentions in his set and production. I had already met those virtues in McVicar's work in this current production, seen previously (review) and in other productions as well as hearing appreciation from singers about him and his work. So out I went and spent my money on a DVD of that Glyndebourne performance and spent a happy night appreciating its virtues, with an encore shortly afterwards (review)!!
So, I approached this revival by WNO with pleasurable anticipation having enjoyed it in 2014 (review). I remembered that Renée Fleming, contends that the role of Violetta in La traviata requires a different soprano voice for each of the three acts. She herself waited until in her forties to give it a go. As in 2014 WNO featured Cheshire lyric soprano Linda Richardson in the eponymous role and I wondered how time had treated her voice and interpretation. The answer was much as it had been in 2014. She did not dominate the coloratura passages in Act I and was not helped by Kang Wang either with his forthright vocal approach. The chorus really carried that act and set the story on an even keel. In Act II Linda Richardson showed much more of Violetta's character, especially in her responses to Germont, superbly acted and well sung by Roland Wood, his aria pleading with his son to return to Provence dripping with restrained emotion. Linda Richardson came into her element in the final act with a most moving portrayal of Violetta's realisation of the direction she was travelling, dripping with vocal poignancy and pathos in both her singing of 'Teneste la promessa' and her acted portrayal. Kang Wang left me in some dilemma. I first heard him as a student at Manchester's Royal Northern College of Music in the role of Nemorino in Donizetti's L'elisir d'amore when he sang a most appealing last act 'Una furtiva lagrima' with beautiful gentle phrasing and half voice before opening his lungs. Since then he has been a finalist at the Cardiff Singer of the World competition and is currently a third-year member of the Lindemann Young Artist Development Programme at the Metropolitan Opera in New York; opportunities don't come much bigger than that! His voice has grown as one might expect, but I found his vocal interpretation lacking in the emotion he had shown in that earlier Donizetti. However, given the desperate world shortage of lyric tenors with some heft, he will have plenty of career opportunities and time will tell. As an appendix I tell the story of his first big break following that L'elisir d'amore at the RNCM.
Of the lesser roles, all were well sung and acted as befits members of the WNO stable. What was my biggest disappointment was the conducting of James Southall, who far too often had bursts when he let the orchestra off the leash and blasted out our ears, without rhyme or reason on some occasions. The Theatre Cymru has not the easiest acoustic to master and I have heard a fair few take time to get its measure, something Southall failed to do. Needless to say, the WNO chorus members who were not taking minor roles sang, as they always seem to, with vigour and, above all, acted with commitment.
As to David McVicar's staging, I gloried in the many felicitous details that were constantly in play illuminating the story. No gimmicks, sheer professionalism that is lacking in many of the Konzept and Regietheater brigade of many international houses, particularly in Europe! For those interested his work at The Met, the Donizetti Stuart trilogy is on film as are other of his productions from that theatre who can, and do, afford prime casting among their singers.
Robert J Farr
Appendix. Opportunities in the music profession can come in strange guises. As I reported to Ray Walker, progenitor of Victorian Opera, on my perception of Kang Wang in the RNCM's L'elisir d'amore, he was looking to fill the tenor role in another of the recordings of a Victorian Ballad Opera that he had promoted and featuring an enthusiastic Richard Bonynge on the rostrum. This was Balfe's Satanella. After an audition Wang got the job. Acting, yet again, as gofer-cum-chauffeur at the weekend recording sessions, gave me an insight to the bringing a performance to fruition that I have cherished (see review).