United Kingdom Simcock, Cottle, Clowes, Walker, Rebello, Skinner – Onyx Brass: Niall Keatley, Alan Thomas (trumpets), Andrew Sutton (horn), Amos Miller (trombone), David Gordon-Shute (tuba). The Dora Stoutzker Hall, Royal Welsh College of Music and Drama, Cardiff, 4.10.2018. (GPu)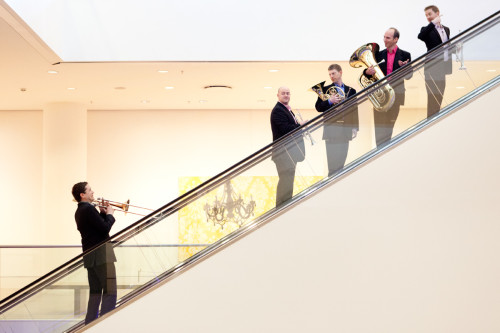 Gwilym Simcock – 'Stomper'
Laurence Cottle – 'Holy Chalcedon'y
Trish Clowes –  'The Mighty Pencil'
Mike Walker – 'Let Her Go'
Jason Rebello – 'Inevitable Outcome'
Colin Skinner – 'The Federal Express' (from Firebox)
It was to put it mildly, enterprising (one might say bold) of the Onyx Brass Quintet to commission, with their 25th anniversary in mind, new pieces, not from the 'classical' composers whose work they had so often played and recorded, but from some of the brightest stars (and finest musicians) in contemporary British jazz. There is still a residual snobbishness which inhibits, to some degree, serious interaction between classical musicians and jazz musicians ('serious' interaction, as opposed to superficial 'fusion' and 'crossover' projects).
One result of this bold project was a CD released earlier this year – Onyx Noir (NMC D273) and the CD contains commissioned pieces from 11 'jazz' composers. This concert in Cardiff was made up of six of these pieces (one heard only in part) and it made for a stimulating and consistently engaging programme which, while it vividly demonstrated just what a fine ensemble Onyx Brass are, was never merely a matter of such a 'demonstration', since it also showed, very clearly, how well-made these pieces were, and made clear how there really is no hard and fast boundary line, either stylistically, or in terms of musical quality, between what currently happens under the tags of 'jazz' and 'classical' music.
One need not be surprised by such a 'discovery'. It is increasingly the case that most of the best of the younger British jazz musicians either started out with a 'serious' classical training and/or have since played regularly in both 'worlds', jazz and classical. So, for example, Gwilym Simcock studied classical piano, French horn and composition at Chetham's in Manchester, before taking a degree in jazz at the Royal Academy in London. On the jazz side of things, he has worked (as well as in groups under his own leadership or as a piano soloist) with such figures as Lee Konitz, Kenny Wheeler and Pat Metheny. On the 'classical' side his compositions include a piano concerto played at the Proms in 2008, a work for the Aronowitz Ensemble and a Horn Sonata. In his piano improvisations, such echoes/reminiscences as one hears are as likely to be of Bach, Chopin or Ravel as of Bill Evans, Keith Jarrett or Thelonious Monk. To take another example, Jason Rebello – another fine pianist – was classically trained at The Guildhall School of Music, before turning to jazz and rapidly establishing himself as a significant figure.
Gwilym Simcock's 'Stomper' started this concert, with the beautiful work of Andrew Sutton and David Gordon-Shute often prominent in the subtly interweaving lines of this inventive and well-constructed piece (which is in three fairly distinct sections). Despite its title, this is far from being a simple 'Stomp'. Rather it is full of attractively and subtly blended textures, and is not especially hard-driven, rhythmically speaking (even if its first section does feature some chirpy rhythms).
The work of Simcock (born in North Wales) was succeeded by that of Laurence Cottle, originally from Swansea in South Wales – Cottle is one of three brothers who benignly 'dominate' the jazz scene in South-West Wales, even if this particular brother is now very much based in London. Cottle L. is best known as player of the electric bass (though he initially made his reputation on the acoustic bass). He is also a thoroughly competent trombonist. Of his 'Holy Chalcedony' Cottle says (in the booklet note he provided for the Onyx Noir CD): 'Chalcedony is the technical word for Onyx, and this gospel infused tune takes us on a short walk from a village church to Funksville, Arizona'. There is, I suppose, more obvious 'jazz' influence in Cottle's composition than in Simcock's, but as Cottle's own words suggest, it owes more to black gospel music (one of the tributaries flowing into the jazz tradition) than it does to jazz itself. This is another attractive and engaging piece, immediately accessible to any willing listener, though its seeming simplicity should not lead one to underrate the skill that has gone into its composition. (Incidentally a video of Onyx Brass playing 'Holy Chalcedony' can be found on YouTube).
'The Mighty Pencil', by the amazingly talented and inventive saxophonist Trish Clowes (another who straddles the supposed 'divide' between jazz and the classical) is dedicated to the victims of the Charlie Hebdo shooting of 2015. So one significance of the title is clear – the pencil with which the cartoonist draws.  But, given that Clowes' piece leaves room for – and demands – a certain amount of improvisation from its performers, another 'meaning' of the title is evident too. This is a beautiful, quietly emotional piece, full of humanity, but without the slightest stridency. (Very socially aware in all that she does, Clowes is, if my memory serves me correctly, an ambassador for the charity Donate4Refugees). It is a tribute both to Trish Clowes and to Onyx Brass to say that it was impossible to tell where the dividing lines between the written and the improvised were.
According to the programme announced beforehand we should, at this point, have heard Mark Nightingale's 'For Rosie'. But this was dropped, since, as Amos Miller (who was a witty and informative compère throughout) explained, it had been played on the group's last visit to the RWCMD; for my review of that concert click here: 'For Rosie' was replaced by Mike Walker's 'Let her Go'. Guitarist Walker is, I think, the only composer represented here who was neither classically trained, nor regularly worked in the classical world. Born in 1962, Walker took up guitar in his youth (he was born in 1962) and started playing jazz gigs in Manchester during the 1980's. This led, later, to work with such figures as Tommy Smith and Jason Rebello. Eventually he worked and recorded with the major jazz composer and arranger, George Russell. In recent years he has been part of the immensely successful Anglo-American group 'The Impossible Gentlemen' (which also includes Gwilym Simcock, and the American bassist and drummer Steve Swallow and Adam Nussbaum). A somewhat diffident personality, Walker did not release a first CD under his own name until 2008. This was Madhouse and the Whole Thing There, which was received with universal critical praise. His work, over his career, has shown him to be an exceptionally sensitive musician. Amos Miller, introducing 'Let Her Go', explained that Walker had originally intended to write a new arrangement of his earlier tune 'When You Hold Her' (for his daughter). But, as Walker himself puts it in his brief note in the CD booklet, 'creativity got the better of me and it ended up being an entirely different piece with nods to the old piece'. The result is almost six minutes of great beauty, full of tenderness and love, with undertones of the pain of 'parting'. This is lovely music (genre boundaries seem spectacularly irrelevant) and it was quite exquisitely played.
Jason Rebello, composer of 'Inevitable Outcome' is another who has worked in both jazz and classical environments. Rebello is a brilliant pianist, whose work often has unexpected intellectual and spiritual depths. In the programme note he provided for the Onyx Noir CD, Rebello says: 'My musical life has been a mix of jazz, classical and soul music. Although this piece was a commission, the music was allowed to flow and be what it wanted to be, and it is the inevitable outcome of my life experiences to date'. 'Inevitable Outcome' certainly feels 'organic', as it works its way through several keys.  I am thinking of the distinction Coleridge makes between Organic and 'Mechanic' form: 'The form is mechanic when on any given material we impress a predetermined form, not necessarily arising out of the properties of the material – as when to a mass of wet clay we give whatever shape we wish it to retain when hardened. The organic form, on the other hand, is innate; it shapes as it develops itself from within, and the fullness of its development is one and the same with the perfection of its outward form'. Rebello's title also makes me think of something said by a poet of our own time, the late Edward Lowbury (1913-2007), who observed that a successful poem is one which surprises us as we read it but which, when we have finished reading it and reflect on it, seems to have followed a trajectory that was inevitable. That has been my experience of Rebello's rich and sophisticated piece, both on disc and heard live, full of rippling runs and unexpected twists, which yet feels marvelously complete, perfect indeed, at its close. The two trumpets of Nial Keatley and Alan Thomas worked together particularly well on this piece, while Amos Miller was thoroughly at home with Rebello's jazzier inflections. As he was throughout the concert, tubist David Gordon-Shute was a splendid cornerstone, both rhythmically and harmonically.
By way of encore we were treated to one movement ('The Federal Express') from Colin Skinner three-part Firebox. Firebox celebrates trains of various times and places. 'The Federal Express', its final section, presents – in the composer's own words – 'A through train linking Boston and Washington which first ran in 1876'. Though there are quite a few trains in classical music (one thinks of Honegger's Pacific 231, Villa Lobos' Little Train of the Caipira or Britten's Night Mail), Skinner's inspiration seems rather to have been such delightful pieces of Ellingtonia as 'Happy Go Lucky Local' and 'Take the A Train (this last the work of Ellington's musical alter-ego Billy Strayhorn). It is the sounds of a big band such as Ellington's that Skinner has quite brilliantly re-created for these five brass instruments alone. It is, I think, relevant to know that Skinner, who plays the alto sax and several other reed instruments (he started out as a bassoonist), has been an integral part (often as leader of the saxophone section) of several big ensembles. 'The Federal Express', with some flaring trumpets and some appropriate rhythmic insistence is a delightful, if brief, tone-poem and it made a perfect conclusion to a thoroughly enjoyable concert.
These 'jazz' commissions, to celebrate 25 years of Onyx Brass were uniformly impressive and satisfying. It is to be hoped that this will encourage others (be they classical performers or 'classical' listeners) that there is much of interest, much top-class musicianship, to be found on the other side of the increasingly permeable boundary between jazz and the classical. This was very definitely not 'fusion' or 'crossover' music. It was simply excellent music, in which the composers and the performers happened to 'belong' to the two different sides of this (by now more or less illusory) dividing line.
Glyn Pursglove