United States Puccini, Madama Butterfly: Soloists, Chorus and Orchestra of Pittsburgh Opera / Anthony Walker (conductor), Pittsburgh Opera, Benedum Center for the Performing Arts, Pittsburgh, 12.10.2018. (RP)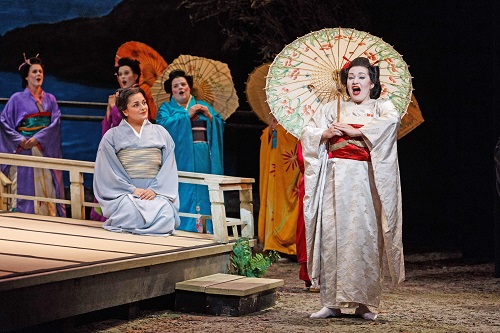 Cast:
Cio-Cio San – Dina Kuznetsova
Lt. B.F. Pinkerton – Cody Austin
Sharpless – Michael Mayes
Suzuki – Laurel Semerdjian
Goro – Julius Ahn
The Bonze – Brian Kontes
The Imperial Commissioner – Tyler Zimmerman
Prince Yamadori – Benjamin Taylor
Kate Pinkerton – Antonia Botti-Lodovico
Trouble – Kaylena Gould
Production:
Stage Director – Linda Brovsky
Scenic Designer – John Gunter
Costumes – Alice Bristow
Lighting – Andrew Ostrowski
Wigs and Make-up – James Geier
Chorus Master – Mark Trawka
Production created for the LA Opera and made available courtesy of Utah Symphony|Utah Opera
Realistic, human-scaled productions of the opera repertoire's warhorses are increasingly few and far between, but Pittsburgh Opera's Madama Butterfly was one such rare experience. The set was a traditional Japanese house against a painted backdrop of Nagasaki Harbor. Billowing clouds filled the azure sky which turned a rich, velvety indigo as Cio-Cio San kept her nightlong vigil waiting for Pinkerton to return. A few cherry-blossom laden branches and tall bamboo plants arched gracefully over the house. It was a tad old-fashioned, but lovely.
Linda Brovsky's directorial touch was equally deft, and everything was the essence of taste, including the brightly colored kimonos worn by Cio-Cio San's family and friends in the Wedding Scene. The second act was a progression of beautifully staged scenes, each more poignant than the next. As the final curtain fell, Pinkerton cradled the dying Butterfly in his arms and their three-year-old son, in a sailor's uniform and holding a small American flag, saluted his father. It was heartbreaking.
Tenor Cody Austin, the evening's Pinkerton, was suffering from allergies, but it was announced he would go on nonetheless. Perhaps he misjudged the state of his voice or maybe there was no alternative, but he shouldn't have been on stage. Austin looked every inch the smug, callous American (eliciting good-natured boos during the curtain calls), but he couldn't sing. His voice cracked, whole passages were sung down an octave, and at points he just quit singing. Consequently, the first act never jelled.
Austin's vocal unsteadiness seemed to unnerve the Cio-Cio San, Dina Kuznetsova, who was making her Pittsburgh Opera debut in this production; she had a rough first act with high notes that went wildly askew. However, her total control of the rich middle of her voice never faltered, and her exquisite pianissimos were stunning, carrying effortlessly through the theater. It is hard to imagine a lovelier sound than hers in the brief passage where Butterfly entrusts her son to Pinkerton's American wife. The carefully conceived, detailed characterization of the young Japanese girl's plight culminated in a devastating performance of her final aria, 'Tu? Tu? Piccolo iddio!'
The roles of Suzuki and Sharpless took on greater importance than is the norm, and Laurel Semerdjian and Michael Mayes turned in top-notch performances. Semerdjian's Suzuki was sensitively acted and very well sung, her lovely mezzo-soprano blending perfectly with Kuznetsova's voice in the Flower Duet. Mayes made a powerful impact as the US consul who is increasingly dismayed over his fellow American's callous, self-indulgent indifference to the plight of his fifteen-year-old bride. With Sharpless' vocal lines exposed, Mayes showed off his tightly focused baritone to its full advantage.
The supporting roles were also strongly cast, and the singers went about their business as if nothing was amiss. Julius Ahn's Goro was all obsequious, self-serving efficiency, vividly acted and sung. Brian Kontes' bass boomed as he raged at his niece's abandonment of her traditional gods and conversion to Christianity in her attempt to become a true wife to Pinkerton. Two fine baritones, Ben Taylor and Tyler Zimmerman, both Pittsburgh Opera Resident Artists, sang the roles of Prince Yamadori and the Imperial Commissioner. Another of the company's young artists, Antonia Botti-Lodovico, accomplished the impossible, turning Kate Pinkerton into an almost sympathetic character by the end of her short time on stage.
There were a few ragged entrances from the chorus and coordination problems with the orchestra in the first act. Like the rest of us, conductor Anthony Walker must have been wondering what would come next from Austin's Pinkerton. Once settled, Walker turned in a carefully sculpted performance, with the Humming Chorus and the orchestral interlude that followed one of the musical highlights of the evening.
Rick Perdian