MONTSERRAT  CABALLÉ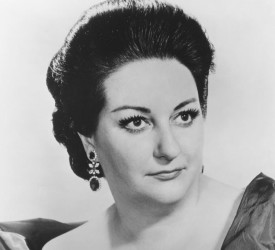 (12 April 1933 – 6 October 2018)
Jack Buckley's Personal Tribute
There are no operatic singers who live so vividly, so completely, in my mind's ears and eyes as Montserrat Caballé.
Incomparable is the only word. All other soprano excellences fade into insignificance in comparison. Her performances may have varied in quality, but even her so-called weaker performances remained incomparable. How did she accomplish this?
Well first was her solid technique, which – like all such solid techniques – depends on breathing. Alan Blyth in his obituary in The Guardian attributes her breathing to the early teachings of Eugenia Kemeny and Conchita Badia, both based in Montserrat's native Barcelona. To these should be added Mercedes Llopart (1895 -1970), another Spaniard, who from 1945, settled in Milan (her career had been mostly in Italy) and became a much sought-after teacher, visited also by Renata Scotto and Alfredo Kraus. Llopart was Caballé's check-up maestro, as she was for Kraus. Even genius wants reassurance, it seems.
Then there was the good fortune of coming across some of the world's greatest casting directors. Not least of these was Maestro Rubino Profeta (1910 – 1985) who was technically the archivist at Teatro San Carlo in Naples, elevated to Artistic Director in 1970, when he blew the dust-off various manuscripts and showed them to La Caballé. One such was Donizetti's Gemma di Vergy. 
Montserrat was an excellent sight-reader. She arrived just in time for the dress rehearsal. I will never forget that she spent the whole of the first night at the front of the stage, solid as rock, and with her head down toward the prompt box! No 'acting' for her: the acting was all done with her voice with remarkable finesse of every nuance. The tragic Gemma rose from the dead before our very eyes and ears. William and Susana Walton came over from Ischia for this opening. William – as always – was in his seventh heaven for his beloved bel canto composers.
By the second – or was it the third? – performance, I drove down to Naples from Rome with five friends. Maestro Profeta could afford to be generous with invitations: the Neapolitans stay away from unknown operas, so there was plenty of room for the likes of those who were over the moon about the maestro's choices of operas and artists. And by this time Donizetti's tragedy queen had made herself thoroughly at home in the diva's throat. She even dared to move round the stage. There was always an element of improvisation in every Caballé performance. That is what gave her performances their unique immediacy.
Profeta immediately asked her to sing Norma, which she knew. And so did the Neapolitans. At this opening there was a riot of another kind. At the end of 'Casta Diva', (her opening number) the ovation was overwhelming. Every time Nicola Rescigno tried to restart the orchestra, he was overruled by the stampeding audience who were calling for an ENCORE! Seeing that the conductor was getting nowhere, Montserrat raised her right hand like a traffic policeman and stopped them; she then in excellent Neapolitan explained that she could not sing an encore because she had to sing the rest of the opera. Like children, the audience fell silent; Montserrat waved imperiously toward Rescigno with that gesture – come on, let's get on with it before they boil over again. Somewhat in disbelief, the conductor managed to gingerly restart the show.
Nicola Rescigno was the preferred conductor of both Callas and Caballé, both of whom he introduced to the Dallas Opera when he was Artistic Director, then later to the Met. The Italo-American conductor lived in Rome for many years. He was always self-effacing, but it was a pleasure to run into him at Rome's Campo de' Fiori market, where he did his shopping. He died, age 92 in a Viterbo hospital with his lifetime companion at his side.
Montserrat herself was also self-effacing. As with Nicola this was not an attitude of mind, it was something fundamental of her persona. Yet when the occasion demanded it, she could also take charge of it. And this was the era where conductors reigned supreme. Both Callas and Caballé contributed to returning the singer to the centre of attention. And in Caballé's case, it was without specific intention of doing so.
When I went to Florence to review Il trovatore for the Paris based New York Herald Tribune, my editor at RAI International radio – where I had programmes on Italian music for English speaking listeners – gave me a tape recorder and asked me if I would interview Caballé in English, but she would please give the answers in Spanish. My own voice would then be translated into Spanish and the programme transmitted to Spanish speaking audiences. Imagine! This is when I found out that the diva had a great sense of humour. As well as fun, which is a different sensibility. She sometimes laughed with a twinkle in her eye as she replied to a question. This sparked a challenge in me for the next question. Exactly her intention. To summarise: a good time was had by both. I never found out what the Spanish listeners made of it. Nor I'm sure, did she.
Michael Aspinall used to say that if Verdi had sat down to specifically write an aria to show all the finest qualities of Caballé's voice, he could not have done better than with Leonora's aria which opens Act IV of Il trovatore 'D'amor sull'ali rosee'. The Florentine audience agreed with that too. Known as Italy's hardest to please audience, they nevertheless were insisting on an encore. But the conductor here was Thomas Schippers. Vanity was Schippers's middle name and he was not about to allow a mere singer to – what he would consider – upstage him. The Florentines never got their encore. In fact, next morning in an interview, Tommy told me he was thinking of firing Montserrat for what he considered unprofessionalism! I told him that if he did this it would be the biggest mistake of his career. He didn't.
Now look closer at Leonora's aria. It contains all those high notes for which the diva is famed: the perfect breath control is their fuel. She always pitches the note higher than its actual pitch (not audible in the final product) and comes down onto it from above. Approaching high notes from below risks not arriving at your note and threatening intonation problems. But the amazing thing is she then fills out the note with the richest, most powerful sound while diminishing the volume. The result is that pianissimi are brought about by increasing the breath in the most controlled way while making it sound improvised. Though Verdi doesn't call for it in this aria, Caballé fans often fail to notice that the notes in her middle and lower voice are equally created with amazing nuance through breath control. With lesser singers the changes of register are uncomfortably audible. Not so with any of the Llopart pupils. The only thing you should not ask of Montserrat is to sing fast. An Edita Gruberová sparkling firework display is not within her vocal remit.
You can try this under the shower or wherever you practise your singing. But it is unlikely you will be successful. And Madam Llopart is no longer around to help. However, some wily soul in that audience made a pirate recording of the opera. And if you shop in the right places it is sometimes possible to find it on CD. Richard Tucker is Manrico. And the Orchestra of the Maggio Musicale Fiorentino is conducted by Thomas Schippers.
While Francesco Siciliani was Artistic Director of the four RAI orchestras (Rome, Naples, Milan and Turin) he booked Caballé every year for Rome in a concert version of any opera, asking her to make her own choice of opera for performance the following year. It was in this way I was able to hear her sing Salome (always a favourite choice for her, especially when the only acting she had to do was with her voice), Agnes von Hohenstaufen of Spontini, conducted by Riccardo Muti, and perhaps most memorably, Arabella, where the staircase aria might rival Verdi's Trovatore as the ideal vehicle for her talent.
I had thought that she might have known the Spontini opera from her apprentice years in Germany when she was taking work in many of the lesser German houses to build up a repertoire. But she told me she had not known about it until Maestro Siciliani introduced her to it. It was the only opera that Spontini wrote for Berlin.
Jack Buckley