Canada Chopin, Schumann, Rachmaninoff: Evgeny Kissin (piano), Chan Centre, Vancouver, 9.10.2018. (GN)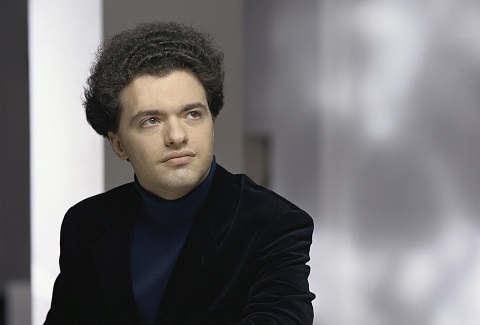 Chopin – Nocturne in F minor Op.55 No.1; Nocturne in E major Op.62 No.2
Schumann – Piano Sonata No.2 in F minor Op.14
Rachmaninoff – Preludes Op.23 Nos.1-7 and Op.32 Nos.10, 12, 13
With a packed hall of patrons ready to cheer at a moment's notice, there was plenty going on at this concert. It has been 19 years since Evgeny Kissin played in Vancouver. Some attendees were clearly still thinking of the young Kissin who took the world by storm in the late 1980s and 1990s; others were simply in awe of his enduring iconic status; and there was a contingent of Russians who doubtlessly felt a deep spiritual bond with this representative of their country's art. At 47, the pianist was clearly not the fearless wunderkind some might have remembered: he entered the stage more as a grand master of the keyboard, poised and elegant in his stride, ready to share his long-distilled awareness of all the variety, power and tonal beauty his instrument can offer. Kissin brought selective emotion and fire to the programme of Chopin, Schumann and Rachmaninoff but, overall, this recital stood more as a study of the art of pristine pianism wedded to some endearing nostalgia.
For all the white-hot virtuosity and interpretative daring of his early years, Kissin is more methodical and controlled now, with generally slower speeds. He tends to work in larger structural blocks than before, but what stands out is the fastidious way in which he fills in the musical line with rigour, balance and tonal beauty. While he can open out his instrument with grandness and bravura weight, the playing remains very serious and concentrated, less prone to spontaneous flights of fancy, moment-to-moment emotional variations or particular tenderness. There is a sense of detachment.
Kissin's tours have been intermittent since the early 2000s, but he has given an increasing number of concerts in the past five years, including an extended chamber music tour with the Emerson String Quartet. After releasing 25 CDs for RCA from 1987-2003, he recorded the Complete Beethoven Piano Concertos with Sir Colin Davis for EMI in 2008. His most recent recording is a two-CD set of Beethoven sonatas for Deutsche Grammophon, released in 2017 that contains a collection of performances from 2006 onwards. In fact, he was to play Beethoven's 'Hammerklavier' at this concert but changed his mind at the last moment.
Kissin's concentration of line and beauty of articulation were evident right from the opening Chopin Nocturnes: Op.55 No.1 and Op.62 No.2. The former moved forward at a very deliberate pace, one beautifully set note following on another, before he brought in the full weight of the piano to almost cataclysmic effect. The latter Nocturne also had a good sense of unfolding at deliberate speeds and seemed to find a slightly more complex expressive fabric. Nonetheless, this Chopin is difficult to place: it has plenty of chiselled tonal splendour and poise but lacks much of the yielding and intimacy one expects. The tempos are perhaps self-consciously slow. The classic Arrau readings also approach these lovely pieces with deliberate speeds, but there one finds a more personal narrative to go with the beauty of the notes. Kissin's beauty is not an aching beauty – more that of a gleaming Greek porcelain.
It was refreshing to follow with Schumann's often-neglected Third Piano Sonata Op.14; I cannot recall when it was last performed here. This sonata was (misleadingly) titled 'Concerto without Orchestra' to spur initial public attention; in fact, what eventually maintained its interest was Vladimir Horowitz's championing of its third movement variations as a standard encore. In his multiple recordings, Horowitz always brought a fine narrative to this thorny piece, driving through its excesses with spirit while not shying from the composer's volatile extremes.
Kissin's Allegro opened differently, seeming to be more of a rigorous attempt to lay bare the work's ties to Beethoven and to negotiate the movement with a sophisticated mix of accent, detail and waves of propulsion. There is nothing wrong with a more analytical approach, but I soon missed some of the emotional volatility and tenderness that make the conception Schumanesque. At the same time, Kissin made a point of showing us exactly what the structural requirements of this approach are: the exact symmetry in phrasing, the precise tonal balance between top and bottom hands, the internal integrity of the counterpoint, the cleanness of the descending runs, the tight anchoring of the bottom notes and so on. Virtuous objectives indeed, but his quest to realize this was almost a show in itself, and it managed to make the pianism too fastidious or didactic, or both.  Fortunately, the subsequent Scherzo seemed freer and more natural in motion, though the speed was faster than the marked 'comfortable'.
The variations were probably the most communicative playing of the evening, finding a rich concentration and darkness of feeling that culminated in the strongly defiant hammer blows at the end. There were many joys along the way: a perceptive exploration of the movement's tonal synergies, a cultivated sense of question and answer, telling funeral march allusions and wonderfully ominous bottom notes. The finale is one of Schumann's crazier 'fast as possible' movements, and Kissin took things home in impressive virtuoso style, blending counterpoint and flow with great facility and not neglecting the feeling of insistence that the composer intended.  Overall, the performance secured considerable cumulative strength and penetration of detail though it still remained short on caprice.
There could be few better works to showcase the Russian piano school than Rachmaninoff's Preludes, and Kissin offered a package of ten of them. He has taken these pieces on tour in recent years, but while the audience clearly loved the experience, I am not sure how fresh these performances really were. Some of the playing appeared rushed, and Kissin seldom seemed in touch with the composer's defining melancholy or subtle underlying struggle. There was a lot of attack and volcanic weight but little tenderness or flickering half-lights.
Of the Op.23 set, No.1 started things off well with a good rhapsodic sense and transparent line. However, in No.3, I found the bottom notes and phrases distractingly accented, and No.4 was uneventful. The big powerful pieces, Nos.2 and 5, were taken at a terrific clip – doubtlessly generating electricity – but the former suffered from smudges while the latter was simply too purposive to allow the sense of burgeoning struggle to emerge. No.6 had a certain prettiness to it but not much sinew, while No.7 had some riveting runs but was fairly cold overall. There were moments of beauty and strength interspersed throughout, but where was the real human spirit, the heartbreak, the struggle and the fleeting joy?
The Op.32 pieces turned the heat up more emphatically with augmented virtuosity, hammered chords, extra pedaling – exciting enough, but it all seemed to be drama without narrative or feeling. Perhaps that was the intent: from an entertainment standpoint, this final foray did create the image of a great artist operating at white heat and stirred up nostalgia about the way we used to think of the pianist in concert. In many ways, this was the perfect combination, and the audience absolutely loved it. Then, just like old times, the encores: one of the most sentimental and titillating renderings of Schumann's 'Traumerei' I have ever heard, a jazzy piece of Kissin's own and, finally, a well-meaning but relatively tired performance of Chopin's 'Heroic' Polonaise. Perhaps the passage of time speaks: it was well short of his record of 12 encores at Carnegie Hall in 2007.
It was a memorable concert in terms of the mixture of reactions I felt: reverence for Kissin's wonderful talent, a renewed awareness of the complexities of 'artist as icon' and the recognition of artistic challenges Kissin must have faced in recent years. How difficult it must be for the pianist to move forward from the encumbrances of his past image and immerse himself in the music anew. In this concert's conflation of 'new' and 'old', I think this is the transition we were witnessing.
Geoffrey Newman
Previously published in a slightly different form on http://www.vanclassicalmusic.com.