United States Mahler: Joélle Harvey (soprano), Sasha Cooke (mezzo-soprano), Cleveland Orchestra Chorus (director: Lisa Wong), Cleveland Orchestra / Franz Welser-Möst (conductor), Severance Hall, Cleveland, Ohio, 4.10.2018. (MSJ)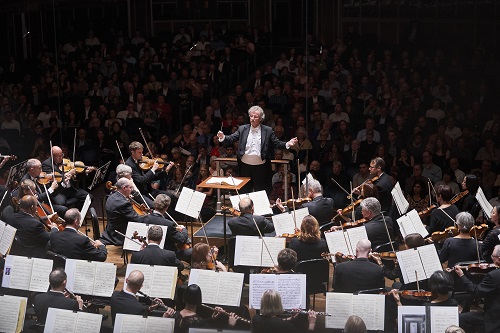 Mahler – Symphony No.2 in C minor
Great music deserves great insight. Thus, the first outing of Mahler's 'Resurrection' Symphony by the Cleveland Orchestra in over a decade can only be described as disappointing.
Though it became a real performance by the end, the first movement was given music director Franz Welser-Möst's most generic rush-through-at-sleek-speed-minimizing-contrasts approach. I don't mind fast Mahler. Kubelik, Neumann, and even, at times, Welser-Möst himself have given excellent readings of Mahler at a swift clip. One can particularly recall the blazing Mahler's Sixth Welser-Möst led last season. But that had drama and contrast. In the first movement of the Second, the conductor seemed so intent on avoiding grandstanding, he forgot to stand up at all.
The movement is marked 'Allegro maestoso.' Fast it was, but with no particular majesty. Accents were underplayed and qualifiers such as 'pesante' ('heavy') were mostly ignored. There were some good things: in the passage at rehearsal number 10 in the score, the instruction is to imperceptibly return to the opening tempo. Most conductors accelerate too fast, too soon, but Welser-Möst kept the passage perfectly engineered. He also had the horn players put the bells of their instruments in the air, as the score requests, allowing their sound to soar out over the rest of the ensemble.
But then there were major problems, too. Rehearsal number 13 in the score is marked 'etwas drängend' ('somewhat urgent'). Here, it passed without any noticeable change from what preceded it. A dozen bars later, Mahler says 'nicht zurückhaltend' ('not held back'), but here it was held back. A few bars later, Mahler says 'immer bewegter' ('ever faster') and then 'immer noch etwas vorwärts' ('even more forward'). Welser-Möst ticked through the whole passage at the same bland tempo. As a result, the following climax had no momentum leading into it and seemed pointless. Immediately after that, the lower strings are supposed to start up very slowly, but the conductor's tempo was just barely slower than his main tempo.
Again, at the huge climax of the first movement's development (rehearsal number 20), Mahler marks the passage 'molto pesante.' Not only did Welser-Möst not provide any extreme weight, he didn't even slow down until the very end. This was Mahler with the wildness taken out of his eyes, turned from raving prophet into a suburban stockbroker. It was sane Mahler. It was dull. Why Welser-Möst displays infinite patience for the ramblings of Richard Strauss's lesser works yet refuses to let a composer who actually has something to say speak in one of his greatest pieces, is perplexing.
Fortunately, things improved from there. The second movement, while not highly characterized, flowed elegantly at a faster tempo than usual. The scherzo was so fast that there were a handful of coordination problems, but the individual and group moments in the woodwinds were colorful and interesting. The 'Urlicht' was tenderly sung by mezzo Sasha Cooke, who proved her mettle in Mahler at a Cleveland Orchestra concert in 2014, where she sang the Songs of a Wayfarer. Here, though, Welser-Möst was again impatient to get on with it, not giving Cooke much freedom. Soprano Joélle Harvey was gleaming in her solos.
The first full realization of the evening came with the finale where, periodically at least, Welser-Möst let off on the accelerator and looked around at the landscape. There were some radiantly resplendent sequences, and Lisa Wong's Cleveland Orchestra Chorus sounded grand and full. Some moments were still rushed, such as the percussion crescendos halfway through the long movement. Even the coolly intellectual Pierre Boulez used to make more out of those crescendos than Welser-Möst. And the offstage instruments sounded too close. If there's no convenient way to get them further offstage, at least the doors could be partially closed to restrict their sound a little more. What can be poetic in Mahler's theatrical stage management is only prosaic if it's not fully realized.
There is a deeper cultural meaning happening in this symphony than the surface theme of 'resurrection', but I found no hint of it. What becomes threatening in the first and last movements (or should, anyway) are the mad marches that develop out of themes derived from — or in imitation of  – church plainchant. In the finale, what finally breaks that grim oppression into transcendence are the passages that sound more middle eastern, like a full orchestral realization of a shofar blowing. Could it be that beneath Mahler's surface conversion to Christianity to secure a job directing the Vienna Imperial Opera, he was quietly honoring his own Jewish roots? This reading was too restrained and elegant to push those boundaries and ask those questions, though it did finally take flight near the end, bringing the audience to its feet and eliciting five curtain calls.
Mark Sebastian Jordan
Mark Sebastian Jordan's reviewing activity in 2018 is supported by an Individual Excellence grant in Criticism from the Ohio Arts Council.