United Kingdom Bach, Bartók, Janáček, Schumann: Veronika Eberle (violin), Dénes Várjon (piano), Wigmore Hall, London, 13.10.2018. (CS)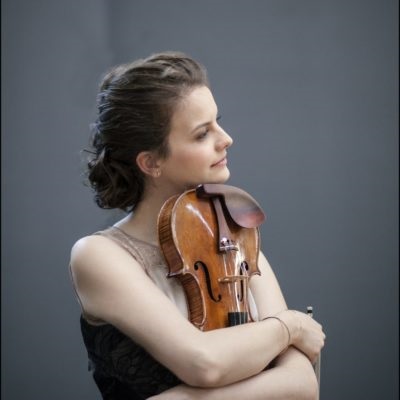 J.S. Bach – Violin Sonata No.3 in E BWV1016
Bartók – Violin Sonata No.2 BB85
Janáček – Violin Sonata
Schumann – Violin Sonata No.3 in A minor WoO27
Two twentieth-century East European violin sonatas formed the backbone of this vibrant and intense Wigmore Hall recital by the German violinist, Veronika Eberle, and Hungarian pianist, Dénes Várjon.  It was the first time that I had heard either musician perform live.  Eberle impressed immensely: she has an assured technique, flawless intonation, and a varied tonal range: she can swoop from the thick layers of her G-string treasure troves to the steely-sweet upper echelons of her E string in just a few fleet moments, her fluid, strong bow-action carrying her effortlessly high and low, through double-stopped glories and along slippery tight-ropes.  Her playing allies muscular power and insightful musicianship.  If she has a tendency to bend low, bowing her head towards the music-stand, thus slightly removing herself from the audience's gaze, then this can be forgiven because her playing is unpretentious, her intense focus deeply communicative, and the pleasure that she evidently derives from her music-making so obviously shared with and by the audience.  I admired Várjon's contribution to the recital no less, indeed at times even more.  He is a pianist who can bend a phrase so slightly that one barely notices the nuance but still registers its effect; the clarity of his articulation and balancing of the piano's voices is second to none; he is not afraid to take risks, but one is assured of his consummate control at all times.
Bartók's Second Violin Sonata was written in 1922, dedicated to the Hungarian violinist Adila Arányi, and received its world premiere in this very Hall in 1923.  Bartók wrote to his concert agent the following year, 'The violin part of the two violin sonatas … is extraordinarily difficult, and it is only a violinist of the top class who has any chance of learning them'.  Well, that wasn't a problem here: Eberle had no trouble supplying the virtuosity required; she communicated with theatrical impact and had total command of the Sonata's wide-ranging demands.  There was a song-like, improvisatory quality about the violin's open-ended utterances in the Molto moderato, and the fragments sat comfortably above purposeful, cleanly etched piano lines.  The challenge is to find a 'direction' or 'narrative' goal, and I wasn't always convinced that the coloured and grained fragments knew where they were heading; and, given that this was a time when the composer was immersed in folk-song research, one might have hoped for a more rhapsodic, or, alternatively, raw, Hungarian tint.  But, Eberle's control and power were impressive; and, the pizzicato phrases which mark the start of the Allegretto were exciting: alert, warm and dynamic.  Eberle and Várjon created timbres by turns grainy and golden, and rhythms that were dynamically sprung but which at times seemed, like an over-stretched elastic band, on the cusp of explosive fracture.  The results were tingly and exhilarating.  The scherzo-like episodes had a folky spirit; whipped up-bows were countered by precision-target ear-ringing harmonics.  It was a pity that some in the enthusiastically supportive audience could not allow the final high-spun harmonic – floating gently but piercingly above the piano's low anchor – to rest, indeed to come to completion, before offering their rapturous applause.
Janáček's first ideas for his 1921 Violin Sonata were put down on paper in 1914 but it was not until 24 April 1922 that the work was heard in the form in which it is known today, premiered at the Museum of Applied Arts in Brno by the violinist František Kudlácek, accompanied by Janáček's pupil Jaroslav Kvapil.  In the opening Con moto, Eberle and Várjon summoned a forthright rhetoric and a gutsy folk ambience: the tone colour was not indulgently Romantic or lush, but there was a terrific balance of impetuousness and nervous hesitancy, both of which relaxed at times into warm if short-lived easefulness.  The mosaic fragments were confidently and coherently stitched together.  The Ballada was, similarly, by turns impassioned and sensitive; in the latter episodes, Várjon conjured some Debussyian magic.  The Allegretto had a distinctive folky stamp – literally and figuratively: chiselled piano octaves really made their mark, though this did not preclude Várjon tapping some pianistic soulfulness.  I was delightfully and provocatively 'itched' by the relentless restlessness as, for example, piano bass trills countered stabbing high violin statements; there was no 'resolution' as such, but the duo made it clear that there could not be, so paradoxical are the arguments and conflicts of the work.
The recital had begun with a beguiling invitation: Bach's E major Sonata for violin and keyboard.  Eberle's almost vibrato-less, pure sound floated above the bass pedal in the Adagio, like a delicate caress, undemonstrative but eloquent.  But, in the subsequent Allegro vitality was injected by the crispness of Várjon's harpsichord-like clarity and the litheness of the movement's rhythmic arguments: despite the taut staccato of the piano left hand there was an impression of flexibility and spontaneity, and later the piano seemed to be swept away by its own infectious melody-spinning.  I loved the way the 'brightness levels' were controlled: the spotlight seemed to be shone on various musical threads at different times, creating a dynamic vitality.  A flowing tempo and Eberle's silky bowing imbued the Adagio ma non tanto with an extempore quality, while the subtle nuances infiltrating the architectural sureties of the concluding Allegro added a welcome touch of rhetoric.
Schumann's Third Sonata in A minor brought proceedings to a tempestuous and intense close.  Eberle had to work hard throughout to counter the impact of the piano's forcefully expressed arguments, but the first movement, Ziemlich langsam – Lebhaft, was cleanly articulated and coherently structured, and as Várjon propelled the music onwards, so Eberle enriched the tone with virtuosic double-stopping which earned its own round of applause.  Relentless rippling swept the Scherzo through its mischievous flights.  And, if the Intermezzo was beautiful but not especially memorable, then the Finale seemed to carry us into Brahmsian territory: a battle of joy and strife, during which Eberle again had to work hard to counter the piano's power and resonance.
The encore, the Andantino third movement of Schubert's Violin Sonata in A D574, cleansed the palette, after a feast of gustatory diversity and depth of flavour.
Claire Seymour