United Kingdom Kenneth MacMillan's Mayerling: Dancers of The Royal Ballet, Orchestra of the Royal Opera House / Koen Kessels (conductor). Directed for the screen by Ross MacGibbon and relayed to Cineworld Basildon, Essex. 15.10.2018. (JPr)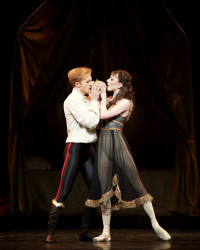 Production:
Choreography – Kenneth MacMillan
Music – Franz Liszt
Arrangement and orchestration – John Lanchbery
Designer – Nicholas Georgiadis
Scenario – Gillian Freeman
Lighting designer – John B. Read
Cast included:
Crown Prince Rudolf – Steven McRae
Baroness Mary Vetsera – Sarah Lamb
Countess Marie Larisch – Laura Morera
Empress Elisabeth – Kristen McNally
Princess Stephanie – Meaghan Grace Hinkis
Mitzi Caspar – Mayara Magri
Bratfisch – James Hay
Emperor Franz Joseph – Gary Avis
Colonel 'Bay' Middleton – Nehemiah Kish
Katharina Schratt – Catherine Carby
Hailed as one of Kenneth MacMillan's finest achievements – which it undoubtedly is – Mayerling remains fatally flawed and it has been since the first performance on 14 February 1978 that I was present at! It remains often difficult to know who's who – and their relationship to each other – and what's what, due to a plethora of characters some more central to the plot than others.
Yet as Lady Deborah MacMillan, Kenneth's widow, reminded the watching audience, the steps are what they are. (This problem of sacrosanct recreation remains a problem in ballet that is too big to be discussed here.) Laura Connor (the first Mitzi Caspar) also told us how MacMillan had removed some of the pas de deux from his original vison for the ballet on the eve of the first night, including one for her. It seems the influence of Rudolf Nureyev on the role of the male dancer had a lot to do with the demands MacMillan made on those dancing Rudolf. Truthfully the ballet could still do with losing a further 30 minutes or so.
Mayerling is far removed from the familiar fairytale ballets I believe many around me in a packed cinema were possibly still expecting. I heard couples say they had given up on the story – based on real historical events – and were just going to watch it all unfold. Courtesy of Gillian Freeman's scenario, MacMillan's complex Viennese court milieu is almost Tolstoy-like in its nineteenth-century realism and the way it illuminates the hypocrisies underpinning a formal aristocratic façade. Like so many 'heroes' and ''heroines' of that century's dramas and novels Rudolf is striving for something unattainable, possibly release and some form of salvation. He uses copious amount of sex, drink and morphine, along with an obsession with skulls and guns.
Crown Prince Rudolf rarely leaves the stage, he is heir to the throne of the Austro-Hungarian Empire that will soon reach its dying embers, but they were not to know it at the time. Most of Act I occurs on Rudolf's wedding day. He openly flirts with his new sister-in-law (Princess Louise), in passing meets the 17-year-old Mary Vetsera, then is caught in a compromising position by the Emperor with his ex-mistress (Countess Marie Larisch), before terrifying his wife (Princess Stephanie) that night when he plays – as you do! – with a skull, fires a pistol, and rather brutally assaults her. In between there is a very strange scene in the Empress Elisabeth's apartment where Rudolf visits her and appears to demand more from her than just the love a mother should have for her son. Regardless she rebuffs him. Rudolf is at the centre of court life yet is completely alienated from it and clearly has some sympathies – though this is somewhat lost in all the rest going on – to the cause of Hungarian secession.
Act II has a roistering tavern scene which does little for the plot apart from confronting his new bride with another of Rudolf's mistresses, Mitzi Caspar, and allow for a Keystone Cops-like raid by the police. We later see about Mary's infatuation with Rudolf before the Emperor's birthday celebration where the Empress oddly presents the Emperor with a portrait of his 'friend' Katherina Schratt and the ballet stops for Catherine Carby (Katherina) to reflectively sing Liszt's 'Ich scheide' for little apparent reason. A firework display distracts everyone except for the Empress and Colonel 'Bay' Middleton. The amorous exchange between them is seen by Rudolf who is clearly rather jealous. The act ends with Mary and Rudolf getting to grips with each other for the first time, especially after she proves to him that she gets turned-on too with all his skull-and-gun antics. After a quick visit to a royal shoot where Rudolf's misfire kills a courtier, Act III end with a series of increasingly frenzied duets in which Mary and Rudolf – now succumbing to his addiction to morphine – make it clear how sex, guns and subsequently death can bring them the release they both seem to crave. Their final image looks uncannily like that of the Capulet crypt scene at the end of MacMillan's Romeo and Juliet.
It was those duets – particularly the ones ending the three acts – that made Mayerling so infamous when it was new. Pas de deux of such inelegant, sustained, and acrobatic sexual intensity had never, apparently, been seen in a ballet where sex is also so all-pervading. Now having reached its 40th anniversary these still create a certain amount of visceral excitement and there could be more depending upon those involved.
I understand dancers of Rudolf regard the role on a par with conquering Everest. Apart from those duets and the partnering involved, he also has solos in each act to further underline his downward spiral. There was a reference to Steven McRae being made of titanium and it is wonderful how he has recovered from a recent career-threatening injury. His Rudolf was clearly psychologically tormented right from the beginning, but although McRae is exemplary technically, he is no great actor. In Act I for instance he raised a left-eyebrow or a right one or employed a sneer but those were about the only changes to his rather impassive countenance. All his movement was too studied as if he was thinking what was to happen a few steps ahead or – quite understandably – taking great care because of that recent injury.
For me Sarah Lamb was a revelation as she is another dancer I have often found rather glacial in the past. Here in her big moments as Mary everything was totally instinctive and seductive, and Lamb was totally believable in the recklessness of her passion.
Compared to these two leading roles the rest of the women in Rudolf's life – Countess Marie Larisch (Laura Morera), Empress Elisabeth (Kristen McNally), Princess Stephanie (Meaghan Grace Hinkis) and Mitzi Caspar (Mayara Magri) – are mere cyphers, but together with the corps de ballet, everyone brought the Viennese court to vivid life helped by Nicholas Georgiadis's sumptuous costumes and detailed sets. It is a wonderful company showcase – with a number of roles extending all the dancers as actors – and they all responded magnificently and performed Mayerling very well indeed. All the dancing had commendable commitment and skill. Particularly catching the eye was James Hay's swirling Bratfisch and the equally exhilarating leaps of Marcelino Sambé as one of the Hungarian officers.
The music is a hotchpotch of Liszt pieces arranged by John Lanchbery and listening to it I felt it was a shame MacMillan did not use a new score. There is just a feeling that at times his choreography is just there to pad out the music rather than move the story forward. Nevertheless – as heard through cinema speakers – it seemed to get a suitably lush and romantic account from the commendable orchestra under Koen Kessels.
Jim Pritchard
For more about what is on at the Royal Opera House and at the cinema click here.