United Kingdom William Forsythe – A Quiet Evening of Dance: Sadler's Wells, London, 5.10.2018. (JO'D)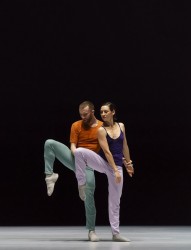 Prologue, Catalogue, Epilogue, Dialogue and Seventeen/Twenty One
Dancers: Brigel Gjoka, Jill Johnson, Christopher Roman, Parvaneh Scharafali, Riley Watts, Rauf 'RubberLegz' Yasit, Ander Zabala
Music – Thom Willems, Morton Feldman, Jean-Philippe Rameau,
Choreography – William Forsythe and the Dancers
Lighting Designers – Tanja Rühl and William Forsythe
Costume Designers – Dorothee Merg and William Forsythe
Sound Designer – Niels Lanz
Towards the end of A Quiet Evening of Dance one of the dancers makes a circle with his arms, which he then presents to his partner. She puts an arm into the circle, as if testing something. Is it fanciful to see in this gesture a reference to the circle Onegin makes with his arms around the standing Tatiana, without touching her, in the final scene of John Cranko's Onegin (1969)? The one he maintains as he sinks to the floor at her feet?
William Forsythe worked with Cranko at the Stuttgart Ballet in the 1970s. A Quiet Evening of Dance, might be, in part, a 'looking back'. That would explain its mellow, often tender tone. 'In recent years,' writes Sarah Crompton in the programme, as if in confirmation, 'particularly since he gave up running a full-time company in 2015, Forsythe has returned to ballet as his principal language.'
This production does have certain similarities to that given by The Forsythe Company at Sadler's Wells in 2013. The stage is stripped to its black walls. The seven dancers, some of whom belonged to the now 'closed' company, perform in what could be carefully chosen practice clothes. For the most part they perform to a silence broken only by the sound of their breathing. During the 45-minute-long Act I the house lights remain, harshly, 'up'; but there is no equipment on the stage to be shifted about: no microphones, or cables, or lights. The dancers do not speak or sing. They simply communicate through movement.
In the four pieces that make up this act, their movements focus on the way the body, in particular the ballet-trained body, articulates and bends. Catalogue, first performed at Sadler's Wells in 2017, takes parts of the body in turn: elbows, arms, hands, shoulders, hips, waist, knees and ankles. Its two dancers (Jill Johnson and Christopher Roman) start in a standing position, then gradually occupy more of the stage. The piece begins and ends with the dancers raising a hand to place it against the raised hand of their partner, as equals.
If Act I refuses to meet theatrical expectations of a darkened auditorium and dance that is accompanied by music, Act II comes as the jam after the medicine. The house lights go down, the music of Jean-Philippe Rameau begins to be heard, and all seven dancers run on to the stage. The colours they wear are brighter; but because this is a ballet by William Forsythe, they are colours that do not let the eye rest.
Seventeen/Twenty One (2018), the ensemble work that takes up the whole of this act, reprises steps from Act I, to music. It is also a humorous and moving work in its own right. Humorous in Christopher Roman's sideways, demi-pointe glide across the stage with forearms rotating on a vertical plane. Moving in the pas de deux, at floor level, between that dancer and Rauf 'RubberLegz' Yasit.
The pas de deux performed by Parvaneh Scharafali and Ander Zabala shows movement constantly, restlessly renegotiated. Writers on dance have referred to a Petipa-Balanchine-Forsythe 'continuum'. Twice Zabala places his hand at Zabala's waist as if preparing to lift her like a Petipa-Balanchine ballerina whose shape, when lifted, must not change. Twice Scharafali rejects that role by pushing his hand away.
John O'Dwyer