Germany Cherubini, Médée: Staatsopernchor, Staatskapelle Berlin / Daniel Barenboim (conductor), Unter den Linden, Berlin, 7.10.2018. (JMI)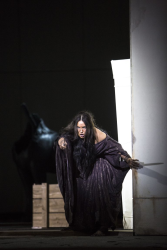 Cast:
Médée – Sonya Yoncheva
Jason – Charles Castronovo
Créon – Iain Paterson
Néris – Marina Prudenskaya
Dircé – Elsa Dreisig
Dircé's Maids – Sarah Aristidou/Corinna Scheurle
Production:
Direction – Andrea Breth
Sets – Martin Zehetgruber
Costumes – Carla Teti
Lighting – Olaf Freese
My trip to Berlin has come to an end with this performance of Luigi Cherubini's most famous opera, which is being staged in the original French version. I must admit it is the first time I have seen the original – I have always attended performances done in Italian. Perhaps the reason lies in the influence of Maria Callas's Medea over the years, but the truth is that I prefer the non-original Italian version to the original French.
It was a somewhat irregular performance with a new production that contributed little, musical direction that improved as the opera progressed and a vocal cast led by an impressive Sonya Yoncheva.
I found this new production by Andrea Breth, who often collaborates with the Staatsoper, disappointing. The sets consist of a revolving stage with a series of spaces that all have wooden boxes on the floor (they look more like warehouses than anything else). Not even for the betrothal ceremony of Jason and Dircé is there a change. The action has been moved to modern times which is unimportant: this is a myth and it's well known that myths are timeless. The costumes too are modern, and Medea and Néris seem to belong to some sort of religious sect, probably to signify that they are not Greek. In short, it is a production that is rather unattractive and does not go beyond narrating the plot.
I was curious to see Daniel Barenboim conduct an eighteenth-century opera. When you go to the theatre and he is in the pit, expectations run high. That was clearly true in this case, but the result did not reach the expected height. His conducting was perfectly acceptable but not extraordinary during the first two acts. He was at his best in the Act III where he led a magnificent prelude, perhaps the best passage of the performane, and a great final act. Under his baton, the Staatskapelle Berlin was superb.
Médée was sung by soprano Sonya Yoncheva, and her performance was praiseworthy in every possible way. Her voice has darkened noticeably in recent years, but she maintains all the attractiveness of her timbre, and sings and moves on stage with great assurance. Yoncheva was the centre of the audience's attention from the moment she appeared on stage. Throughout the opera, she truly lived the part of this tragic character, and I only hope she does not play the role too frequently: it is very demanding and has a difficult tessitura. One should not forget that even mezzo-sopranos have sung the part.
Jason was played by Charles Castronovo, and his performance was correct if not particularly remarkable. I would prefer a more dramatic voice than his in the role.
Mezzo-soprano Marina Prudenskaya did well as Néris, singing her aria in Act II with gusto – one of the most compelling moments of the opera. Dircé was Elsa Dreisig, who displayed an attractive voice in her short appearance in the first act of the opera. I found Iain Paterson less convincing as King Créon; in my opinion the character requires a true bass and he is a baritone.
The Staatsoper was sold out for this premiere. The audience was a bit cool during the performance but warmed at the final bows, with the biggest applause for Sonya Yoncheva and Daniel Barenboim. The creative team received some boos.
José M. Irurzun