Czech Republic Janáček, Jenůfa: Soloists, Chorus, Ballet and Orchestra of The National Theatre / Jaroslav Kyzlink (conductor), The National Theatre, Prague, 19.10.2018. (RP)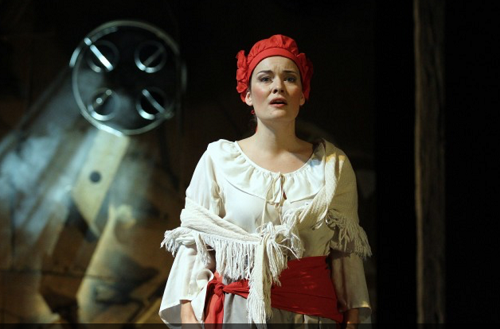 Cast:
Kostelnička – Eliška Weissová
Jenůfa – Alžběta Poláčkov
Laca – Jaroslav Březina
Števa – Martin Šrejm
Grandmother – Yvona Škvárová
Foreman – Ivan Kusnjer
Mayor – Luděk Vele
Mayor's Wife – Jitka Svobodová
Shepherdess – Stanislava Jirků
Karolka – Jana Sibera
Jano – Doubravka Součková
Barena – Markéta Böhmová
Aunt – Romana Kajzlerová
Man – Nenad Milanovič
Production:
Stage Director – Jiří Nekvasil
Sets and Costumes – Daniel Dvořák
Choreographer – Števo Capko
Dramaturgy – Pavel Petraněk
Jiří Nekvasil, director of The National Opera's production of Jenůfa, writes in the program that Kostelnička is the central figure of the opera. Undoubtedly, her pride and self-appointed role as the moral and spiritual authority over her family and community have led to the tragedy of the opera: the murder of Jenůfa's baby son to preserve her position. Apologizing to her stepdaughter after the fact, Kostelnička admits that she has loved herself more than Jenůfa, yet somehow the latter finds it in herself to forgive.
The National Opera had a fine Kostelnička in Eliška Weissová. Youthful and proud, she blazed white-hot, embittered over a miserable second marriage to a man who beat her and squandered her money. She also suffered the ignominy of having her upstanding son from her first marriage, Laca, employed at the mill that was once hers but is now owned by her dissolute younger son, Števa, the product of that subsequent, ill-fated union. When Števa refuses to acknowledge Jenůfa's child as his own and announces he will marry another woman, she snaps.
It was a magnificent performance, but contrary to Nekvasil's assertion, Janáček dictated otherwise and, to underscore the point, in Czech the opera is known as Její pastorkyňa, which translates as 'her stepdaughter'. In this performance, with the strikingly beautiful Alžběta Poláčková as Jenůfa, there was no doubt whatsoever that it was her story that mattered.
Poláčková was a transcendent Jenůfa, a rash young woman who loses everything but is transformed by and though love. A fearless actress, Poláčková's Jenůfa became unhinged at the sight of her dead baby frozen in block of ice extracted from the river, grabbing a knife and frantically chipping away at it. The sight horrified those assembled for her wedding to Laca (as well as the audience). Once calm, she somehow could process that her stepmother had acted out of love for her, but with all of her secrets made known she was now free.
Jaroslav Březina's Laca was an equally complex characterization. Laca's love for Jenůfa was as intense as Kostelnička's pride, and he was just as prone to irrational violence as she was. He had slashed her cheek, destroying what he could not have and ruining it for his brother. His was an unconditional love: he accepted Jenůfa for who she was, as she eventually did him. One of the most touching moments of the opera was when Jenůfa realized that at his most brutal he was acting out of love for her and forgave him. Březina made Laca into a hero.
The National Opera cast the opera with care; everyone on stage was a fascinating individual who captured some facet of life in a small village. Martin Šrejma's Števa was a wastrel, free-wheeling and easy with a voice to match. His doting grandmother was portrayed by Yvona Škvárová who, seemingly asleep, managed to balance a tray of crystal glasses containing a potent clear alcohol at Jenůfa and Laca's wedding.
The callous snobbery of the local gentry was manifested by the mayor and his wife, Luděk Vele and Jitka Svobodová. Wearing an over-the-top Alpine-inspired costume, she criticized Jenůfa's non-traditional wedding dress and sneered at the trousseau lovingly stitched by Kostelnička. The mayor threw a knife at Kostelnička's feet when she confessed to her crime. Their daughter, Karolka, portrayed by Jana Sibera, was cut from the same cloth, keeping Števa on a tight leash at the party but dropping him in a heartbeat when the truth came out.
My favorite character in many ways was Ivan Kusnjer as the foreman of Števa's mill who drolly goes about his business. With a firm, vibrant voice, he brought an authenticity to the role that would sadly be absent in most opera houses nowadays. No matter how talented singers in a young artist's program may be, they are just acting. Kusnjer was the real thing.
The chorus and dancers were as colorful and essential to the drama as any of the principals. Jaroslav Kyzlink led a fast paced, exciting performance. Balance could occasionally be an issue, but who would trade off the rich rumblings of the lower brasses just to hear a few words more distinctly?
Nekvasil's 2005 production eschews pictorial accuracy for the stark rustic realism of unfinished wood. For the first act, the wheels and gears of the mill, farm tools, furniture and other implements hang on the wooden wall. Števa is boss there. In the second act, the wall separates to create a three-dimensional space for Kostelnička's house. A colorful shrine is hidden behind a door, and a large cross hangs from a wall, but it is a house devoid of warmth.
The final scene finds Jenůfa and Laca walking hand in hand into new world with an uncertain future, free from the rules that had shaped and restrained them. They had managed to overcome an environment where there was little love and forgiveness to be had and find each other. Poláčková and Březina sang and acted the roles to perfection in a performance to cherish and remember.
Rick Perdian