Czech Republic Dvořák, Rusalka: Soloists, Dancers of the Olga Kyndlová Ballet School and Pueri Gaudentes, Chorus and Orchestra of The National Theatre / Jiří Štrunc (conductor), The Music Theatre Karlín, Prague, 22.10.2018. (RP)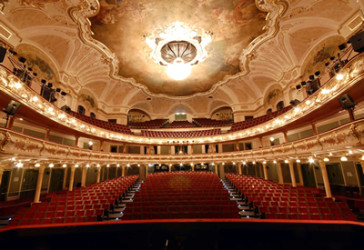 Cast:
Rusalka – Alžběta Poláčková
Prince – Peter Berger
Water Goblin – Oleg Korotkov
Ježibaba – Jana Sýkorová
Foreign Princess – Iveta Jiříková
First Wood Sprite – Hana Jonášová
Second Wood Sprite – Sylva Čmugrová
Third Wood Sprite – Alžběta Vomáčková
Turnspit – Erika Vocelová Jarkovská
Gamekeeper – Ivan Kusnjer
Hunter – Jiří Brückler
Production:
Stage director – Zdeněk Troška
Sets – Milan Ferenčík
Costumes – Josef Jelínek
Choreographer – Dana Morávková
Chorus master – Adolf Melichar
Dramaturgy – Jitka Slavíková
For the National Opera's 2005 production of Rusalka, Zdeněk Troška created a mystical realm of natural beauty where nymphs frolic and witches reign. Virgin forests, gushing waterfalls and mountain lakes shimmering in the moonlight are captured in film providing a natural, three-dimensional reality to the first and third acts. It is the world that Rusalka leaves to marry her prince.
Alžběta Poláčková was an enchanting Rusalka, as captivating an actress as she is a singer. Her silvery voice shimmered in 'The Song of the Moon', caressing Dvořák's beautiful melodies. It was heartbreaking to watch her standing mute and helpless as the Prince abandoned her for the Foreign Princess, thereby consigning her to the dismal fate that Ježibaba had decreed.
Few dared to summon Ježibaba but Rusalka did, firm in her belief that her Prince would be true to her. Sinewy male demons slithered on stage before the witch appeared. Imperious in glittering black robes, Jana Sýkorová hurled out her curses and threats with searing high notes and cavernous chest tones. She showed no mercy when Rusalka returned to the forest.
Handsome and dashing, Peter Berger was a tailor-made fairy-tale prince. His first act aria was ardently sung, expressing his wonder at and love for the beautiful creature he encountered in the forest. In the second act, he ran the gamut of emotions from arrogance to self-absorption, but in Act III he was desperate and passionate, yearning for Rusalka's fatal kiss.
Oleg Korotkov, costumed in bright green, was the Water Goblin. His booming bass-baritone was shown to its best advantage as he heaped scorn on Rusalka's feckless suitor. One of the evening's most poignant scenes was in Act II as he watched silent in disbelief as the Prince abandoned Rusalka for the glittering and brittle Foreign Princess.
The nymphs — translucent film images cavorting in the distance and living ones who danced and sang in the forest — were ethereal visions in white, fluttering gracefully in the moonlit sky and across the forest floor. The three Wood Sprites, Hana Jonášová, Sylva Čmugrová and Alžběta Vomáčková, emerged from their midst, as elegant in movement as in song.
Rusalka's first glimpses of the Prince were of him astride a horse and hunting with his courtiers, which the audience saw as film. Captivated by her beauty, he whisks her off to a real castle, Cuknštejn, a fifteenth-century medieval fortress at the edge of the Theresia Valley in Southern Bohemia where many of the film sequences were shot.
The inside of the castle was glittering and ornate, but as it was the human realm there were no projected images to supply mystery and magic. The Foreign Princess did not love the Prince but merely wished to thwart his marriage to the awkward, mute woman. The brittle glamour of Iveta Jiříková's Foreign Princess was matched by the thrust and brilliance of her voice. Like Ježibaba, she was escorted by a cohort of sinister courtiers who fawned over her.
Comic relief was provided by the Turnspit of Erika Vocelová Jarkovská, whose straight man was the rock-solid Ivan Kusnjer as the Gamekeeper. Troška's inspiration for the Turnspit had to be Lucille Ball in the famous chocolate factory scene from I Love Lucy. Dressed in traditional chef's whites with a toque blanche perched above bright red hair, she was the spitting image of the American comedian and about as zany, with a voice that sparkled.
Jiří Štrunc led a well-paced performance, always sensitive to the drama and fairytale nature of the opera, so much of which unfolds in the music. The warm sound of the strings, swirling harp arpeggios and blazing brass of Dvořák's lush score rebounded from the pit, providing a plush cushion of sound for the voices, but balance was never issue. During the stately dances of the second act, Štrunc had no restraints whatsoever, and the brasses reverberated through the theater.
The Music Theatre Karlín has exceptional acoustics and excellent sight-lines throughout the entire house. Built in 1881, the 921 seat Neo-Baroque theater generally is home to operetta and musical theater productions, but it is being used for opera while the State Theatre is undergoing renovation. For its theaters alone, to say nothing of its musical offerings, Prague is a city with few peers.
Rick Perdian