United States Puccini, Tosca: Soloists, orchestra and chorus of San Francisco Opera / Leo Hussain (conductor), War Memorial Opera House, San Francisco, 3.10.2018. (HS)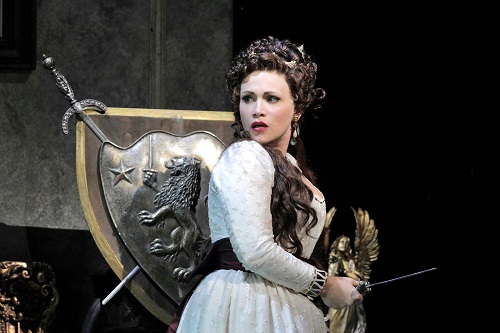 Cast:
Floria Tosca — Carmen Giannattasio
Mario Cavaradossi — Brian Jagde
Baron Scarpia — Scott Hendricks
Cesare Angelotti — Hadleigh Adams
A Sacristan — Dale Travis
Spoletta — Joel Sorensen
Sciarrone — Andrew Manea
A Jailer — Christian Pursell
A Shepherd Boy — Zachary Zele
Marchesa Attavanti — Tatiana Bookbinder
Production:
Director — Shawna Lucey
Production Designer — Robert Innes Hopkins
Lighting Designer — Michael James Clark
Chorus Director — Ian Robertson
Big voices and another evening of eloquent music-making from the San Francisco Opera orchestra made the opening performance Wednesday of the company's new production of Puccini's Tosca a winner.
This orchestra has been sounding better than ever this year. A stunningly brilliant Ring of the Nibelungen with Donald Runnicles in June heralded a significant uptick in sounds from the pit. The orchestra played a key role in Roberto Devereux and the Cav & Pag that followed — both of which shook the rafters. For Tosca, Puccini's sonorities came through vividly under a steady (and sometimes draggy) pace from British conductor Leo Hussain.
In her first go at the iconic title role, Italian soprano Carmen Giannattasio created a flesh-and-blood character with a telling array of physical gestures, pointed attention to the text, and singing that filled the house with rich tone.
The rest of the cast, veterans in their roles, sang with full-throated presence, except for baritone Scott Hendricks. His Scarpia was suitably oily and venal, but though musically solid, his voice seemed suited for a smaller house than War Memorial's 3,000-plus capacity.
This new production featured realistic sets designed by Robert Innes Hopkins and traditional period costumes tailored to reflect turn-of-the-19th-century Rome. The Act I church was patterned after the colorful Duomo di San Giorgio in Ragusa, Sicily, instead of the traditional Sant'Andrea della Valle in Rome, but Scarpia's room and the rooftop of Castel Sant'Angelo looked as expected, the angel topping the roof facing away from the action.
Nice details added frissons to the staging. In Act I Cavaradossi's painting faces away from the audience and is pinned with sketches to indicate his work. In Act II a shadow pantomime shows glimpses of Cavaradossi's torture, and Tosca plucks the knife with which she kills Scarpia from a decorative shield instead of from Scarpia's dinner. In Act III a group of children wielding brooms mimes the shooting of Cavaradossi to come. All good, but not particularly revealing.
Director Shawna Lucey populated the stage with a lot of ancillary characters. A crowd of green-suited minions followed Scarpia's bidding. Extra priests and acolytes crowded the 'Te Deum' in Act I. And the lovely blonde Marchesa Attavanti — mentioned but not usually in the cast — snatched her fan away from Scarpia at the end of Act I, and in a disheveled state, left the police chief's room at the start of Act II. Although these glosses were fine, there were so many of them that they often introduced notes of chaos rather than insight.
Seeing the Attavanti was a nice touch, but more satisfaction came from what Lucey chose to bring out in the characters. How much was Lucey and how much was Giannattasio isn't clear, but Tosca swung from full-on diva to nervous Nellie and back again. Giannattasio hinted at more of an internal struggle with Scarpia's predatory machinations than usual. Even the big Act II aria, 'Vissi d'arte', emerges from a long moment of complete stillness, Tosca lying prone while Scarpia stares out the window. The soprano favored simple phrasing in this aria, and virtually no histrionics, calling attention to the character's moment of shock (although to my taste, she might have applied a bit more musical nuance to the melodic line).
It was also clear that, as a subtext, this Tosca was meant to reflect the #MeToo moment. To stage the opera at the same time the U.S. Senate is deciding whether accusations of sexual misconduct should derail a Supreme Court nomination definitely reverberated. Hendricks as Scarpia, a bully wielding the privilege of power, even looked a little like the would-be justice.
As Cavaradossi, the painter in over his head as dangerous political intrigue catches him in its vortex, tenor Brian Jagde offered muscular singing, a ringing top and rough-hewn phrasing. He dialed it back nicely for the Act III aria, 'E lucevan le stelle', but returned with high energy for a thrilling à capella moment with Giannattasio in the duet that followed.
Among the rest of the cast, Dale Travis created one of the fussiest (and fustiest) Sacristans I've seen. In a way, his interactions with Cavaradossi in Act I foreshowed the torture the painter suffers in Act II. Hadleigh Adams' Angelotti (the escaped prisoner Cavaradossi helps) was the other standout among many solid performances, even if his acting pushed the injured escapee role to the edge. Both baritones sang with resonance, as did Joel Sorensen as Spoletta and Andrew Manea as Sciarrone, Scarpia's chief henchmen.
With Tosca the fall season reached the halfway point, and the company is on a roll. Roberto Devereux featured soprano Sondra Radvanovsky in magnificent vocal form, with sets that called to mind Shakespeare's Globe Theatre. The double bill of Cavalleria rusticana and Pagliacci made the most of director José Cura's decision to set both one-act operas in the same neighborhood of Buenos Aires, the casts of each infiltrating the other at the edges.
Triangulating with those creative takes, this basically traditional setting for Tosca suggests that general director Matthew Shilvock won't tolerate past excesses other directors have been granted on the War Memorial stage. A good idea is worth encouraging if it makes sense, and if these casts are any indication, patrons can expect a notable uptick in singing talent and an orchestra that's pulling together musical rewards at an ever-higher level.
Harvey Steiman