United Kingdom Wagner, Schoenberg and Bruckner: Philharmonia Orchestra / Esa-Pekka Salonen (conductor). Royal Festival Hall, London, 30.9.2018. (JPr)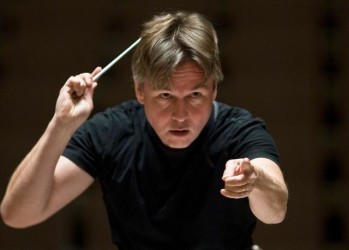 Wagner – Tristan und Isolde, Prelude and 'Liebestod'
Schoenberg – Verklärte Nacht
Bruckner – Symphony No.7 in E major
Verklärte Nacht (Transfigured Night) is a tone poem originally composed – uniquely in its time – for a string sextet. It is based on Richard Dehmel's 1896 poem of the same name: much of Dehmel's work was considered controversial in his day because of its veiled – and often not so veiled – sexual content. Schoenberg actually preferred the term 'programme music' to 'tone poem' and later commented about how Verklärte Nacht was 'somewhat different from other illustrative compositions, firstly, by not being for orchestra but for a chamber group and secondly, because it does not illustrate any action or drama, but was restricted to portray nature and express human emotions' and how 'it can be appreciated as "pure' music" ' if someone 'does not know what it illustrates'. Originally composed in 1899, Schoenberg composed an arrangement for string orchestra in 1917, further revising it in 1943. I presume this was the version performed by a full string complement of the Philharmonia Orchestra.
The work's structure broadly follows the poem's five stanzas and Schoenberg employs his rather limited palette of strings to create a glorious breadth of textures and orchestral colour. There is the darkly ominous beginning for a couple's moonlit walk and this introduces the prominent motif of the woman's anguished state as she confesses to her lover about how she is pregnant by a stranger. The music shifts to the bright D major, which reflects the man's extremely consoling words and reaches a climax after which there is an exalted coda that combines earlier themes and concludes the work to reveal – in Schoenberg's words – 'the miracles of nature that have changed this night of tragedy into a transfigured night.'
Someone in the audience at the delayed first performance in 1902 found a place in posterity by saying Verklärte Nacht sounded like 'someone had smeared the ink of Tristan while it was still wet', alluding to Schoenberg's use of Wagnerian chromaticism. I can confirm – on only my second hearing of this work – my first thoughts about some allusions there are to that composer's Siegfried Idyll and Parsifal whilst it seems to have anticipated Strauss's Metamorphosen with all the intensely moving, late-Romantic, languorous lushness that Salonen and his exemplary orchestra presented us. There were fine contributions from concert master Zsolt-Tihamér Visontay's violin and Yukiko Ogura's viola.
The theme of the evening appears to have been idolatry since Schoenberg was influenced by Wagner as undoubtedly was Bruckner. The latter seems to have had a premonition of Wagner's death and the sad event occurred as he was composing the Adagio of his Seventh Symphony. He received the news on 14 February 1883, the day after 'the Meister' had died. This second movement – which already may have had an elegiac tone – now turned into a fully-fledged funeral oration. Hearing the Adagio in the context of this history lends it an undoubted potency.
Whilst Salonen allowed the first movement (Allegro moderato) to unfold inexorably I never got a conscious feeling of the symphony's inexorability and final destination. The end of this movement seemed a climax, as did the end of all the other movements, and maybe this was less Salonen's fault than Bruckner's. The following Adagio had formal dignity, sincerity and poignancy. Controversy reigns about whether Bruckner wrote a cymbal clash at the climax of this movement upon hearing that Wagner had died, or the conductor Arthur Nikisch persuaded the composer to add this clash supported by a triangle. Regardless this was the only contribution of these two musicians during a 65-minute symphony! The Adagio was, as always, the emotional turning point of the work and ushered in a downhill brass-fest – including Ross Knight's tuba and four 'Wagner tubas' – all the way from then on. The Scherzo had some wit, power and excitement but the relatively short Finale again seemed incomplete with all the differing themes insufficiently coalescing despite – that rarest of things – a Brucknerian 'happy ending'. Salonen brought a coherence to the music's ebb without seemingly probing for any deeper resonances within it – perhaps there are none? Generally, his expert musicians supported the conductor with an extraordinary stream of heroic brass tone to augment splendid woodwind and string playing.
The concert began with Wagner's own Prelude and 'Liebestod' from his 1865 Tristan und Isolde. Salonen and the Philharmonia disappointed at the recent BBC Proms with their Die Walküre Act I (review click here) but they seemed more 'at one' with the composer here. It was a beautifully shaped performance that had a subdued intensity throughout and culminated with a stirring, tender and spiritually transcending 'Liebestod' which – although we were not to know it at the time – would prove even more transfigurative than Schoenberg's Verklärte Nacht.
Jim Pritchard