United Kingdom Nielsen, Sibelius and Beethoven: Vilde Frang (violin), Scottish Chamber Orchestra / Enrique Mazzola (conductor), City Hall Glasgow, 28.9.2018. (GT)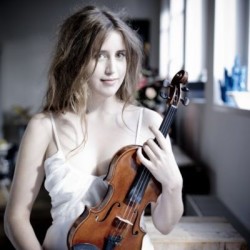 Nielsen – Helios Overture
Sibelius – Symphony No. 3 in C major
Beethoven – Violin Concerto in D major
The Scottish Chamber Orchestra has a new incumbent Principal Conductor designate in the young 29-year-old Maxim Emelyanychev taking over from Robin Ticciati after a brilliantly successful tenure here. Certainly the young Russian will find it difficult to maintain the great success achieved during Ticciati's leadership, however he has already notched up several awards for his early music recordings and he comes from a country which boasts a great conducting tradition. It will be not for a few weeks before Emelyanychev arrives here for his reading of Haydn's The Seasons. Another country which has a great tradition for conductors is Italy and this concert was conducted by a young Italian, Enrique Mazzola, someone I have never heard before however he has gained significant success with high profile engagements with both opera and orchestras worldwide. On this occasion, he showed that he has a great career ahead of him.
This was abundantly clear from the opening bars of the Nielsen overture, in which Mazzola drew a subterranean roaring sound from the low strings inducing a distinctly rather forbidding tension, yet this mysterious mood was quickly dispatched by a lively idea on the violins. A measured theme began developing in the woodwind, and the horns emitted an inspiring call, this was typical Nielsen in all his soulfulness and soon a positive smiling idiom was restored from the flute and clarinet. The slowly gradual crescendo in a passage from the violas reminding us that the composer was a lifelong violist in the Royal Danish Opera. This little symphonic piece set up the concert marvellously well, Mazzola showing he can make a great deal from such material from the Danish master symphonist as the music 'sinks quietly into the sea' at the close.
Written just three years later, the contrast with Sibelius's Third Symphony couldn't be greater despite both composers sharing Nordic climes. If the Finnish composer was drawn to romanticism in his first two symphonies, here Sibelius reveals an attraction to modernism, but wholly different from that of many contemporaries. There are sparkling bright harmonies, outwardly bursting with life, yet drawing illusions of nature and life around him; invocations of a great ship setting sail, then a startling contrast in the mood with a snarling theme on the strings, and then chirping woodwind, quickly switching from angst to sunny shores, not before the brass chorale invoked the theme from Game of Thrones. Mazzola shows that he is an excellent conductor, with fine gestures and excellent control; it was clear he prepared this work thoroughly in rehearsal, and this was the third playing over three evenings. In the slow movement, we heard a gentle swaying theme, graceful on the strings and eloquent in the woodwind and beautiful playing from the clarinet of Maximiliano Martin, and supported by beautiful string playing, the writing for cellos allowing warmth in what seemed a cold climate!
This performance took me back to Alexander Gibson's work with the Royal Scottish National Orchestra many years ago, and Mazzola is similar in style to the German pianist/conductor Christoph Eschenbach in his mannerisms, but without the latter's fondness for showing off. This was a superb reading of what has always been a neglected masterpiece in Sibelius's works, and superbly performed, the conductor getting his musicians to play at the top of their form.
Norway has produced some of the world's finest string players, the standard set admirably by Ole Bull in the nineteenth century, and continued more recently by Truls Mørk, amongst others. Since her debut with Mariss Jansons at 12, Vilde Frang has achieved considerable success with an eclectic repertoire, and still presents a quite remarkable youthful presence on stage. The masterly introduction in the Beethoven Violin Concerto by the conductor was fitting for the young Norwegian violinist's luminous entry; she has a wonderful song-like vitality in her playing, so nimble is her touch, musical and elegiac. She has a strange beguiling stance when not playing, Frang lets her violin hang down while she gazes around the hall, attentively listening to the orchestra, and when she picks up her instrument, the notes come effortlessly from her bow. In the extensive opening movement, she played Kreisler's cadenza, as eloquently as if she herself had composed it. Again one was struck by the soloist, her very searching playing, intimate and lyrical, without the heroism and bravura of so many other interpretations. In the slow movement her playing was devoid of the machismo sometimes adopted, her strength was entirely expressed through her musicality and Beethoven's melodic line; there was a quite magical passage shared with all the strings plucking in pizzicato style. In the finale there was great sensitivity and great accompaniment from the conductor and his orchestra. This was a quite stunning opening for the new season from the SCO, with staggering musicality from Vilde Frang, but it is the Italian maestro who marked himself as someone to watch out for. Mazzola has great craft, intelligence and the ability to get his musicians to recreate his ideas.
Gregor Tassie
For more about the SCO click here.