Ireland Wexford Festival Opera 2018 [1] – Donizetti, Don Pasquale: Soloists of Wexford Festival Opera / Daniella Pellegrino (music director), Clayton Whites Hotel, Wexford, 20.10.2018. (RB)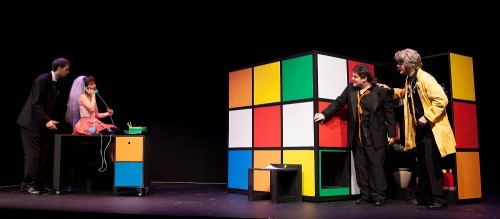 Cast:
Don Pasquale – Toni Nežić
Dr Malatesta – Simon Mechliński
Ernesto – Antonio Mandrillo
Norina – Barbara Cole Walton
Carlino – Henry Grant Kerswell
Production:
Stage Director – Kathleen Stakenas
Stage and Costume Designer – Angela Giulia Toso
Lighting Designer – Johann Fitzpatrick
The Wexford Opera Festival has a unique mission which is to unearth long neglected operas or to stage new and emerging works. For the most part the main roles in these productions are sung by rising new talent in the opera world rather than established stars. While it is entirely right that staples of the repertoire such as La bohème, La traviata and Die Walküre are performed again and again, there are many operatic jewels which have been discarded and deserve a much wider audience. Wexford Festival Opera have provided a great service in introducing the public to these lesser-known works and there is evidence that some of them are beginning to be taken up more widely – for example, Barber's Vanessa was staged by Glyndebourne earlier in the year to considerable critical acclaim (review).
In addition to the three main operas, the Festival stages three short works in Clayton Whites Hotel. These are essentially condensed versions of more popular operas which are accompanied on the piano. Donizetti's Don Pasquale was the first of these short operas. The singers were accompanied and directed from the piano by Daniella Pellegrino who was note perfect throughout.
Donizetti wrote Don Pasquale relatively late in his career when he had 70 operas under his belt and ten years after L'elisir d'amore. It is generally regarded as the high point of the opera buffa tradition. In keeping with that tradition, the work is inhabited by the characters from the Commedia dell'arte: Pasquale is Pantalone, Ernesto is the love-sick Pierrot, Norina is Columbine, and so on.  Given this was a condensed version of the opera, judgements had to be made about what material to leave out. Wexford decided to excise some of the early scenes involving Pasquale and Ernesto and moved straight to the dialogue between Pasquale and Malatesta. For people not entirely familiar with the opera it may not have been clear why the three younger characters were being so nasty to Pasquale. However, with all the slapstick and joviality the opera worked well on its own terms and the decision to excise the early material did not detract from the overall enjoyment of the work.
In this production a large Rubik cube dominated the main stage. In the first act Pasquale's desk was revealed and two of the drawers looked like faces of the cube. As the act progressed, the giant cube on the stage opened up to reveal shelves in Don Pasquale's house. In the next scene another section of the cube opened up to reveal Norina's dressing table and mirror. The male characters were all wearing suits but with splashes of colour – for example, Malatesta wore a yellow doctor's coat. Norina was dressed like a tarty party girl immediately prior to her transformation to Sofronia. This rather abstract setting fitted well with the work's commedia dell'arte origins.
The young performers captured the frothy comic exuberance of this work and the singing and acting was of a very high standard throughout. The standout performance was Polish baritone, Simon Mechliński, in the role of Dr Malatesta. His vocal entries were well executed and beautifully coloured, his diction was excellent, and he showed a flair for rapid-fire coloratura in Act III's 'Aspetta, aspetta, cara sposina'. He is also a highly skilled comic actor, a talent which came to the fore in the Act I duet with Barbara Walton's Norina:  the scene fizzed with comic exuberance. Canadian soprano, Barbara Walton, has a light, flexible soprano voice and she negotiated Donizetti's dazzling coloratura with enormous vocal dexterity. She captured the sparkling, manipulative character of Norina to perfection. Occasionally, I would have welcomed a fuller tone and a wider range of tone colours although Walton was very secure in the upper vocal register and she produced dazzling top notes.
Croatian Bass, Toni Nežić, gave an assured performance as the hapless, doddery Pasquale. In spite of being a very youthful looking Pasquale he was convincing in his portrayal of the character. The singing was assured, and he blended beautifully in the ensemble numbers. He also negotiated the tongue twisting coloratura in 'Aspetta, Aspetta' brilliantly. Occasionally, he seemed a little weaker in the middle vocal register, but this is a minor quibble. Italian tenor, Antonio Mandrillo gave a reasonably convincing portrayal of the love-struck Ernesto. He is clearly a fine singer but I was not convinced he was completely comfortable in this repertoire. The tone sounded forced and over emphatic and there were some minor intonation issues.
Overall, this was a splendid production of Don Pasquale which was greeted with warm enthusiasm from the Wexford audience.
Robert Beattie                     
For more about the Wexford Festival click here.