United States Verdi, La traviata: Soloists, Washington National Opera Chorus, Dancers, and Orchestra / Renato Palumbo (conductor), Washington National Opera, The Kennedy Center, Washington, DC. 9.10.2018. (RRR)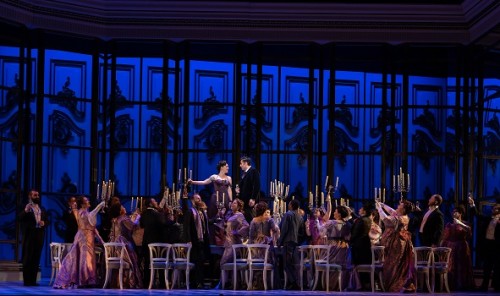 Cast:
Violetta Valéry – Venera Gimadieva
Alfredo Germont – Joshua Guerrero
Georgio Germont – Lucas Meachem
Annina – Alexandria Shiner
Baron Douphol – Michael Hewitt
Marquis d'Obigny – Samuel Weiser
Flora Bervoix – Deborah Nansteel
Gastone – Arnold Livingston Geis
Marquis d'Obigny – Samuel Weiser
Dottore Grenvil –Timothy J. Bruno
Production:
Director – Francesca Zambello
Associate director – Jennifer Williams
Set designer – Peter Davison
Costume designer – Jess Goldstein
Lighting designer – Mark McCullough
Choreographer – Parker Esse
Assistant director – Joshua Horowitz
In the midst of the first week of its run, I attended the Washington National Opera's production of La traviata — a satisfying, if not overwhelming experience. The occasionally dramatically inert first half was compensated for by a second half that caught fire. On the other hand, there were no vocal disappointments at any point, and the production values were consistently high.
Only the very start of the production — during the orchestral prelude — was puzzling. The scrim covering the stage featured a giant pair of diagonally placed mascara-laden eyes framed in red and black. It suggested to me a woman peering out of a burqa, but I'm sure something else was meant, though La traviata does convey a hint of a harem. But what appears through the scrim as the backlights come up is equally puzzling — a grim hospital ward. Toward the end of the prelude, one of the bedridden inmates – Violetta, as it turns out — pops up from under her white sheet in a full-length purple gown, and soon we are in the midst of a gay Parisian party.
What might this mean? I jumped to the conclusion that director Francesca Zambello wanted to show that the pleasure palace of Paris is actually a hospital ward, where passion is an illness. Wrong. Reading her production notes later, she intended to show 'Violetta's story as a long flashback' after she expires from consumption at the end of the opera. But why show the end at the beginning, unless, as Churchill might say, it is the beginning of the end? The scrim eyes and the hospital ward aside, Zambello directed a fairly traditional production, harmlessly displaced from the 18th to the late 19th century. It was quite pleasing from there on — well staged, well designed, and well lit.
The evening was slightly condensed by cutting the opera almost exactly in half: before intermission, Act I was followed with Scene 1 of Act II, and in the second half, Act II's second scene prefaced Act III. That may sound confusing, but it worked well, as both halves start with parties — one in which Alfredo falls in love and the other in which he falls out of it.
The first party scene, in which Alfredo is smitten with the courtesan Violetta, was well sung and attractively set, but rather unconvincing as something other than an opportunity for vocal display — which was satisfying enough in itself, however, given the quality of the singing. Part of the problem lay in the melodramatic creakiness of the 19th-century tale of instantaneous, immortal love that only the Romantic age could find plausible. It is hard to build on its flimsiness since there is so little character development.
In fact, the remainder of the expanded first act continued to suffer from improbabilities, as when Violetta is persuaded by Alfredo's father, Georgio Germont, to abandon Alfredo for the sake of making his daughter's marriage possible — which otherwise would be prevented by the scandal of Violetta living with Alfredo out of wedlock. I realize I am a century-and-a-half too late in criticizing the plot but hasten to add that it did not deter any of the musical glories. In particular, the duets between Alfredo and Violetta, and between Violetta and Georgio Germont were very finely done.
The party scene that begins the second half was gorgeously, sumptuously set, and at this point things caught fire. This fete seemed to have more real spirit than that of first act, aided by attractively choreographed gypsy dances. However improbable the love was in the first place, its loss produces a believable anger in Alfredo, who is clueless as to why Violetta left him and whose hateful revenge against her animates the scene with real dramatic tension. For the remainder of the opera, in the consumption ward, the hospitalized Violetta wonders if she will die alone. Alfredo, who now knows the reason for Violetta's sacrifice, arrives with his father at the last minute. Their love is reawakened, and they sing ecstatically of a future together. Violetta seems reanimated by the reconciliation, only finally to expire. If the first half of the evening had been as emotionally engaging as the second, this production would have been a major achievement. Still, a success.
The three principals portraying Violetta, Alfredo and Georgio Germont need superior voices for this opera to work, and they had them. Russian soprano Venera Gimadieva, American tenor Joshua Guerrero and American baritone Lucas Meachem were all making their Washington National Opera debuts. Meachem has a magnificent instrument with which he was easily able to fill the opera house at forte passages, but also project tender pianissimo lines. As the censorious father, he bore himself very stiffly, as was perhaps appropriate, but at times his words expressed things that his body didn't. Nonetheless, his singing was thrilling.
Gimadieva did everything well — she is as fine an actress as she is a singer. Her coloratura arias were exciting, and her more lyrical singing was touching — particularly with 'Ah! dite alla giovine si bella e pura,' when she implores Alfredo's father someday to tell his daughter of her sacrifice. But then her entire death scene was exquisitely well done and very moving.
Guerrero is a fine tenor and a good actor who expressed the requisite intensity. For some reason, he kept his head slightly ducked forward for much of the evening. It was distracting. I first wondered if he was trying to keep his eyes on the conductor, but clearly that was not the case. In spite of that minor blemish, he carried off his role with distinction.
Despite the vigor with which he conducted and his sometimes-blistering pace, Renato Palumbo never swamped his singers. He kept the musical lines clear and the orchestra played expressively throughout. He did seem to accentuate Verdi's predictable foursquare rhythms, but what other choice did he have? It would be very hard to bury them. (Thus, we come to understand the contemporaneous caricatures of Verdi holding a barrel organ.)
Robert R. Reilly
La traviata runs through October 21, 2018.