United Kingdom Donizetti, Lucia di Lammermoor: Soloists, Chorus & Orchestra of English National Opera / Stuart Stratford (conductor). London Coliseum, 9.11.2018. (CC)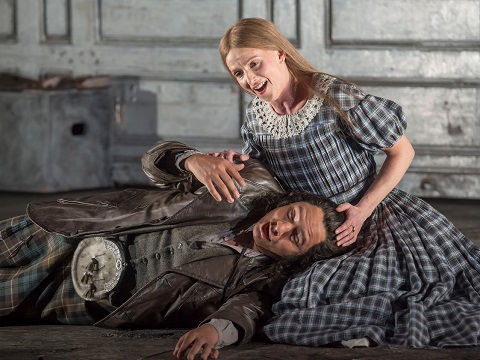 Cast:
Lucia – Sarah Tynan
Edgardo – Eleazar Rodriguez
Enrico – Lester Lynch
Lord Arturo Bucklaw  – Michael Colvin
Raimondo – Clive Bayley
Normanno – Elgan Llŷr Thomas
Alisa – Sarah Pring
Production:
Director – David Alden
Sets – Charles Edwards
Costumes – Brigitte Reiffenstuel
Original Lighting – Adam Silverman (revived Andrew Cutbush)
Original Movement – Claire Glaskin, (revived Maxine Braham)
It has been ten years since David Alden's production of Lucia hit the ENO stage (for my review click here). The power of the staging remains intact. Cast predominantly in black and white, an idea that not only serves to distance us as we watch the Gothic tale unfold, but also which enables the splash of another colour – inevitably, red – to make its full dramatic point. Lighting seeks to underline this basis, shadows cast everywhere. The setting is a once-luxurious estate that now crumbles, like the characters that inhabit it. In Alden's view, Lucia's madness is far from the exception; it is just an extension of an already established norm. The characters are so closely enmeshed that the portrayal of incest is no great surprise. None of the characters is portrayed as a model of mental stability, implying any could go off the rails at any given moment. They are all living in their past, too, hence the on-stage portraits of ancestors. Retrogressive and unhinged describes the basis of this Lucia: this cannot end well. And it doesn't, but Lucia's demise brings forth some of the greatest of music of all Romantic opera.
Such intensity demands a parallel level of emotional power from the pit, and here Stuart Stratford, a familiar name from Opera Holland Park (see Puccini's La fanciulla or Mascagni's Iris, for example), provided just that. The English National Opera Orchestra gave their all in a performance of Lucia that also included a great deal of nuance. Stratford understands the voice, and how phrases need to breathe; he also, crucially, gets Donizetti's orchestration. A sense of flow permeated the whole from the very opening; and to hear the ENO Orchestra on such full-toned form was a joy indeed. They clearly respect Stratford, whose deep musicality added immeasurably to the evening.
While Anna Christy back in 2008 was the epitome of the young girl thrown into a disturbing milieu – vortex, even – of instability, the more experienced Sarah Tynan brought an intriguing mix of stature with freshness of voice; most notable vocally, perhaps, was her ability to retain her fullness of timbre at both the top of her range and at the higher dynamic levels. From her first aria, 'Regava del silenzio' (the title in in the original Italian), Tynan brought a magnetic presence and vocal command to the role that grew and grew as the evening progressed. Her Mad Scene, with the haunting sound of the glass harmonica, was a dramatic, vocal and musical triumph wherein everything just seemed to come together, compellingly.
In addition to Tynan, it was Lester Lynch's Enrico Ashton that impressed. Possessed of huge stage presence, Lynch relished every second of the role. His burnished, expressive, even ardent baritone is a superb instrument.
The two major tenor roles were taken by Mexican Eleazor Rodriguez (Edgardo) and Michael Colvin (Lord Arturo Bucklow; Colvin sang Normanno in 2008). No missing the enthusiasm of the bekilted Rodriguez, who gave his all to portray Edgardo (the role climaxes in the final act, beautifully delivered here). At the other end of the scale was the dandyish Arturo Bucklaw, dressed in off-white as if to emphasise his contrast to his surroundings and offering a complementary contrast to Rodriguez vocally.
A decade ago, Clive Bayley had been indisposed when I heard this production the first time, replaced by Paul Whelan, but he was present in the 2010 performance (reviewed by myself click here). The same comments I made in 2010 remain: vocally focused, with wonderful lowest register, Bayley remains unconvincing onstage as an actor, his movements stilted. Sarah Pring, as Alisa, brought confident acting and vocal excellence to her role. If ENO Harewood Artist Elgan Llŷr Thomas was a trifle weak-voiced to begin with as Normanno, the captain of the castle guard, he gained in confidence.
In staging terms, it is interesting to compare Alden's gothic tale with Katie Mitchell's split-stage Lucia at Covent Garden (for my of a 2017 performance click here). There, there was more of a feminist agenda, with the oppressed Lucia's fate in the hands of a male-dominated society. Here, the emphasis is more on horror; not of the murder per se, but more of the inherent imbalance of everyone concerned and the feeling that the denouement is inevitable from the off.
ENO has a deserved reputation in certain parts of the repertoire (not least Gilbert and Sullivan). Is it possible that the spotlight could be moved towards the Romantic part of the repertoire, with Donizetti foregrounded? On present evidence, that would be no bad idea.
Colin Clarke
For more about what ENO are putting on click here.