United States Nico Muhly, Marnie: Soloists, Chorus and Orchestra of the Metropolitan Opera New York / Robert Spano (Conductor). Broadcast live to the Dundonald Omniplex Cinema, Belfast, from the Metropolitan Opera in New York, 10.11.2018. (RB)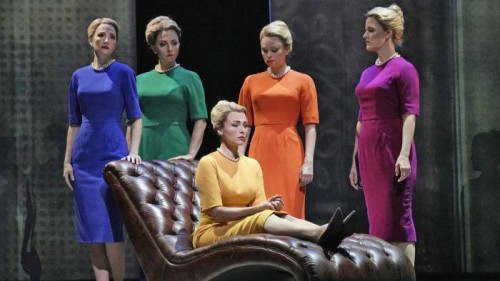 Cast:
Marnie – Isabel Leonard
Mrs Rutland – Janis Kelly
Marnie's Mother – Denyce Graves
Terry Rutland – Iestyn Davies
Mark Rutland – Christopher Maltman
Production:
Production – Michael Mayer
Set Designers – Julian Crouch & 59 Productions
Costume Designer – Arianne Phillips
Lighting Designer – Kevin Adams
Choreographer – Lynne Page
Live in HD Director – Habib Azar
Live in HD Host – Anthony Roth Constanzo
Nico Muhly's Marnie received its world premiere at the English National Opera (review click here) and has now transferred across to the Met. It is based on Winston Graham's 1961 novel of the same name. It involves a young woman with a mysterious past who makes a living by stealing from her employers, moving on and changing her identity to cover her tracks. One of her employers, Mark Rutland, catches her in the act and blackmails her into marrying him. She refuses to have sex with her new husband and, when he tries to force himself on her, she tries to commit suicide. Rutland persuades Marnie to see a psychoanalyst to discover what is driving her behaviour. A shocking event involving Marnie's horse finally forces her to confront the trauma from her past which is the root cause of her behaviour. Graham's book was famously turned into a film in 1964 by Alfred Hitchcock starring Tippi Hedren and Sean Connery. Muhly's opera goes back to Graham's original novel, locating the action in outer London rather than the US and giving us the full cast of characters in the book.
Marnie's fear of physical contact and her identity changes have operatic antecedents. Debussy's Mélisande avoids physical contact as she is trapped in a marriage with an abusive man while Emila Marty in Janáček's The Makropulos Case changes her identity on multiple occasions. Mark Rutland's manipulation and attempted rape of Marnie is certainly contemporary and relevant given the prominence of the Harvey Weinstein case and the rise of the #MeToo movement. Whatever crimes Marnie has committed, and regardless of her being married to Mark, she has the right to say no when he insists on having sex.
Given the psychological nature of the story one can see why Muhly was drawn to it. It presents multiple opportunities to convey dramatic irony and internalised states of mind through the orchestra. There is no doubt that some parts of the score are highly original and very beautiful and the story of Marnie translates well to the opera house. However, I felt Muhly and his librettist, Nicholas Wright placed too much emphasis on the probing psychological aspects of the story at the expense of the drama. As a result, the piece never really caught fire and at various points it was dramatically inert.
The music reminded me of John Adams, although there were also echoes of Britten. Each of the main characters was paired with an orchestral instrument which at various points suggested things about their states of mind. Marnie was paired with an oboe, Mark with a trombone and Mark's louche brother Terry with a muted trumpet. I particularly liked the chorus numbers where key phrases were picked up and interwoven against an orchestral backdrop which was bright, vibrant and constantly shifting. I was less convinced by the monologues sung by the main characters which had a declamatory feel against an atmospheric orchestral background. There were exceptions, however, and I was particularly impressed with an aria sung by Mark in Act II when he was reflecting on the character of Marnie.
Michael Mayer's stylish production used sliding panels to provide a backdrop to the action and the scene changes were handled deftly and with great fluidity. Sumptuous visual images were projected on to the panels; these included a series of female portraits at the start of the opera and a photo of an ocean liner in a subsequent scene. Unusually, the production introduced four 'shadow Marnies' who were all wearing similar outfits to Isabel Leonard and who surrounded her at various points. These characters represented aspects of Marnie's psyche and they provided a harmonic underpinning to her ruminations using early church music. A cohort of male dancers, who were all wearing suits and trilbies, was used to heighten the dramatic tension, most notably in the fox hunting scene where they conveyed the visceral danger of the chase.
The cast did an excellent job with their respective roles. Isabel Leonard brought glamour and poise to the role of Marnie and she conveyed the mystery and complexity of the character. She sang with a luminous rich tone and her intonation and diction were perfect. Christopher Maltman brought a suave sophistication to the role of Mark Rutland and his entrapment of Marnie and his attempts to pay off her accusers were skilfully portrayed. I would have liked to see a little more brutishness in the pivotal rape scene although Maltman's approach probably fits with the reined-in nature of this production. Maltman's singing was very polished and his rendition of the Act II aria was particularly fine and a highlight of the evening. Iestyn Davies portrayed Terry as a vicious predator with a narcissistic attitude brought about as a result of a large red birth mark on his face. His singing conveyed brilliantly the viciousness and vulgarity of the character. Janis Kelly and Denyce Graves both excelled in their respective roles while Anthony Dean Griffey brought a bright, vibrant tone to the role of Marnie's boss, Mr Strutt.
Robert Spano kept a tight grip on the evening's proceedings while the Met Orchestra produced a kaleidoscope of rich shifting colours. The balance between orchestra and singers was spot on and the pacing of the material was very good. The Met Chorus excelled in this opera and they did a wonderful job bringing the assembled office workers and party goers to life.
This was another very fine production from the Met and the cast were all first rate. There were elements of Nico Muhly's opera which I really liked, particularly the chorus scenes, but the material was uneven. The opera also suffered from a lack of dramatic tension as it seemed to be more concerned with subtly probing Marnie's complex psychology than infusing the surrounding events with dramatic tension.
Robert Beattie
For more about The Met: Live in HD click here.