Sweden Alan Menken, The Hunchback of Notre Dame: Soloists and Chorus of Gothenburg Opera, dancers, Gothenburg Opera Orchestra / Lars Kvensler (conductor), Gothenburg Opera main stage, 27.10.2018. (NS)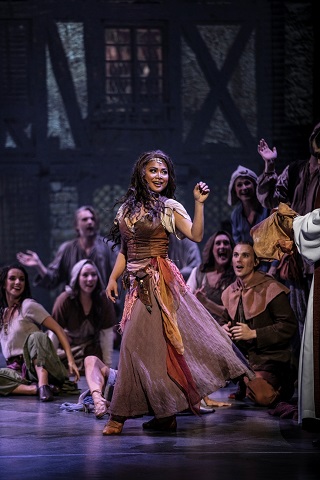 Cast:
Quasimodo – Martin Redhe Nord
Dom Claude Frollo – Joa Helgesson
Esmeralda – Marsha Songcome
Captain Phoebus de Martin – Jonas Eskil Brehmer
Clopin Trouillefou – Anders Wängdahl
Jehan Frollo – Max Jansson
Saint Aphrodisius – David Lundqvist
Florika – Micaela Sjöstedt
Father Dupin – Sami Yousri
Lieutenant Frederic Charlus – Thomas Wesley Brasel
King Louis XI – Magnus Lundgren
Madame – Ingahlill Wagelin
Production:
Lyrics – Stephen Schwarz
Book – Peter Pernell (after the novel by Victor Hugo and songs from Disney's film)
New translation to Swedish – Fredrik Fischer and Linnea Sjunnesson
Musical director and chief conductor – Alexander Hanson
Conductors – Bjorn Dobbelaere, Marie Rosenmir, Lars Kvensler
Director – Thomas Agerholm
Set and lighting design – Benjamin La Cour
Choreography – Lynne Kurdziel Formato
Assistant choreographer – Kristen Brooks Sandler
Video design – Thomas Agerholm, Benjamin La Cour, Jakob Bønsdorff Eriksen
Costume design – Anna Juul Holm and Lotte Blichfeldt
Sound design – Andreas Renhorn
After last season's success with The Phantom of the Opera, Gothenburg Opera has returned to performing its musical in Swedish. This season's production of Disney's The Hunchback of Notre Dame shows the house's continuing focus on quality productions. The Danish creative team has brought their highly praised production from Frederica Theatre and seamlessly adapted it to Gothenburg's wider stage. The combination with a strong cast, chorus and orchestra makes for a memorable production.
While Alan Menken's music doesn't set the audience humming the tunes on their way home, it worked well dramatically. Fredrik Fischer and Linnea Sjunnesson's new Swedish lyrics also pack a dramatic and emotional punch. Just as in Victor Hugo's novel where the cathedral of Notre Dame is effectively one of the main characters, in this production the impressive set and its integrated animations play an important part. Breathtaking scene changes are accomplished effortlessly, the interior views of the cathedral were particularly atmospheric (complete with stained glass), and the view from the top of Quasimodo's tower was stunning. Astute lighting and animations also allow the mood within a scene to shift suddenly, such as when Phoebus recounts the horrors of the front-line: the gay and colourful street scene suddenly becomes a fogbound battlefield.
The chorus and ensemble were uniformly impressive in the choral set pieces, in particular the entr'acte and finale of Act II. The ensemble's movement and dancing where beautifully choreographed by Lynne Kurdziel Formato. There was not one weak link in the supporting cast, but Anders Wängdahl as the gypsy king Clopin stood out with his flamboyant character and colourful singing, as did David Lundqvist's kind Saint Aphrodisius, who received the biggest laugh of the night when his head started falling off.
Jonas Eskil Brehmer cut a dashing figure as Phoebus de Martin and sang with an attractive tenor that had all the girls swooning for him in 'Rest and Recreation'. He also acted convincingly as his love for Esmeralda put him on a collision course with his superior, Frollo. His final duet with Esmeralda ('Someday') was deeply moving. Joa Helgesson was a gripping Claude Frollo, whose imposing presence and dark-coloured baritone suited the part. Mr Helgesson communicated Frollo's repressed character and complex attitude towards Quasimodo very well – his Frollo was manipulative but had an (adoptive) father's love buried within him. In the same way he vividly communicated Frollo's hatred of the gypsies and the clash between his faith and his lust for the beautiful Esmeralda.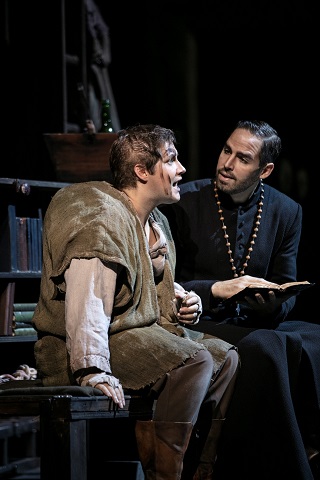 Marsha Songcome shone as Esmeralda and was captivating from her first entrance. Her dancing in 'Rhythm of the Tambourine' was superb. Her agile and lyrical voice worked well in duets and ensembles but also in solos such as 'God Help the Outcasts'. Ms Songcome ably captured the effervescence and friendliness of Esmeralda, in particular in her first visit to Quasimodo's tower ('Top of the World'), but also her fierce independence – sparks flew between her and Frollo. Most gripping of all was her singing in 'Someday', her last duet with Phoebus.
Martin Redhe Nord's Quasimodo was both impressive and moving. The part is very demanding as the actor playing Quasimodo has to suddenly shift between portraying Quasimodo as seen by Frollo and the outside world – a 'freak', dim-witted and half-deafened by his bells – and Quasimodo in his mind – articulate, expressive and human. Martin Redhe Nord not only achieved this with ease but also added a layer in depicting Quasimodo with Esmeralda: still tongue-tied and hunchbacked but not judged for it, and above all human just like Esmeralda. Quasimodo's grief at Esmeralda's death was searing. Vocally he was expressive and engaging in his discussions with statues and gargoyles, and soared in 'Heaven's Light'. But he could also communicate Quasimodo's anguish in 'Made of Stone'. All in all, a worthy actor for this fantastic part.
Niklas Smith
Playing until 6 April 2019. There are alternative singers for the main roles on a few days, see the Gothenburg Opera website.