United States Britten, The Turn of the Screw: Vincent DeGeorge (Director), Members of the CCM Opera / Aik Khai Pung (conductor), College Conservatory of Music, Patricia Corbett Auditorium, Cincinnati, OH. 17.11.2018. (RDA)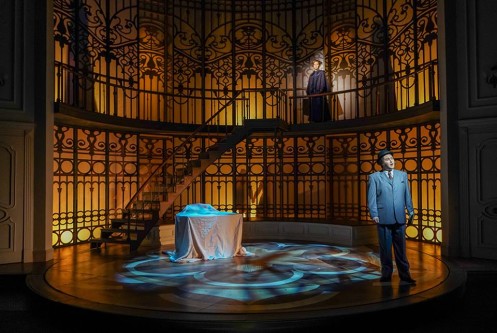 Cast:
The Governess – Amber Monroe
The Prologue – Tyler Johnson
Miles – Mischa Sella
Flora – Allison Anderson
Mrs. Grose – Chelsea Duval-Major
Peter Quint – Salvatore Atti
Miss Jessel – Shanon Cochran
Production:
Director – Vincent DeGeorge
Set – Mark Halpin
Costumes – Brandon Thompson
Lighting – Michael Ekema Nardella
Fourth in the Britten operatic canon, The Turn of the Screw was signed, sealed, and delivered in 1954 to the Venice Biennale which had commissioned it from the English composer. The work offers a nice vehicle for a half-dozen young singers in a college setting, since the ensemble requires but twelve orchestral players.
For this two-act gothic yarn about the visitation of ghosts in a remote English estate, Britten's librettist Myfanwy Piper mostly stayed true to the Henry James original, but Piper leaves room for different interpretations. The insightful program notes — by both director Vincent DeGeorge and his dramaturg, Jenny Doctor — outline some options, but the presumption of corruption of innocence by evil adults, living or dead, wouldn't be wide off the mark.
The plot deals with Miles, a boy who was corrupted by Quint, a long-dead manservant who worked in the estate. The former, now-dead housekeeper, Mrs. Jessel, also dead haunts Flora, the other living young person whose innocence and life are in peril.
In 1954 one could still be prosecuted in England for being a homosexual. Britten, a gay man living as open as anyone would dare to be back in those days, dallied with the subject matter in Peter Grimes and Billy Budd and openly confronted it in Death in Venice. The Turn of the Screw avoids dealing head on with the elephant in the room, and thus gives the dramaturgy of this opera a circuitous way of handling 'the love that dared not speak its name' back in Britten's day. But if a James Joyce story about things that go bump in the night is your cup of tea, you will get a good dose of goosebumps.
In the CCM production, seven talented singers were beautifully directed by Vince DeGeorge, with razor-sharp precision and zero tolerance for operatic posturing. Blurring the dividing line between gifted students and young professionals, the excellent cast held things together throughout Britten's two acts. As Quint, Salvatore Atti assuredly handled the role's high tessitura and abundant coloratura. Misha Sella and Allison Anderson were equally effective as the haunted children, and Chelsea Duval-Major was both dramatically and vocally compelling as Mrs. Grose. Tyler Johnson as the Prologue was perfect, and Shannon Cochran was riveting as Miss Jessel. But the heart and soul of the opera belonged to Amber R. Monroe, a superb actress and possessor of a crystalline lyric soprano.
A chamber ensemble neatly led by Aik Khai Pung impeccably handled Britten's mix of twelve-tone gestures and sweeping lyricism.
Mark Halpin's spinning floor and staircase provided a strong scenic metaphor for the drama. The elegant costumes by Brandon Thompson and the mood-setting lighting by Michel Ekema-Nardella complemented the actors.
CCM's undergraduate ensemble Opera D'Arte produced a nice Albert Herring not long ago, and Britten's The Rape of Lucretia was also staged at the school awhile back. Let's hope for A Midsummer Night's Dream: lots of good parts and a fun story, with one of the composer's most loving scores.
And no ghosts.
Rafael de Acha