United States Goldmark, The Queen of Sheba: Soloists, Members of the Hungarian National Ballet, Chorus and Orchestra of the Hungarian State Opera / János Kovács (conductor), David H. Koch Theater, New York, 2.11.2018. (RP)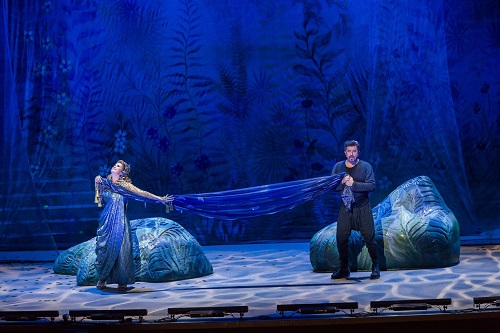 Cast:
King Solomon – Zoltán Kelemen
High Priest – Péter Fried
Sulamith – Eszter Sümegi
Assad – Boldizsár László
Baal – Lajos Geiger
The Queen of Sheba – Erika Gál
Astaroth – Eszter Zavaros
Temple Watchman – Ferenc Cserhalmi
Production:
Director – Csaba Káel
Sets – Éva Szebdrényi
Costumes – Anikó Németh
Choreographer – Marianna Venekei
Dramatury – Eszter Orbán
Chorus Master – Gábor Csiki
The Hungarian State Opera (HSO) just wrapped up its first-ever American tour which presented four operas by Hungarian composers, followed by a week of performances by the Hungarian National Ballet. In between there was a gala concert at Lincoln Center and the HSO Symphony's debut at Carnegie Hall. Ongoing renovations at the Hungarian State Opera House in Budapest have made extended tours possible, thus providing New York audiences with the opportunity to experience works that are seldom, if ever, heard here.
The Queen of Sheba was the first and most successful of Hungarian-born composer Karl Goldmark's six operas. After its premiere in Vienna in 1875, the opera was popular throughout Europe, even crossing the Atlantic Ocean where it was regularly seen at the Metropolitan Opera from 1885 until 1906. It continued to be produced in Vienna until works by Jewish composers were banned in 1937, a year prior to Austria's annexation into Nazi Germany. It was regularly produced in Budapest in the decades following World War II but has languished in obscurity until the HSO's 2015 revival.
Librettist Salomon Hermann Mosenthal added a love triangle to the Old Testament story of the Queen of Sheba's visit to the court of King Solomon. Assad, who is betrothed to Sulamith, has been bewitched by the Queen after chancing upon her in the shade of the Cedars of Lebanon. The Queen is capricious at best and malicious at worst, ultimately driving Assad to blaspheme against God, a crime punishable by death. Solomon commutes Assad's death sentence to banishment in the desert. After ultimately rebuffing the Queen of Sheba's declarations of love, he is caught in a violent sandstorm and dies in the arms of Sulamith.
Goldmark's melodic score is awash in chromaticism with sumptuous, colorful orchestrations. To underpin key dramatic developments, he frequently employs swirling harp arpeggios to the accompaniment of scintillating strings. Brass fanfares announce the arrivals of royalty and accompany the religious rites and Assad's trial. It was performed in the original German, and comparisons to Wagner are inevitable: entire phrases of Assad's lengthy Act I narrative seemed to have been lifted straight out of Lohengrin. The vocal demands that Goldmark places on his singers, particularly the roles of Sulamith and Assad, are also Wagnerian in scale.
The grand spaces of King Solomon's palace and temple were evocative of Cecil B. DeMille's sets from the golden age of film. Massive walls and a stair case were decorated with architectural elements, and the temple was adorned with particularly attractive carved screens featuring a Star of David pattern. A blue scrim printed with tropical flowers and plants and sensitively lit created a beautiful garden where the Queen of Sheba and Assad's chance tryst ends in a passionate embrace. He dies in a stark, dessert setting where fluttering scrims and flashes of lightening evoked the violent storms that foreshadow the tragic ending.
As the Queen of Sheba, mezzo-soprano Erika Gál, mysteriously veiled and glamorously attired in harem outfits, could have been the star of one of those Biblical film epics. She was as seductive and voluptuous vocally as she was visually.
Sulamith, was sung by soprano Eszter Sümegi. The music that Goldmark composed for her marks her as a tigress willing to fight for her man, even if her rival is an exotic queen from a distant land. In her diaphanous white wedding dress and glittering headpiece, she was an enchanting vision of purity. Sümegi is a dramatic soprano of the first order with high notes that cut through Goldmark's heavy orchestrations effortlessly.
Assad was Boldizsár László, a heroic tenor with a stentorian voice and blazing high notes that never faltered. He's the pivotal character in the opera, whose chance encounter with the Queen of Sheba derails his life. László captured the many facets of Assad's character in a compelling performance.
Baritone Zoltán Kelemen was richly robed and vocally commanding as King Solomon. As the queen's slave Astaroth, soprano Eszter Zavaros sang a beguiling vocalise to lure Assad to her mistress in the palace gardens. Péter Fried as the High Priest was hollow-voiced, his bass voice bereft of any real tonal quality, which created a hole in Act I that robbed it of much of its musical and dramatic vitality. Because of that the first act dragged, but the remainder of the opera was engrossing.
The dancers of the Hungarian National Ballet were remarkably lithe and sinuous, especially in the Act III ballet and bacchanalia where they were costumed as brightly colored birds and wild animals. The chorus and orchestra delivered polished performances. János Kovács's conducting was well-paced, exposing the intricacies of Goldmark's colorful orchestration in an exciting rendition of this shimmering score.
After more than a 100 years absence, The Queen of Sheba again graced an American stage.
Rick Perdian