Russian Federation Bolshoi Ballet 2018/19 UK Cinema Season – Don Quixote: Soloists and corps de ballet of Bolshoi Ballet, Bolshoi Orchestra / Pavel Sorokin (conductor). Screened at the Hospital Club, London, 26.11.2018. (JPr)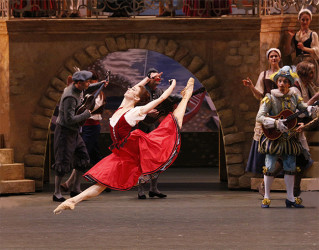 Production:
Music – Ludwig Minkus (with additions from other composers)
Libretto – Marius Petipa after Miguel de Cervantes
Choreographic version by Alexei Fadeyechev (based on choreography by Marius Petipa and Alexander Gorsky with additions from other choreographers)
Designer – Valery Leventhal
Costume designer – Elena Zaitseva
Lighting designer – Damir Ismagilov
Cast included:
Kitri/Dulcinea  – Ekaterina Krysanova
Basilio – Semyon Chudin
Don Quixote – Alexei Loparevich
Sancho Panza – Roman Simachev
Gamache – Denis Medvedev
A Street Dancer/First Variation in Grand Pas – Anna Tikhomirova
Espada – Ruslan Skvortsov
Mercedes – Kristina Karasyova
Lorenzo – Andrei Sitnikov
The Queen of the Dryads – Olga Smirnova
Cupid – Daria Khokhlova
Second Variation in Grand Pas – Yulia Stepanova
This is not the first time – nor will it be the last – that I suggest nobody goes to this nineteenth-century Marius Petipa-Ludwig Minkus warhorse ballet for the story. As here, Don Quixote is regularly presented with all the additional music and choreography it has accreted over nearly 150 years since the first production at the Bolshoi. Concentrating on a minor incident from Cervantes's original novel, we get the story of a young girl Kitri's love for a poor barber, Basilio, and her rejection of a forced marriage to Gamache, a rich nobleman. Every so often the venerable Don Quixote and his comic sidekick, Sancho Panza, wander into the story mainly for the Don to confuse Kitri with Dulcinea, his dream lady 'of his heart'. As recorded in April 2016 Alexei Fadeyechev's Bolshoi version – he was their artistic director from 1998 to 2000 – has three acts mostly filled with fun, frolics and fireworks all providing a showcase for the company's virtuosity with the famously exhilarating Act III Grand Pas just being the final showstopper in an evening of showstoppers. Former Bolshoi dancer Fadeyechev has the 'Tavern' scene at the beginning of Act II rather than at the end of the ballet and he also emphasises its Spanish element more than some.
The audience at the Bolshoi were having a high old time and almost anyone who took two steps across the stage was given a loud ovation, and I almost expected that to extend to when Don Quixote and Sancho Panza arrived astride, respectively, their sturdy white horse and a donkey. Don't get me wrong, it was a jaw-droppingly entertaining show and anyone who didn't see the transmission in 2016 will have a wonderful time of it when this is shown in UK cinemas on 2 December. However as a ballet I didn't think we were that far removed from the circus because of all the dazzling acrobatics on show.
Valery Leventhal's sets and Elena Zaitseva's ornate costumes provide a basically colourful, sun-drenched, Spanish setting that is a feast – even a fiesta – for the eyes. However, the pyrotechnics are so relentless during Act I and most of Act II that the subsequent quieter, immensely lyrical, 'Enchanted Garden' scene with the dryads and fairies brought some repose from all the otherwise frantic movement. Here Daria Khokhlova's Cupid was a delight and Olga Smirnova as the Queen of the Dryads, was not overshadowed by sharing the spotlight with Ekaterina Krysanova's outstanding Dulcinea (Kitri). Krysanova was a wonderfully bubbly dancer and showed no strain whatsoever in making the most difficult of backbends, extensions, balances, jumps, rapid footwork and infamous fouettés (rock solid!) look almost impossibly natural and musical.
Therefore it was much more than a one or two person show on the distaff side and that was the same with some remarkable men who were given solos too. (I did wonder who, if any, of the current male dancers of The Royal Ballet – who appear stiff and upright in comparison – would be accepted into the Bolshoi?) Ruslan Skvortsov's cape-swirling Toreador (Espada) stood out but Semyon Chudin's jack-the-lad Basilio was outstanding. He partnered Krysanova sympathetically and his high-energy leaping and twirling had brio and bravura. There was some splendid character dancing by Alexei Loparevich (the Don), Roman Simachev (Sancho Panza), Denis Medvedev (Gamache) and Andrei Sitnikov as Kitri's father, Lorenzo. In fact, the whole company performed with a wonderful practised ease – often with big smiles on their faces – and I never saw anyone who had 'switched off' on stage. Everyone remained totally in character … such it was.
Minkus's score is unrelenting too, and truthfully it is not very memorable, but the Bolshoi Orchestra sounded admirably committed and virtuosic under Pavel Sorokin (a frequent guest conductor of The Royal Ballet).
It was interesting how Vincent Bataillon's direction for the screen differed from what we see in The Royal Ballet's cinema broadcasts: he was less concerned with close-ups and pulled back more often to shows us a complete stage picture. During two short intervals there were backstage interviews hosted by Katerina Novikova, an exceptionally talented linguist, who is the Bolshoi's spokeswoman. We heard from Fadeyechev and Makhar Vaziev, then as now the Bolshoi Ballet's Director. Novikova rapidly gave us translations from Russian into English and French and this provided further insights into what we were seeing.
All in all I was still left to ponder whether it was truly ballet or elaborate theatrical physical jerks? Since it was a magical performance from Krysanova, Chudin and all involved I'm not sure I care for the answer.
Jim Pritchard
For more about the Bolshoi Ballet's 2018/19 UK Cinema Season click here.