United Kingdom Ferdinand Hérold (arr. John Lanchbery), La Fille mal gardée: Dancers of Birmingham Royal Ballet, Royal Ballet Sinfonia / Paul Murphy (conductor). Sadler's Wells, London, 2.11.2018. (JPr)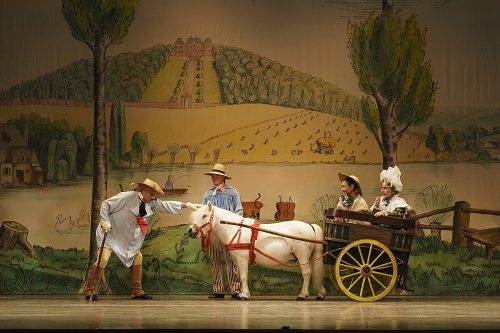 Cast included:
Lise – Samara Downs
Colas – Yasuo Atsuji
Widow Simone – Kit Holder
Alain – Tzu-Chao Chou
Thomas – Rory Mackay
Production:
Choreography – Frederick Ashton
Scenario – Jean Dauberval
Designs – Osbert Lancaster
Lighting – Peter Teigen
I looked into my diary in advance of this performance and – with apologies to Birmingham Royal Ballet! – thought 'Do I really need to see Ashton's La Fille mal gardée again?'. Well … I am sorry I prevaricated because this was a marvellously fun-filled and exuberantly danced performance of a ballet I first saw at Covent Garden in 1980 (where has that time gone?).
For each generation of dancers I enjoy watching one ballerina above most of the rest if I can set aside my critical faculties. Previously it was The Royal Ballet's Lesley Collier and Miyako Yoshida. Possibly now the one I most enjoy watching there is Marianela Nuñez and all three of these wonderful artists have been outstanding Lises in La Fille. Don't misunderstand me as I know this was Birmingham Royal Ballet whose version of Ashton's 1960 La Fille I was seeing for the first time. What this is leading to is to celebrate that although Samara Downs reminded me so much of Collier, she was a superb Lise in her own right.
Downs seems an absolutely instinctive performer, who always stays in character and never lets you see in her face any thought processes such as 'what step comes next?' She was an enchanting Lise and Ashton's challenging Bournonville- and Bolshoi-inflected choreography held no fears for her. Ideally winsome and with great comic timing she was the perfect rebellious teenager with a heart of gold. Her exquisite dancing was almost eclipsed by her skilled miming in Act III as Lise dreams of the children she hopes she is going to have. This was wonderfully expressed and came from the heart. Her mortification on discovering that her sweetheart Colas has secretly 'overheard' her was equally believable and couldn't have been bettered on the straight theatre stage. Ashton drew on the memories of Tamara Karsavina – a Lise in pre-revolutionary St Petersburg – for this scene and it serves as a reminder how his La Fille is just one of a long line of versions of the ballet that dates back to before the French Revolution.
This most heart-warming of ballets is redolent of the English countryside of centuries long past and first entered the repertory of the then Royal Ballet Touring Company – now Birmingham Royal Ballet – in 1962. It is actually French in origin, as implied by its title that translates as The Wayward Daughter. Set to a series of popular French songs, La Fille mal gardée was created in 1789 at the Opéra of Bordeaux with choreography and libretto by Jean Dauberval. The everyday story of country folk replaced the more conventional prince, princesses and sylphs. Having been performed with great success around Europe it reached the Paris Opéra in 1828 and was re-staged with a new musical arrangement by Louis Joseph Ferdinand Hérold. It was produced here and there in the intervening period, but it needed Ashton to create his 1960 ballet masterpiece – with his typically 'English' signature and the timeless pastoral designs of Osbert Lancaster – to secure its place in the repertory.
Ashton's version tells a simple story in an endearingly simple fashion. Lise is the daughter of Widow Simone who tries to marry her off to Alain, the only son of a wealthy landowner, Thomas. Alain is not a simpleton, but he is 'not the sharpest sickle in the barn' and is rather slow-witted and painfully shy. As hinted at above Lise actually loves young and handsome Colas who is unfortunately penniless. As is to be expected everything is resolved happily at the end when having been discovered together in Lise's bedroom – Ashton leaves what they have got up to our imagination! – they are allowed to marry, and this celebration of young love reaches a joyous conclusion. Ashton's treatment was influenced by not only Karsavina but the countryside around his Suffolk home. There is so much to enjoy here for balletomanes of all ages: for the very youngest there is always the 'Aah' factor of a larger-than-life strutting cockerel (brought to vivid life by Hamish Scott) with his four hens –  apparently influenced by Janáček's The Cunning Little Vixen – and the small white Shetland pony pulling a cart.
Ashton's choreography is deceptively difficult with the rapid footwork, quick spins, Bournonville softness and natural grace perfectly incorporating the Bolshoi-style grand gestures, such as, Colas lifting Lise high above his head at the end of their Act II pas de deux on the palm of his hand (the famous 'bum lift'). The Birmingham Royal Ballet's corps de ballet danced very enthusiastically and very assuredly. The tricky ribbon-dances of Act I were overcome with aplomb; including Lise and Colas's 'horse and cart' and cat's cradle, as was the wheel of ribbons during the Act II harvest festivities. (The latter reminded me again of the scoubidous I used to enjoy knotting when young, as against young-at-heart!)
Colas was Yasuo Atsuji whose performance as Romeo I enjoyed earlier this year (review click here). He bought lots of boyish charm and a perfect jack-the-lad attitude to the role. His athletic and spirited dancing had the occasional hint of untidiness, yet he proved himself to be the perfect foil to Downs's Lise. There seemed genuine chemistry between these two fine artists and their beautifully danced final pas de deux was the ultimate summation of this excellent partnership.
I also cannot praise Tzu-Chao Chou who danced Alain highly enough. He elicited considerable sympathy over his quest for a bride and never was purely a figure of fun. For me Wayne Sleep was probably the best of my earlier Alains but Chou, in my opinion, gets as close to that high standard as anyone recently I have seen. I revelled in his character's joy when reuniting at the very end of the ballet with his beloved red umbrella and waddling off clutching it to his heart.
Kit Holder as Widow Simone also deserves credit for his part in this first-rate La Fille. He never overplayed the comedy and there were just enough subtle hints of a pantomime dame to evince Christmas-time memories of Billy Dainty or Roy Hudd. His Act II clog dance was a tour de force and got a deserved ovation from a pleasantly full Sadler's Wells. (It must be mentioned that when Widow Simone chastises her daughter – including hitting her – it can be a little jarring to see since this is 2018 and not 1960! Someone should have the courage to remove these moments.)
All the smaller roles brought out the best in all concerned and I was delighted to see the entire company perform with a joy that radiated around the theatre. In conclusion I must praise Paul Murphy and the Royal Ballet Sinfonia for the sunniest and liveliest possible account of Hérold's romantic score (as arranged by John Lanchbery) and their virtuosic playing gilded some memorable dancing. If you are looking for a calming escape from the disturbing world we now live in, you can find it in this production.
Jim Pritchard
For further details of the Birmingham Royal Ballet's forthcoming performances click here.