United Kingdom Mozart, Così fan tutte: Soloists, Guildhall School of Music and Drama Opera Chorus and Orchestra / Dominic Wheeler (conductor). Silk Street Theatre, London, 5.11.2018. (CC)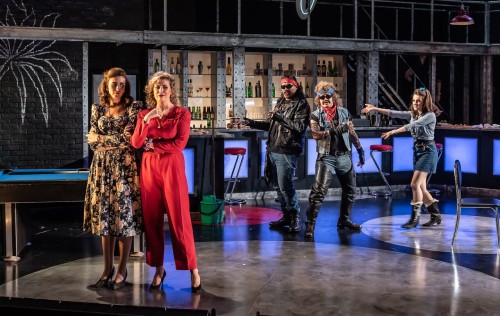 Cast:
Fiordiligi – Alexandra Lowe
Dorabella – Carmen Artaza
Despina – Zoe Drummond
Ferrando – Filipe Manu
Guglielmo – Benson Wilson
Don Alfonso – Christian Valle
Production:
Director – Oliver Platt
Designer – Neil Irish
Lighting – Rory Beaton
Much to enjoy in this latest Così from the Guildhall (Peter Graeme Woolf reviewed their 2002 performance here). The staging is clever in utilising the space well: there is only one set, that of Don Alfonso's bar in what might be the 1980's, with its tropical decorations and complete with a pole for dancing and a rather under-used until later in the opera upper level. This keeps the whole drama contained, while also giving an appropriately claustrophobic impression: we are in a small world in which this most cruel of lessons unfolds (and the production reminds us that serious processes are at work; Alfonso's final triumph is deliberately hollow).
While the U.S. naval theme is appropriate, the Albanians' over the top hippie outfits, while funny, become firstly distracting then even mildly irritating. The on-stage instrumental ensemble is a mariachi band; the chorus is a force full of life and enthusiasm. In this hedonistic world, a pool table becomes a useful arena for sexual shenanigans.
The whole masterpiece needs a firm hand at the helm. Sadly, Dominic Wheeler's conducting was frequently lackluster, with tension sagging unnecessarily. The sometimes unwieldy orchestral sound was hardly helped by the dryness of the Silk Street Theatre's acoustic, emphasising the shrill upper harmonics. There were many moments of fine ensemble both within the pit and between pit and singers; others less so, implying much rehearsal for the 'tricky' moments but something of a lessening of attention elsewhere.
Having young singers injects a sense of vitality, of course. Each has an understandable and laudable tendency to throw themselves wholeheartedly into the fun; this is frothy Così that in many ways nudged towards stage farce. Before we get to the couples, there's the Maestro of emotions, Don Alfonso to consider, here the Norwegian bass-baritone Christian Valle, possessed of fine stage presence and a firm voice. We must believe Don Alfonso can be the instigator and overseer of this most sexist of wagers (translated here as 'They all do it'), and Valle was all of this and more, his shaping of line ever impeccable.
New Zealander Filipe Manu's tenor for the part of Ferrando was honeyed ('Un aura amoroso') and fluidly delivered. Here is a flexible voice of great expressivity (I see he has also essayed Arturo Lucia di Lammermoor) and passion (his 'Tradito, schernito' here); his solid, impressive foil was the Guglielmo of fellow New Zealander Benson Wilson.
The ladies were similarly beautifully contrasted. The fine slight soprano of Alexandra Lowe (who also sang Fiordiligi at the Royal Northern College of Music in 2016) has the dramatic edge for 'Come scoglio' and the emotional complexity for her 'Per pietà,' while the deeper timbre of Spanish mezzo Carmen Artaza's Dorabella provided fabulous depth in 'É amore un ladroncello'. Together, the two played off each other beautifully; the ladies' friendship was utterly believable.
Finally, there was the playful Despina essayed by the splendid Australian soprano Zoe Drummond. Her CV already boasts an impressive array of roles, from Susan in Berkeley's A Dinner Engagement to Barbarina (Le nozze di Figaro) and Papagena (in Sydney) and she seemed perfectly at home on stage here, coquettish and entrancing in her role as Alfonso's left-hand woman, her 'Una donna a quindici anni' simply delicious vocally. Fresh-voiced and beautifully accurate, she excelled.
The singers were all carefully chosen, and it is this aspect that saw the evening through. Some ragged corners in the orchestra will, I am sure, be ironed out as the run continues. And, of course, there's a cast B to explore …
Colin Clarke