United Kingdom The Art of Love: Alma Mahler's Life and Music and Kokoschka's Doll: Hampstead Arts Festival, St. John's Downshire Hill, 13.11.2018. (JPr)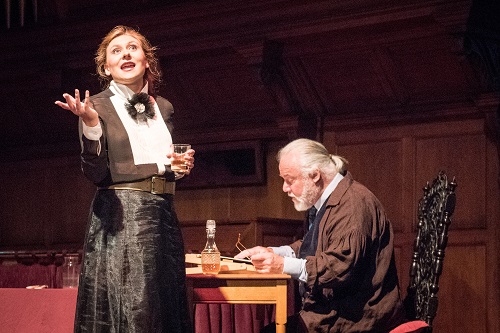 The Art of Love: Alma Mahler's Life and Music: Alexander Zemlinsky, Alma Mahler, Gustav Mahler, Anton von Webern, David Matthews and Wagner. Arranged by David Matthews ('Erntelied' co-arranged with Colin Matthews), with linking texts by Barry Millington. Rozanna Madylus (mezzo-soprano). Counterpoise: Fenella Humphreys (violin), Deborah Calland (trumpet), Kyle Horch (saxophone/clarinet) and Iain Farrington (piano).
Kokoschka's Doll: Music by John Casken and text by John Casken and Barry Millington (based on Oskar Kokoschka's letters and writings), Sir John Tomlinson (bass-baritone/speaker), Counterpoise.
One early morning in 1919, police knocked on the door of the Austrian painter Oskar Kokoschka and asked about the headless body discovered in his garden seemingly covered in blood. Kokoschka described how he and his fellow partygoers from a night's carousing went down 'in our dressing gowns' to look at the mutilated body that had been found. No one suffered any consequence for this act of violence because the 'body' was just that of a life-sized doll of Alma Mahler that the painter had commissioned at the end of their affair. As composer John Casken told us in his introduction Kokoschka wanted silk for 'her' skin and what he got was feathers and fur! Kokoschka admitted to beheading the doll in an alcohol-fuelled rage and covering it with red wine!
John Casken's composition (using Kokoschka's own words) focussed on the artist's 'Fascination, obsession, possession and passion' firstly for Alma Mahler herself and then the substitute he supposedly took with him to restaurants and the theatre. Called simply Kokoschka's Doll this was preceded by an introduction to Alma (The Art of Love: Alma Mahler's Life and Music) with the mezzo-soprano Rozanna Madylus attempting to bring to life all her character flaws including apparent sex addiction, fickleness, as well as, the hints of anti-Semitism in her often-acerbic comments: despite at least three of her long list of known lovers – Alexander Zemlinsky, Gustav Mahler and Franz Werfel – being Jewish. We saw her evident sadness in her unhappy marriage to Mahler and descent into alcoholism. Was this especially due to lack of artistic fulfilment? The handful of her songs that survive are typical fin-de-siècle ones and who knows how good others might have been had she not ensnared Mahler and then been forced to give up composing. Her marriage also meant devoting herself to him and doing without the social life she had so loved: simply being a mother and housewife bored her. Accompanying the recitation we heard music and songs by Zemlinsky, both Mahlers, as well as, Wagner. One of the songs, Alma's 'Einsamer Gang', was only recently discovered in the archives of the University of Pennsylvania and this was its first performance in London. There was also a newly discovered 19-bar Webern Trio movement followed by David Matthews's Berg-like continuation, both also being heard in London for the first time.
Not long after Mahler's premature death in 1911 Alma turned her attention to the young and rather eccentric Oskar Kokoschka. He was a key figure in the development of the Expressionist school of painting and an accomplished dramatist. They first met in 1912, when Kokoschka spontaneously drew Alma while she was playing Isolde's Verklärung (Transfiguration) at the piano. According to Alma: 'Suddenly, he pulled me into his arms. For me it was a strange, almost shocking and violent hug.' They were together for only three years and the ending of this brief affair – actually they kept in touch until as late as 1954 – haunted Kokoschka for the rest of his life and caused him to order a custom-made life-size doll of Alma from Hermine Moos in Munich. Kokoschka's 1918 expressionist drama Orpheus und Eurydike reflects the failure to woo Alma and the abortion she had to get rid of his child. Kokoschka's Doll is set against the background of the trauma – both physical and psychological – the painter suffered in World War I. John Casken weaves the – half spoken, half sung – texts into his modern sounding score which is still something clearly influenced by Alma's fin-de-siècle Vienna. Near the beginning we hear some notes of the Verklärung (more familiarly called the Liebestod) that provides an almost imperceptible bridge between Art of Love and Kokoschka's Doll.
Barry Millington's linking text for Art of Love was solidly delivered by Rozanna Madylus and their version of Alma came across as rather unlovable: so it comes as a surprise that she was loved by so many. She appeared vain, ambitious, insecure, and capable of causing great offence and hurt to others. When I wrote an Alma Mahler presentation I used the late Donald Mitchell's edition of her Gustav Mahler: Memories and Letters. These probably unreliable memoirs do contain some better anecdotes – both poignant and humorous – than the ones we heard. That might have brought Alma more to life and make us understand her better and see in her what all Vienna did, the men especially. A slightly more sympathetic portrayal would have made her decline more moving than it was. A silent Kokoschka 'haunted' Art of Love in the same way an equally dumb Alma did during Kokoschka's Doll. Though why it was Sir John Tomlinson who needed to be there for 50 minutes – as if in his studio – was a mystery as the artist was about 26 when he met Alma.
Counterpoise describe their worthy aim as 'crossing genres, exploring the relationship between music, texts and visuals, and seeking to develop aspects of narrative and other extra-musical influences.' The combination of violin, trumpet, saxophone/clarinet, and piano does not seem to be a usual one and in the intimate atmosphere of St. John's Downshire Hill a piano quartet might have been easier on the ear … but that is not Counterpoise. As it was, in the various arrangements by David Matthews (with one assist by his brother Colin) the four accomplished virtuosi created a sound that was very much like the klezmer bands Gustav Mahler knew throughout his life from his Bohemian childhood to the streets of Vienna. Counterpoise shone in the paired-down Adagietto with Iain Farrington's plaintive piano and Fenella Humphreys' violin to the fore, and Deborah Calland's elegiac trumpet in 'Wo die schönen Trompeten blasen' was wonderfully evocative. In this and the final two songs mezzo-soprano Rozanna Madylus achieved gloriously focussed tone.
Kokoschka was an intemperate person and his anger and aggression saw him described in the press as 'the wildest beast of all'. I mean this in the nicest possible way but nobody does 'wild beast' better than Sir John Tomlinson from his unforgettable Olivier-as-King Lear Wanderer in Siegfried to his Minatour (review click here) in Birtwistle's 2008 opera. It was that element of raging bull that the seated Tomlinson brought to Kokoschka. It was essentially a reading of cobbled together extracts from the painter's writings and letters and portrayed him in old age, recounting his time with Alma, his horrific wartime experience, and that doll. There are repeated mentions of his play, Orpheus und Eurydike, and so the doll becomes his means of bringing back his lover from the Underworld. To a degree Casken's music was secondary to Tomlinson's compelling rendition and the unsettling impact of his Sprechgesang reached a climax in gripping, visceral cries of 'more champagne' as Dionysian celebrations spelled the end for his inanimate innamorata.
Jim Pritchard
Champs Hill Records has released Kokoschka's Doll and for the CD (click here) and MP3 (click here).
For more about Counterpoise click here.