Switzerland Puccini, Donizetti: Gemischter Chor Zürich, Musikkollegium Winterthur / Joachim Krause (conductor), Tonhalle Maag, Zurich, 25.11.2018. (CCr)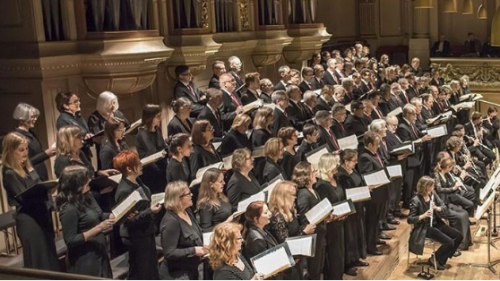 Puccini – Messa di Gloria
Donizetti – L'elisir d'amore (excerpts)
Soloists:
Adina – Susanne Langbein
Nemorino and Tenor soloist – Matthew Grills
Dulcamara and Bass soloist – Morgan Moody
Juliane Luster – Narration
The year was 1880. Giacomo Puccini was 21 and Verdi's 30th opera, Aida, was already nine years old. Puccini, finishing his music studies in his hometown of Lucca, wrote a mass as his final thesis for his compositional training. How anyone crawls out from under the shadow of such a master as Verdi is one of the glorious mysteries of art, and this Messa di Gloria is worth hearing for the sole purpose of imagining a young Puccini with a head full of arias and church hymns, tasked with putting his own stamp on orchestral song. It's a gem of a work – bulky, awkward at the end, and fully radiant the way a gem is. Imagine Orff, without as much of the bloat, but with better solos and with the timpani at the end of every arpeggio, and you're halfway there.
The Gemischter Chor Zürich (that includes Seen and Heard's own John Rhodes) – vying for first amongst equals when it comes to the large, tradition-steeped amateur choirs of choir-rich Zurich – combined this relatively short piece with operatic excerpts for soloists and choir for this concert in the Tonhalle Maag. The motivation for such a hybrid programme was at least in part financial: money was tight after a recent Golgotha by Frank Martin with too many empty seats (a pity, since it's a great work), and the tension between cycling once more through the same popular oratorios vs. exploring riskier modern repertoire spurred the choir's leadership to seek a third way, trying something new…ish. What resulted was potentially a way forward for cash-strapped ensembles everywhere: novel but not obscure choral compositions by renowned composers, paired with concertante opera.
In making the case for such an approach, it certainly helped to have these soloists. Take tenor Matthew Grills: he has a smaller voice and took the couplets offered him in the Messa's 'Gloria' and 'Credo' as something between aria and art song. Instead of trying and failing to push his voice into dynamics it resists, he was masterful at using modest force and showing off in other ways – Grills has a terrific linear ring at the top, and delicate oomph through the loveliest vocal lines of early Puccini. Did his nose need to be so buried in the score? During the Donizetti, he came into full bloom. Score discarded, he gave as perfect a 'Una furtiva lagrima' as you'll ever hear.
Bass-baritone Morgan Moody, like Grills a younger American singer, began with a voice twice as big as his compatriot's, squelching a stubborn tickle in his throat and visibly nervous that his instrument would betray him; he translated it all into a transfixing suspense, making the short 'Benedictus' sound like it was composed specifically for him. Moody looks and sings like Armie Hammer just walked out of a job with Goldman Sachs and passed by Broadway on his way to the opera stage. His sound, wavering in suppleness by the end of the evening, was nevertheless rich, and he thrived on text. His Donizetti snake-oil selling Doctor Dulcamara was great with patter, fully buffo and fully fun.
The choir made ample arguments that the Messa's 'Gloria' is its best segment, with a finale after 15 minutes of very cohesive singing across voice parts. Soprano swells were often divine, with excellent upper accents in the 'Credo'. The passage here that Christians believe in one God – 'Et in unum Dominum Jesum Christum' – pairs lofty soprano notes signalling God's remote power with gripping passages in the male voices, tying God to a forceful presence on earth. It was one of the great moments of a concert that, given Puccini's youth but also the choir's subtle lack of conviction, did not always stay in flight. 'Sacred' Puccini lacks reverence on the scale of Bach, and performing music like this requires a mix of confidence and bluster that the Gemischter Chor only partially found.
The second half – excerpts from Donizetti's L'elisir d'amore – proffered another perfectly cast soloist: Susanne Langbein as Adina, spinning pure upper tone straight through a plush centre. As with the other soloists, her complete devotion to diction and storytelling was one of the night's greatest joys. The choir switched gears vocally and sounded like a professional, well-rehearsed opera chorus, even dressed in peasant clothes – or Zurich's version thereof – and orchestra and conductor congealed in new ways. What is it about tuxes and tails that keep groups from singing their pants off? Having heard these two pieces back to back, it makes you wonder: A choir that applies Gilbert and Sullivan mirth to Puccini might be just what the Messa needs.
Casey Creel