United Kingdom Gilad Hekselman Trio: Gilad Hekselman (guitar), Aaron Parks (piano), Fender Rhodes, (synthesizer), Kendrick Scott (drums). Dora Stoutzker Hall, Royal Welsh College of Music and Drama, Cardiff. 26.11. 2018. (GPu)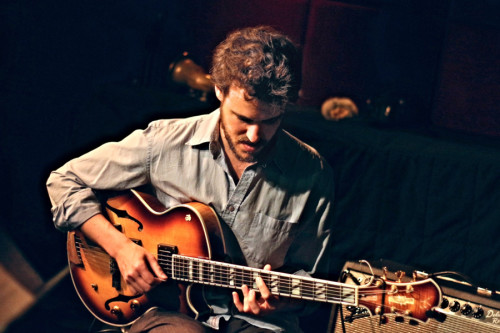 Born in Israel in 1983, Gilad Hekselman moved to New York in 2004 to study at the New School, supported by a scholarship awarded by the America-Israel Cultural Foundation. Since then he has established himself as one of the most interesting of the new generation of jazz guitarists. He was won a good many awards and polls and his standing amongst his fellow musicians is clear – he has worked/recorded with, amongst others, such luminaries as John Scofield, Danilo Perez, Gretchen Parlato, Chris Potter, Christian McBride, Mark Turner and Esperanza Spalding. He has toured widely as well as gigging in most of the major New York clubs.
On this occasion he brought to Cardiff (as part of a European launch tour for his most recent CD, Ask for Chaos) a regular working group in which he was joined by two of the other outstanding musicians of his generation, drummer Kendrick Scott (born 1980) and the piano/keyboard phenomenon Aaron Parks (born 1983). The pre-tour publicity had billed Kush Abadey as the drummer but, with all respect to the excellent Mr. Abadey, it is hard to believe that much was lost when he was replaced by the very impressive Kenny Scott.
Aaron Parks's musical CV is perhaps even more impressive than that of Gilad Hekselman –   including, as it does, work/recordings with Terence Blanchard, Ambrose Akinmusire, Joshua Redman and Eric Harland as well as a number of CDs, for Blue Note, ECM and other important labels, under his own name, such as the remarkable solo piano recording Arborescence (released by ECM in 2013). Parks is a master of the grand piano, with a wonderful touch, and is also highly adept at the Fender Rhodes and the synthesizer – indeed, his work on this last seemed to me some of the most intelligent and creative I have heard in the jazz context.  Kendrick Scott also has an impressive musical 'history'; he has worked with Blanchard, Pat Metheny, Charles Lloyd and Joe Lovano and led several albums of his own (for Blue Note and Criss Cross as well as on his own label World Culture Music).
The trio's programme was largely made up of originals, though it also included a much-transformed account of 'Eyes of the World' by Jerry Garcia (of The Grateful Dead). Themes by Hekselman included 'VBlues', 'Tokyo Cookie', 'It Will Get Better' and 'Stumble'. If there were other 'standards', they were so thoroughly metamorphosed that I failed to recognize them.
The music we heard seemed well organized, but never to the point where it was in any danger of rigidity. Rather, there was always room each member of the trio to surprise (pleasurably) and stimulate his colleagues; all three spent much of the concert smiling and chuckling with joy – an emotion audibly shared by their audience.
Hekselman's work is characterized more by sensitivity and judgement than by instrumental virtuosity. For all that he has already achieved, one of the things that strikes one about his playing is that it seems to be in a constant stage of evolution and transformation, not having settled into (or for?) a clearly-defined (confined?) single style. If one chose to look at this negatively (which I don't) one might say that he has yet to find his own distinctive, instantly recognizable, voice. But I prefer to see in his playing a continuing openness and responsiveness of mind and ear, ready to listen to – and interiorize – a range of influences and models. Contemporary exemplars like Bill Frisell, Pat Metheny and John Scofield are, naturally enough, part of the mix, but so, though more fleetingly heard, are earlier masters like Kenny Burrell and Wes Montgomery and the occasional echo of rock figurations. He is not a guitarist/leader who seeks to overwhelm or dominate, and he gave a good deal of space to his two colleagues.
I was disappointed that Aaron Parks played only one number ('It Will Get Better') at the Steinway; he did so with a beauty that was breathtaking (quite literally – midway through his long solo I realized that so rapt had I been that I had neglected to breathe properly and had to gulp in air!). Given that I have had a long-standing, though weakening, antipathy to both the Fender Rhodes and, even more so, the synthesizer I was less disgruntled by the relative neglect of the grand piano than I might have been. Parks's use of the synthesizer – often played in combination with the Fender Rhodes – one hand deployed on each was, for me, something of a revelation. Most keyboard players use the synthesizer to produced generalized washes of sound or vaguely atmospheric colouring, whereas Parks largely used it to produce single notes (though these were sometimes altered in pitch if held), so that the sound remained crisp: it was as if the synthesizer was being played as a genuine extension of the piano. At times, indeed, Parks used these sharply defined 'notes' on the synthesizer to take over the role of the absent bassist, setting up rhythmic patterns with Scott while also sustaining the harmony. Kendrick Scott is a master drummer. He played, throughout, with real musicality. He is never merely showy and is always listening attentively; his work stimulates both his fellow musicians and the audience. While his repertoire of percussive effects is impressive (without being gimmicky), and his time impeccable, his main concern is to be a fully integrated part of the trio's musical conversation.
Whether building to mighty climaxes or creating relatively gentle lyrical passages, everything this trio did was richly communicative and powerfully compelling. Here were three musicians, all under 40 and not perhaps amongst the very biggest names of the moment, but certainly contributing, as individual and as a trio, to that continuing evolution which is an essential part of jazz's very nature.
Glyn Pursglove