United States Bizet, Carmen: Soloists, Dancers, Chorus and Orchestra of the Metropolitan Opera / Omer Meir Wellber (Conductor) Metropolitan Opera, New York, 30.10.2018. (CSa)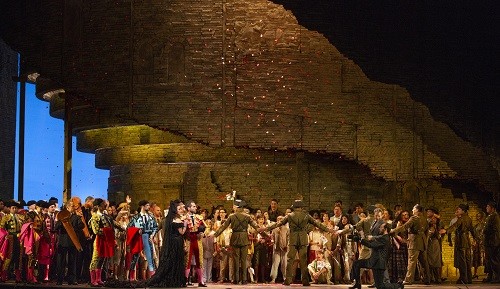 Cast:
Moralès – Adrian Timpau
Micaëla – Guanqun Yu
Don José – Jonghoon Lee
Zuniga – Richard Bernstein
Carmen – Clémentine Margaine
Frasquita – Sydney Mancasola
Mercédès – Sarah Mesko
Escamillo – Kyle Ketelsen
Production:
Director – Sir Richard Eyre
Revival Stage director – Paula Williams
Sets and Costumes – Rob Howell
Choreographer – Christopher Wheeldon
Lighting – Peter Mumford
Wagner praised it, Tchaikovsky predicted its future success, and Brahms declared that he would go to the ends of the earth to embrace its composer. In the opera league tables, Bizet's Carmen must rank as the most popular ever written. According to my playbill, this was the Metropolitan Opera's 1,011th performance since its U.S. premier in January 1884. The work's popularity obscures the fact that it is possibly one of the most difficult to produce. Although orchestrally brilliant, with memorably tuneful areas and choruses, the central characters are, from a dramatic point of view, undeveloped. Without subtle musical interpretation to bring out the emotions and suffering of the characters, they risk looking wooden. Another challenge is how to give a nineteenth-century plot cultural relevance, particularly in relation to what today must be considered the opera's central theme: the abusive treatment of women by men.
In its original nineteenth-century form, Prosper Mérimée's novella, on which Bizet based this work, served as a morality tale in which an immoral temptress – a gypsy factory worker and cigarette smoking smuggler to boot – led her naïve lover astray, drove him to the edge of despair, and, as a result, got what was coming to her. The message would have reassured respectable bourgeois audiences, doubtless shocked by the opera's depiction of working-class immorality. But in an age in which we are acutely conscious of issues around the abuse and mistreatment of women, the audience's sympathies no longer lie with the obsessional and possessive perpetrator, but with the victim. Should a production be adapted to reflect the changing mores of the times, and if so, how? Should there be a departure from operatic orthodoxy, such as was done in a 2017 Italian production of Carmen directed by Valentia Carrasco, where the heroine, armed with Don Jose's gun, killed her tormentor in self-defence before he could kill her? Or does a contemporary rewrite compromise the historical integrity of the work?
Sir Richard Eyre's production, first commissioned by the Met for its 2009/2010 season to replace an earlier one by Franco Zeffirelli, has been frequently revived. Director Paula Williams has adopted Eyre's original decision and opted for a largely traditional presentation.
As the chandeliers of the Met's 3,800 seat auditorium dim, a 60-foot black screen with a zig zag crimson gash down the middle lifts to reveal the ancient stone walls and arches of Old Seville. But the action and costumes are set in Franco's Spain of the 1930s at the time of the bloody Spanish Civil War. Was Eyre intending to draw a parallel between fascist military repression and the harsh attempts to control the free-spirited and defiant factory worker Carmen by her young soldier suitor? If so, it was the director's only attempt to introduce a relatively contemporary note into an otherwise conventional four-act production. Although, more than 10 years on, Eyre's emphasis on jealousy, violence and self-destruction still has the capacity to shock, this otherwise solid production has a singularly old- fashioned feel to it.
Even Rob Howell's revolving sets, innovative a decade ago, are now beginning to look and sound their age. Nonetheless, they effectively evoke the crowded market square and soldiers' barracks; Lillas Pastia's rustic tavern; the perilous stairway carved into the rock of the smugglers' mountain hideaway; and ultimately the bloodstained bullring – replete with dead bull – near the spot where the wayward Carmen meets her own gory death at the murderous hands of Don José.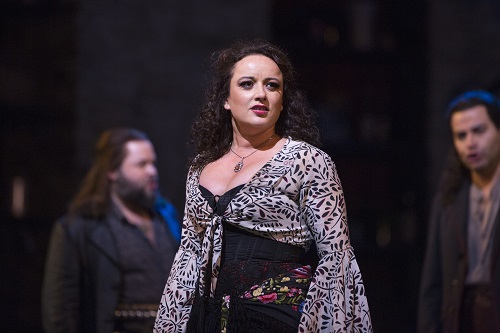 Making his Met debut in the acoustically challenging pit, young Israeli conductor Omer Meir Wellber got the evening off to a boisterous start with a lively account of the orchestral Prélude. Cleméntine Margaine, a French mezzo soprano, has established herself as a definitive Carmen in productions around the world. She reprises the role at the Met after her success here last year in the same production when unexpectedly called on as an understudy. Margaine has a big voice, alternately steely and sensual, which is capable of projection to the furthest reaches of the house. She can also act convincingly and brought real dramatic depth to Bizet's femme fatale. Her account of the Act I Habanera: 'L'amour est un oiseau rebelle', was smokily resonant, although not always pitch perfect.
The young South Korean Yonghoon Lee, who from January will be replaced by Roberto Alagna, made a reliable but less convincing Don José. He too possesses a voice capable of filling the Met's cavernous auditorium, but his emphasis on volume produced a cold, strident tone. The famous Act II aria, 'La fleur que tu m'avais jetée', for example, in which Don José sings despairingly that he must leave the mocking Carmen to return to duty, was harshly sung and had none of the sweet lyricism which characterises these tender Bizet songs.
Kyle Ketelson as Escamillo possesses a rich grainy bass baritone voice. He was every inch the cocky matador, and a plausible competitor for Carmen's fickle affections. He delivered the Toreador Song in the second act with the necessary braggadocio, which contrasted admirably with his soft warmth of tone when expressing his love for Carmen in Act IV.
The smaller roles were solidly cast and the evening's greatest pleasure was reserved for the ravishing Chinese soprano Guanqun Yu. Her exquisitely bright voiced Micaëla gave us a superb rendition in Act III of 'Je dis que rien ne m'épouvante' and quite convinced us of her determination to rescue Don José from Carmen's clutches.
Tension is ratcheted up when, confronted by a desperate Don José in a finely acted Act IV, Carmen contemptuously rejects his pleas of love in favour of Escamillo. Her brutal stabbing is depicted in a shockingly modern way as the familiar crimson gash motif appears again, this time exposed in the folds of her skirts. Yet it is not poor butchered and bloodied Carmen, but the love crazed and now ruined José who in this traditional production is presented as the true victim. That's a shame since a more contemporary challenge to the historic assumption that Carmen had it coming to her, would have made a good production a great one.
Christopher Sallon
For more about what is on at the Metropolitan Opera click here.