Italy Donizetti Opera Festival [1] – Il castello de Kenilworth: Donizetti Opera Orchestra and Chorus / Riccardo Frizza (conductor), Teatro Sociale, Bergamo, 24.11.2018. (JMI)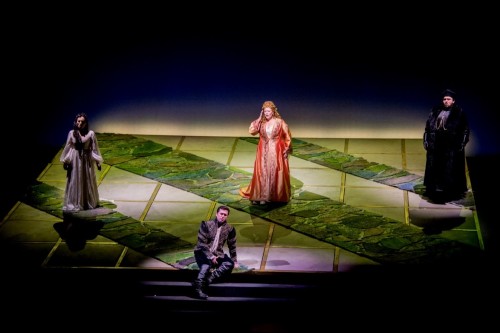 Cast:
Elisabetta – Jessica Pratt
Amelia – Carmela Remigio
Leicester – Xabier Anduaga
Warney – Stefan Pop
Lambourne – Dario Russo
Fanny – Federica Vitali
Production:
Direction – María Pilar Pérez Aspa
Sets – Angelo Sala
Costumes – Ursula Patzak
Lighting – Fiammetta Baldiserri
Every year Bergamo celebrates the operas of its beloved son, Gaetano Donizetti. The Festival is always interested in Donizetti works that have been nearly forgotten, and the 2018 program includes Enrico di Borgogna, his first opera to be performed, and Il castello de Kenilworth.
The latter was Donizetti's first opera set in the Tudor era, a period he returned to with Anna Bolena, Maria Stuarda and Roberto Devereux. It premiered at the Teatro San Carlo in Naples in 1829 when Donizetti was already a well-established composer with more than 20 operas to his credit. One should bear in mind that a year before this, Donizetti had married and had a child who died a few days later, so the circumstances surrounding the composer's life at the time were hardly ideal. The opera was well received, and a year later Donizetti did some revision. It is one of the last operas he wrote before his great triumph with Anna Bolena, which took place in Milan a year later.
Il castello de Kenilworth (originally entitled Elisabetta al castello de Kenilworth) deals with Queen Elizabeth I's visit to the castle of one of her favorites, the Earl of Leicester. He is now secretly married to Amelia, and he orders her to be hidden in a cell so that she cannot be discovered by the Queen. There we meet the evil Warney, who first tries to seduce Amelia and, when rejected, attempts (unsuccessfully) to poison her. It all ends with Elisabetta forgiving Leicester and the condemnation of Warney.
The opera is not a masterpiece like some of Donizetti's later works, but it is consistently pleasurable and features some stellar musical moments including the entrance of Leicester, a lovely quartet in Act II and Amelia's aria in Act III. It's also a highly original work in that its main protagonists are two sopranos and two tenors. It was certainly worth a trip to Bergamo to get to know it; the last time it was performed was in 1989 with Mariella Devia in the main role.
On this special occasion, the Donizetti Festival mounted a new production, directed by María Pilar Pérez Aspa. She narrates the plot effectively and with great simplicity:  there is a tilted platform in the center of the stage where the action takes place, with a few props added for the different scenes. In addition to the platform, there are black curtains on the sides and a screen at the back. The costumes are from the Tudor period.
Conductor Riccardo Frizza, who debuted in his new position as musical director of the Donizetti Festival, was one of the pillars of the performance. His direction was always appropriate, and he set a good pace, taking great care of the singers and moderating the sound from the pit. It was a convincing reading by a true specialist in the bel canto era. The Donizetti Opera Orchestra gave a fine performance, as did the chorus in their brief appearances at the beginning and end of the opera.
The role of Elisabetta was sung by soprano Jessica Pratt, an important soprano, especially in bel canto as she has frequently demonstrated. She particularly shone in her great final scene, conceived to showcase her triumph. In the rest of the opera, however, the role requires a wider voice, one more in line with Donizetti's other Tudor Queens who will follow.
Soprano Carmela Remigio in the part of Amelia, the wife of Leicester, shone in agilities. She was notable in her great Act III scene, which was accompanied not by a harp but by the glass harmonica, played as on other occasions by Sacha Reckert.
Tenor Xabier Anduaga as the Earl of Leicester was beautifully suited to the character and the vocal style. He made quite an impression, singing in a remarkably expressive way and experiencing no problems at all with the most difficult notes. There is no doubt that he has an important career ahead.
Warney was played by tenor Stefan Pop who did quite well, though for my taste he was the least convincing of the main quartet. His voice lacks some of the weight demanded by an evil character like this one.
The secondary roles were correctly covered by Dario Russo as Lambourne and  Federica Vitali as Fanny.
José M. Irurzun
For an interview with Riccardo Frizza click here.