United Kingdom G. Gabrieli, Grillo, Marini, Gussago, Guami, Merulo, Picchi: His Majesty's Sagbutts & Cornetts, led by Jeremy West. Dora Stoutzker Hall. Royal Welsh College of Music and Drama, Cardiff. 22.11.2018. (GPu)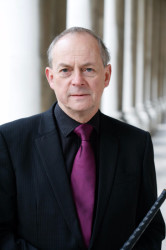 The printed programme for this concert disappointingly didn't provide the names of the particular members of His Majesty's Sagbutts & Cornetts who were performing in this richly enjoyable concert. There were three cornetts, Jeremy West, Jamie Savan and a lady who, regrettably,  I can't, name and three sagbutts, Stephen Saunders, Sue Anderson and Stephanie Dyer, with William Whitehead at the chamber organ. For parts of the programme they were joined by students from the Royal Welsh College: Emily Ashby, Bethany Chidgey and Jac Thomas (cornetts) plus Joe Arkwright, Bethany Lee and Malachi Taylor (sagbutts). Apparently, the members of His Majesty's Sagbutts & Cornetts had spent some time with students over the last few days (Jeremy West is the recently appointed Jane Hodge Chair in Historical Performance at the College), but the time for preparation cannot have been extensive and the students all acquitted themselves admirably.
All the fascinating music was by composers who had a professional connection, of one sort or another, with the musical life of Venice. Giovanni Gabrieli was certainly the best-known name amongst them (I dare say that like me, many others first became acquainted with Gabrieli's music, and with the riches of Venetian music for brass in this period, through the 1965 LP The Glory of Venice, by the Philip Jones Brass Ensemble. It was one of the first recordings I bought as an undergraduate). Of the other composers I can claim only a modest familiarity with the work of just two of them, Claudio Merulo and Giovanni Battista Grillo. A few years ago, I was fortunate enough to hear a recital of organ works by Merulo in a church in Bologna (San Martino Maggiore, I think, but my memory is not certain on the matter); this pleasurable experience encouraged me to acquire several CDs of his organ works and his Masses. Of Grillo I know littler beyond the music contained on a CD by His Majesty's Sagbutts & Cornetts – Giovanni Battista Grillo: Complete Instrumental Music & Selected Motets (SFZ 20107).
The highlights, for me, included the opening work – Gabrieli's Canzon secunda in six parts, which reminded one how – especially when played on early instruments – the rich texture of such Venetian music for brass does not, with its seemingly paradoxical transparency, conceal the interweaving of instrumental voices; Grillo's 'Dic mihi, o bone Jesu', originally written to be sung by two tenors, but here played by two tenor trombones (played by Sue Anderson and Stephanie Dyer) with organ continuo (the original can be heard, sung by Nicholas Mulroy and Eamonn Dougan, on the CD mentioned at the close of the previous paragraph) is a work of considerable melodic subtlety and its use of solo passages by the two voices/sagbutts as well as dialogue between them makes for an absorbing listen; Grillo's Canzon terza and, after the interval, Canzon pian e forte (both in 8 parts), were played and 'staged' so as to make very clear the nature of the polychoral writing which is so prominent a feature in much of this music. Indeed, in the closing piece of the concert, Gabrieli's Canzon XVI a12, the 12 brass musicians were split into three 'choirs' (each made up of two cornetts and two sagbutts) – two of these choirs being the right and left of the stage (with William Whitehead's organ between them) and the third on the balcony above the back of the stage – which  made for a sonically spectacular end to the evening. Marini's four-part Canzon prima, played by four cornetts and organ, offered a refined, crisp sound with an attractively blended texture which didn't, fortunately, obscure its neatly constructed polyphony. Grillo's Canzon secunda a8 was played by three cornetts and five sagbutts and had both a rich (but not heavy) sound and some delightfully springy rhythms; William Whitehead's performance of Merulo's Toccata quarta del secondo tuono, from the composer's Toccata D'Intavolatura D'Organo (Rome, 1598), was beautifully shaped and played with both energy and precision. Whitehead's performance re-confirmed my belief that this is an especially fine piece – I recommend, if you can find it, a recording by Francesco Tasini on Ermitage ERM 431-2, where it is played on a positive organ said to have been built by Merulo himself, restored by Bartolomeo Formentelli in 1964, and now preserved in the A. Boito Conservatory in Parma. Merulo, who at different times held prestigious posts as organist, in Brescia, Venice (San Marco) and the Cathedral in Parma was an innovative writer for organ and harpsichord, whose work clearly influenced Frescobaldi and (perhaps more surprisingly) Sweelinck. He still seems to me to be somewhat under-recognized – as a lover of his music it was a very pleasant surprise to hear one of his best pieces in a concert in which I had expected to hear only music for brass ensemble.
Throughout, Jeremy West was an affable compère, as well as being, of course, a brilliant player of the cornett. He is a persuasive enthusiast in all that he does and says. About half an hour before the concert I happened to hear him talking informally with a group of schoolkids and their teacher in the foyer of the building. He was clearly delighted to discuss his instruments and how they were played, and it was no surprise that he was given a spontaneous round of warm applause when the time came for him to go backstage to prepare for the performance.
While I admire and love the Dora Stoutzker Hall (currently my favourite concert-going venue), it must be admitted that – architecturally speaking – no one would mistake it for San Marco in Venice. But close one's eyes during this lovely concert and one could believe oneself there, or perhaps in one of Venice's other great 'musical' churches, such as Santi Giovanni e Paolo (often referred to as San Zanipolo). I can pay no greater compliment to Jeremy West, to His Majesty's Sagbutts & Cornetts and to their excellent student 'assistants'.
Glyn Pursglove
For motr about His Majesty's Sagbutts & Cornetts click here.