United Kingdom Kabeláč, Shostakovich, Dvořák: Simon Trpčeski (piano), Philharmonia Orchestra / Jakub Hrůša (conductor). Royal Festival Hall, London, 22.11.2018. (CC)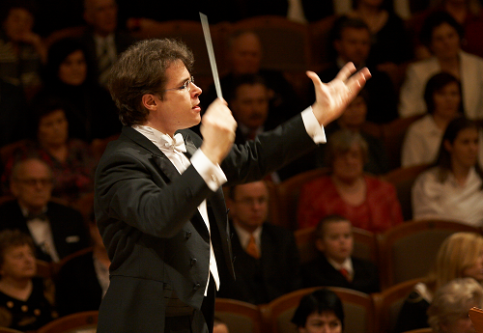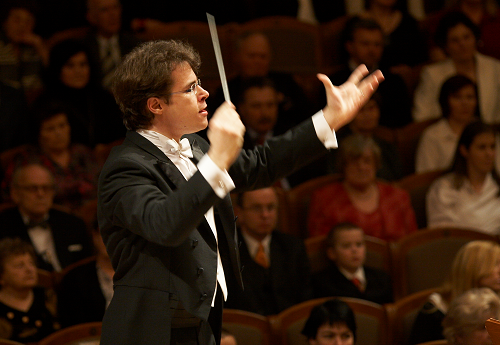 Kabeláč – The Mystery of Time, Op. 31 (1957)
Shostkakovich – Piano Concerto No.2 in F, Op.102
Dvořák – Slavonic Dances, Op.46
The prize for discovery of the year goes to the Philharmonia and Jakub Hrůša for introducing London to Prague-born Mirolav Kabeláč (1908-1979). The route Hrůša chose was via Kabeláč's best known piece, the orchestral passacaglia The Mystery of Time. Written between 1953 and 1957, this is a masterly work, beginning enshrouded by silence and the mystery of its title, and returning to that same place around 23 minutes later. The darkness of the opening is illuminated by shafts of light; pulsating double-basses imply life is ongoing and potentially unstoppable, the timpani providing an ongoing tread. One might posit a Shostakovich-like slow unfolding, especially via the sinewy flute melody so beautifully played here by Samuel Coles. Kabeláč's musical vocabulary is expansive, creating complex textures through which, at one point, a trumpet cuts through like a knife. The Philharmonia's Principal Trumpet on this occasion was Christian Barraclough, whose playing shone like a light both here and in the second half Dvořák. Hrůša navigated the score with easy expertise, building the climaxes inexorably, finding just the right momentum until the percussion-underpinned climax and allowing the music to wind down with a sense of relief. This was a masterly account of a fine piece; the enthused audience reaction, and indeed the audience quiet during the performance, seemed to imply a shared sense of discovery.
There is more Kabeláč to be discovered, but if one needs re-acquaintance with this piece, Karel Ančerl's recording on Supraphon with the Czech Philharmonic is powerful and intense (and coupled with more Kabeláč: the later Hamlet Improvisation, Op. 46. Look for Volume II of the Ančerl Gold Edition). The complete symphonies if Kabeláč (eight of them) has recently been released on Supraphon with the Prague Radio Symphony under Marko Ivanović, and the Supraphon catalogue includes more delights, including piano music.
Kabeláč was born within two years of Shostakovich, and both works in the first half of this concert dated from the same year (1957). Both composers lost favour with a Communist regime. In Kabeláč's case, things came to a head when the Soviets invaded Prague in 1968, although the advocacy of Ančerl helped to keep his music alive abroad. The coupling here with Shostakovich's Second Piano Concerto was therefore entirely apt. Simon Trpčeski is a fine pianist with an enviable reputation, and clearly had a ball in this performance of Shostakovich's spiky score. Clean articulation and a wonderful staccato were hallmarks of his reading, the central Andante's beautifully calibrated strings and long piano line a real highlight. The finale danced splendidly, light and fast at the opening and with a real sense of fun. Hrůša is a superb accompanist; there was a real feeling of everything coming together. And there was an unexpected encore, too: the light-footed scherzo from Shostakovich's Second Piano Trio wherein Trpčeski was joined by the Philarmonia's leader Zsolt-Tihamér Visontay and Principal cellist Timothy Walden. A real treat: perfectly chosen music played with real vim.
So often relegated to encores, it was good to hear a complete set of Dvořák Slavonic Dances (Op.46: the complementary Op.72 set will be performed on February 17, 2019). And there was no doubting the conviction of the performance from the very opening blaze of light, a sustained C major tonic before the rhythmic gaiety began. Hrůša absolutely reveled in the spirit of joy, but also in the way he brought out those subsidiary contrapuntal lines. The piccolo glaze to the orchestral sonority in the fifth was a particular delight, while the final Furiant was taken at a proper Presto.
The concert was preceded by a a fabulous recital given by the Philharmonia MMSF (Martin Musical Scholarship Fund) Young Artists, a scheme that has already helped artists such as Alison Balsom, Steven Isserlis and Tasmin Little breach the awkward gap between finishing college and a professional career, The programming worked well, with excerpts from Shostakovich's Five Pieces for two violins and piano in an arrangement for flute, violin and piano linking to the main event (Camilla Marchant, Julia Liang and Irena Radic respectively). Katherine Bryer's warm-timbred oboe impressed, particularly in Erik Sköld's Scherzo for oboe, trumpet and piano, while Marchant and Radic were emotionally generous in the warm atmosphere of Samuel Barber's Canzone, Op.38a. A final word for trumpeter Erika Curbelo's fabulous breath control in the lines of Rachmaninov's famous Vocalise. Works by Valeri Kikta and Luboš Sluka completed the event. Terrific stuff.
Colin Clarke