Switzerland Mussorgsky, Boris Godunov: Soloists, Chorus of Grand Théâtre de Genève, Orchestre de la Suisse Romande / Paolo Arrivabeni (conductor). Grand Theâtre des Nations, 10.11.2018.  (ALL)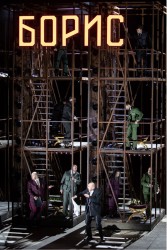 Cast:
Boris Godunov – Mikhail Petrenko
Grigory – Serghej Khomov
Shuysky – Andreas Conrad
Pimen – Vitalij Kowaljow
Andrey Schchelkalov – Roman Burdenko
Fyodor – Marina Viotti
Xenia – Melody Louledjian
Varlaam – Alexey Tikhomirov
Misail – Andrei Zorin
Innkeeper – Mariana Vassileva-Chaveeva
Innocent – Boris Stepanov
Nurse – Victoria Martynenko
Police Officer – Oleg Budaratskiy
A boyard – Rémi Garin
Mitioukha – Harry Draganov
Production:
Director – Matthias Hartmann
Settings – Volker Hintermeier
Costumes – Malte Lübben
Lightning – Peter Bandl
Geneva's Grand Théâtre will be resuming its activities in the classic Theatre of Place Neuve in January with Wagner's Ring after a probable six-month delay and quite a few last-minute artistic decisions. Of all possible works for the smaller Théâtre des Nations, Boris Godunov was theoretically among the top choices of an opera that should not be staged in this smaller venue, along with Wagner's Die Meistersinger or Zimmerman's Die Soldaten.
Much to everyone's surprise and relief, this proved not to be the case.
Much of the credit must go to the precise conducting of Paolo Arrivabeni, who previously presented an intimate and delicate La bohème a few years ago in the same venue. Apart from the first scene, which calls for decibels, there was genuine balance between stage and the pit, as well as highlighting of the darkness and the harsher edges of the work. We heard the 1869 version, not the 'luscious' one orchestrated and sweetened by Rimsky-Korsakov. It ends with Boris's death and does not include the Polish act nor the final Kromi forest scene. It was a fitting choice for Arrivabeni's perspective and his attention to detail. The Swiss Romande Orchestra's reduced forces played well for him. Woodwinds, which are the strength of this ensemble, were strong, and one could hear the double basses clearly, even though there were only four of them.
As always, the Grand Théâtre's Chorus was one of its strongest assets. The assembly of boyars had strength and colour. They overpowered the first scene, but this was perhaps to be expected, given the venue.
Matthias Hartmann's production had some good ideas which worked well. In the coronation scene, Boris is given the crown and the sceptre by Dmitry; the boyards had costumes with visibly enhanced pockets, a clear symbol of the corruption in Russia. During Boris's death – and was there ever a more complex and subtle death scene in any opera? – Boris was covered with flowers as well as earth, thus reminding us of the fact that he was both revered and hated (although this idea lingered rather too long).
The singers were well chosen overall. Serghej Khomov's Grigory projected well and made us wonder what he could have given us in the Polish act. Marina Viotti's Fyodor and Andreas Conrad's Shuysky were well characterized. Alexey Tikhomirov's Varlaam was a bit rough, even for this role. Vitalij Kowaljow was on outstanding Pimen with a deep tone and superb phrasing.
In the title role, Mikhail Petrenko was a commending Tsar. His voice is lighter than classic Russian basses, but it allows him to refine the different emotions Boris experiences. Projection and colour were superb, as we have learned to expect from this great artist. The transformation he goes through from caring, authoritative father in the scene with Xenia and Fiodor, to hallucinating remorseful murderer plagued with guilt was the highlight of an unexpectedly great evening.
Antoine Lévy-Leboyer
For more about what is on at Geneva Opera click here.