United States Wagner, Siegfried: Soloists, Orchestra, Lyric Opera of Chicago / Sir Andrew Davis (conductor). Civic Opera House, Chicago. 11.11.2018. (JLZ)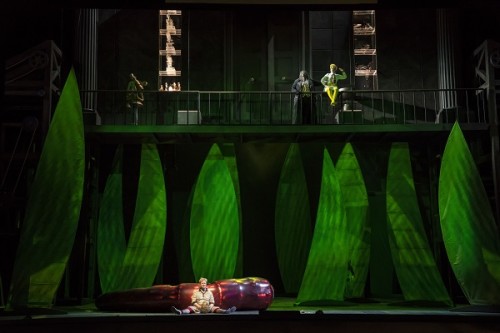 Cast:
Siegfried – Burkhard Fritz
Brünnhilde – Christine Goerke
Mime – Matthias Klink
The Wanderer – Eric Owens
Alberich – Samuel Youn
Erda – Ronnita Miller
Woodbird – Diana Newman
Fafner – Patrick Guetti
Production:
Director – David Pountney
Original Set Designer – Johan Engels
Set Designer – Robert Innes Hopkins
Costume Designer – Marie-Jeanne Lecca
Lighting Designer – Fabrice Kebour
Choreographer – Denni Sayers
Following last season's impressive staging of Die Walkure, Lyric Opera of Chicago's new production of Wagner's Siegfried offers a modernist view of this myth-steeped score. The visual clues offer gloss to the story, with some serious play that starts before the curtain and continues to the final notes.
The late Johan Engels broke from tradition with his part-steampunk, part post-representational take on the Ring, and the vision in this installment, which David Pountney directs, is consistent with the other operas in offering a fresh perspective.
Some comments in the program state that no new significant plot twists occur after the second act, but that is hardly the case, given that the final act included some of the finest moments. Eric Owens was resonant and expressive in his depiction of the Wanderer, musically and dramatically assured, and particularly touching in his scenes with Erda and Siegfried. The passage about god's intervention into the fate of the cursed ring was remarkably clear, bringing dramatic and musical closure to Wotan's role. As Erda, Ronnita Miller gave a sumptuous reading in which her rich low notes added meaning to her character's resolute action.
The final scene of the act was a lively interpretation of Siegfried's discovery of Brünnhilde that brought the work to a triumphant conclusion. In this portion, Burkhard Fritz transformed from an adolescent to an adult, and his voice took on textures he did not reveal earlier, where he was convincing as a youth. Even after two full acts, Fritz's nuance, fine phrasing, and idiomatic diction were all convincing. If at times earlier, Fritz was overshadowed by the orchestra, it was not the case in the final scene, where he offered a winning depiction of the hero.
As Brünnhilde, Christine Goerke was rapturous. Her first pitches gave the tone and character that she would explore in the rest of the act, with her interpretation containing subtleties that are easily missed by others. Goerke's power lies in her command of the details, which emerge with the clarity of a consummate Wagnerian. Her effortless, ringing soprano was intensely moving and one of the evening's highlights.
The earlier acts were also notable. As Mime, Matthias Klink's native German diction was well-deployed, and when coupled with his declamatory approach, it was possible to hear the libretto with clarity. It was not the same with bass-baritone Samuel Youn, though, whose customary resonance seemed unusually strained and sometimes strident. The weaknesses were evident in the unsatisfying second act exchange with Wotan.
As the Woodbird, Diana Newman was lilting and fluid, depicted by flowing movements from a puppet. Patrick Guetti was equally strong as Fafner, with his death scene well-handled. Guetti's solid bass, with his expressive low notes, would make him an asset in Das Rheingold.
The occasional light and light-hearted touches counter some of the darkness that is part of the Ring tradition. With only four performances of this new production slated for the current season, it's unfortunate that more audiences will not have the opportunity to experience it.
James L. Zychowicz