United States John Adams, Copland: Leila Josefowicz (violin), Cleveland Orchestra / John Adams (conductor), Severance Hall, Cleveland, Ohio, 29.11.2018. (MSJ)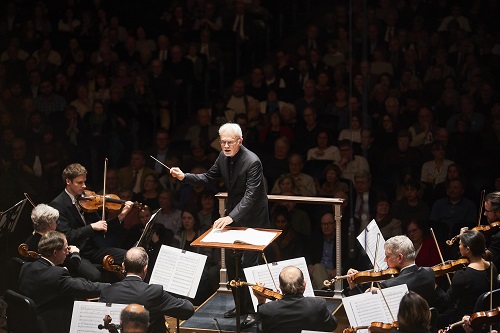 John Adams – Short Ride in a Fast Machine; Scheherazade.2
Copland – Quiet City; Appalachian Spring Symphonic Suite
John Adams isn't afraid to think big.
In a welcome return as conductor to the Cleveland Orchestra after a nearly 20-year gap, America's most prominent composer brought a big recent work and put it in a big context. Adams has been plentiful here under other batons. Christoph von Dohnányi premiered Century Rolls with Emmanuel Ax, and Franz Welser-Möst intriguingly paired Adams with Bruckner for a tour a few years ago — a brilliant comparison.
The first half of the concert was a bit of brilliance, too, with three characteristic points of view on the American experience. It opened with Adams' brief, early, minimal — and dazzling — Short Ride in a Fast Machine (1986). Even then, though, Adams was snapping the bonds of minimalism and going adventuring. As Eric Sellen pointed out in his excellent program notes, Short Ride portrays the rider's emotions, rather than the ride itself. Comparatively simple components are characteristically layered in a complex matrix. For a brief moment early on, the motor threatened to get out of sync, before everything crisply snapped into place and took off.
Copland's gently pensive Quiet City featured gorgeously expressive solos from Robert Walters on English horn and Michael Sachs on trumpet. Some conductors have offered broader interpretations, but Adams kept it moving forward while at the same time encouraging emotional playing. As a part-time conductor, Adams is not the most polished baton in the business. But one suspects he'd never be interested in that, anyway. His emphasis, refreshingly, is on the expression.
As one composer's tribute to another, Adams was very attentive to Copland's score instructions for the suite from Appalachian Spring. Many conductors get carried away with their vision, but Adams kept it rooted to the composer's inspiration — slow parts not distended, fast ones not desperately rushed, and all tempo changes careful calibrated. Despite this care for detail, the result was not inhibited, but relished Copland's world — very much within the moment, expressive and alive. Near the end, the famous sunburst transformation of the Shaker song Simple Gifts was impressive for the orchestra's rich timbres, but Adams led with a touch of reserve, and refused to milk it for effect.
But if the first half seemed substantial, it was nothing compared to the second, the Cleveland premiere of Adams's part-symphony/part-violin concerto, Scheherazade.2. Disturbed by a revisit to the classic 1001 Arabian Nights, Adams wrote his version for violinist Leila Josefowicz in 2014-15. Looking at the traditional tales from a modern perspective, Adams was appalled by the 'casual brutality toward women', particularly Scheherazade herself, who must spin out her storytelling for 1,001 nights to keep her murderous husband from killing her. Adams decided to write a version from Scheherazade's point of view.
The result is an exhilarating, disturbing epic. Present are his deft orchestration, expressive intensity, and long structures that gradually build up harmonic tension. But these values are often saturated to an extreme. Not even the Doctor Atomic Symphony was this dark and troubled. If great artists reflect their world, we'd better be worried.
Scheherazade.2 transforms the familiar Adams sound. The orchestration suggests oceanic depths with sudden gleams of color emerging from the murk. Fractal curlicues of woodwinds spiral down into the gloom, luminous shafts from a bowed marimba pierce through obsessive masses of brass and strings. If one inhales at the beginning, one is unlikely to exhale until the very end, fifty minutes later, and then only partially.
The first movement is in two parts, 'Tale of the Wise Young Woman' and 'Pursuit by the True Believers'. Though the opening is comparatively relaxed, it immediately grabs the ears with striking colors. An unexpected but genius idea was to include a prominent solo role for the cimbalom, an eastern European folk instrument similar to the Appalachian hammered dulcimer, which has its ancient roots in the Middle East. While the main solo is the violin, the cimbalom part is huge (and just as wildly virtuosic), and Chester Englander played it spectacularly.
Leila Josefowicz made her first entrance calmly but with the self-assurance of a rock star. She has performed this piece over fifty times, and as the tension built, she clearly demonstrated that she knows it and believes in it. Most violinists fail to bring this kind of commitment to proven classics.
The second movement, 'A Long Desire', instantly joins the short list of greatest love scenes in classical music. It's also the most disturbing, alternating thrusting violence with teetering exaltation. In the third, 'Scheherazade and the Men with Beards', Adams establishes the idea of the title character being put on trial by religious zealots and then lets the audience fill in the story's details. For this listener, it was harrowing to hear the solo violin attempt to calmly answer the increasingly unhinged orchestral mass. This movement contains some of the most frightening music I have ever heard, and the ensemble did not flinch in its attack.
The finale, 'Escape, Flight, Sanctuary', starts with another extended, fragmented passage, which causes shudders with dread of further violence. But finally the horror subsides into 'sanctuary', though it could also mean numbness and exhaustion. At the end came an instant standing, shouting ovation.
Scheherazade.2 is important. And scary. And not as far from home as any of us, including John Adams, originally thought.
Mark Sebastian Jordan
Mark Sebastian Jordan's reviewing activity in 2018 has been supported by an individual excellence grant from the Ohio Arts Council.