Hungary Kamara.hu 2018 Chamber Music Festival – Various composers: Various performers, Solti Hall, Franz Liszt Academy of Music, Budapest. 15-17.11.2018. (SS)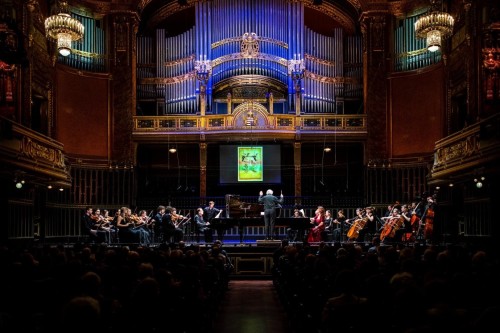 15.11.2018
Beethoven – Twenty-Five Irish Songs, WoO 152 – 10. 'The Deserter'; Twenty-Five Scottish Songs, Op. 108 – 24. 'Again, my lyre, yet once again'. 13. 'Come fill, fill, my good fellow!' (Zoltán Megyesi, Viviane Hagner, Rafael Rosenfeld, Izabella Simon)
Ligeti – Six Bagatelles (Gabriella Pivon, Heinz Holliger, Reto Bieri, Zoltán Szőke, György Lakatos)
Beethoven – Clarinet Trio in B flat major ('Gassenhauer'), Op. 11 (Csaba Klenyán, Rafael Rosenfeld, Dénes Várjon)
Haydn – Piano Trio No.39 in G major, Hob. XV/25 (Alexander Janiczek, Rafael Rosenfeld, Izabella Simon)
Heinz Holliger – Rechant (Reto Bieri)
Bartók – Divertimento, BB 118 (Heinz Holliger, Merel Quartet, String Orchestra of the Liszt Academy)
16.11.2018
Antal Doráti – Duo Concertante (Heinz Holliger, Dénes Várjon)
Sándor Veress – Sonatina (Heinz Holliger, Csaba Klenyán, György Lakatos)
Brahms – Piano Trio No.3 in C minor, Op.101 (Viviane Hagner, Ditta Rohmann, Izabella Simon)
Heinz Holliger – COncErto?-collage (Merel Quartet: Mary Ellen Woodside, Edouard Mätzener, Alessandro D'Amico, Rafael Rosenfeld)
Brahms – Clarinet Quintet in B minor, Op.115 (Reto Bieri, Merel Quartet)
17.11.2018 (17.00)
Helena Winkelman – The Clock (Merel Quartet: Mary Ellen Woodside, Edouard Mätzener, Alessandro D'Amico, Rafael Rosenfeld)
Messiaen – Quatuor pour la fin du temps (Reto Bieri, Alexander Janiczek, Rafael Rosenfeld, Dénes Várjon)
17.11.2018 (19.30)
Haydn – String Quartet No.26 in G minor, Hob. III/33 (Merel Quartet)
Sándor Veress – Hommage à Paul Klee (Heinz Holliger, Izabella Simon, Dénes Várjon, Alexander Janiczek, Diana Cohen, Jürg Dähler, Ditta Rohmann, String Orchestra of the Liszt Academy)
Beethoven – Variations in G major on Wenzel Müller's Theme 'Ich bin der Schneider Kakadu', Op.121a (Alexander Janiczek, Ditta Rohmann, Roman Rabinovich)
Heinz Holliger – 2 Albumblätter, getuscht (for Ilse von Alpenheim). (Dénes Várjon)
György Kurtág – Signs, Games, Messages (for solo oboe and solo English horn): 9.  In Nomine – all'ongherese, 5. Einen Augenblick lang, 4. … ein Brief aus der Ferne an Ursula (Heinz Holliger)
Schumann – Piano Quartet in E flat major, Op.47 (Anthony Marwood, Jürg Dähler, Christoph Richter, Dénes Várjon)
Every year the artistic directors of Kamara.hu, Izabella Simon and Dénes Várjon, select a book they are familiar with as a jumping-off point; a basis for making connections. Then they program their Budapest-based chamber music festival – but without being beholden, as they emphasize, to the book itself. Audience members are not required or advised to read the book, but we are told how it has loosely informed the programming. This is a shrewd approach in view of the book chosen this year, which expounds very specific views about classical music's peak of perfection: 'As we know, between 1500 and 1800 a wide variety of music was made; styles and means of expression were extremely variegated; but the spirit, or rather the morality, was everywhere the same.' With the idea that high culture holds not only aesthetic but also ethical value, that it directs us how to be, we are dealing, perhaps unsurprisingly, with a German writer: the author is Hermann Hesse and that extract is from his 1943 novel, The Glass Bead Game.
The book begins with Hesse's protagonist, Joseph Knecht, embarking on a series of character-forming master-student relationships, and the festival's opening concert took its cues from this theme. Works by Haydn and his student, Beethoven, rubbed shoulders with pieces by Béla Bartók, György Ligeti, and Heinz Holliger – three composers who all studied with Sándor Veress, whose music featured in four of this year's concerts, including the first night.
A selection of Beethoven's Irish and Scottish folksong arrangements opened the festival. Given Theresa May's announcement of a Brexit deal the night before, which involved a triumphant reference to 'ending freedom of movement' – a right that has enriched my life in untold ways throughout nine years of living in continental Europe – I wasn't particularly in the mood to hear anything from the British Isles. But you quickly warm to Beethoven's settings of these English texts, which began here with 'The Deserter' (grim irony upon grim irony!), and especially when performed so winningly. I struggled to catch most of the text, but then the piano, violin and cello don't so much accompany the singer as compete with him or her for attention. To say that the performance sounded 'busy' is perhaps simply an inevitability of playing this music to the fullest. The violin and cello parts, played with forthright charm by Viviane Hagner and Rafael Rosenfeld, sounded of no less interest than the vocal line. This was sung by Zoltán Megyesi, a lyric tenor whose mellifluous tone and legato make him a natural Lieder singer. But the words are important too, and woolly diction let him down.
More familiar repertoire followed with a punchy performance of Ligeti's Six Bagatelles, in which the five musicians didn't hold back and played almost like soloists – and yet the balance and sense of ensemble sounded all the more robust for it. There's a rare pleasure to hearing the kind of music-making that succeeds in spite of sounding like it shouldn't be possible, with big contradictions sitting at its core, and this was a good example of what happens as a result of Kamara.hu bringing together musicians with some kinship – everybody is a close colleague or friend of Várjon and Simon – and then rehearsing in a more close-knit atmosphere than what normally ensues when international groups of musicians come together on a tight schedule.
On either side of the intermission we heard Beethoven's 'Gassenhauer' Trio and something billed as Haydn's Piano Trio No.25, which wasn't familiar to me from the number alone, but actually turned out to be the well-known No. 39, the 'Gypsy'. This is instantly recognizable Haydn, and demands exquisite playing, which is no small expectation, but one that was stylishly fulfilled and particularly in Izabella Simon's piano playing. In keeping with its nickname, the third movement of the 'Gassenhauer' Trio sounded like a folkloric romp through the Heurigen-filled lanes of Beethoven's Heiligenstadt, and the first movement was kept light-hearted too. Of all the early Beethoven works this is not one that's very strongly indebted to Haydn, yet here it sounded distinctly Haydnesque.
Reading from the title (and its possible allusion to Messiaen's Cinq rechants?), Heinz Holliger's Rechant for solo clarinet sounded at times like the reiterated song of a caged bird. But countless other metaphors would also pertain with no less validity. Pensively played by Reto Bieri, this opaque miniature felt like an unsubtle Rorschach test.
Kamara.hu likes to do big contrasts, which you saw in the way we went from a solitary clarinettist on a bare stage to the platform-filling forces of the Merel Quartet and the Liszt Academy String Orchestra. Bartók's Divertimento is written like a 20th century concerto grosso and here the students were the ripieno while the experienced hands of the Merel Quartet performed concertino duties. However, a top-level student orchestra should never be underestimated and the Liszt Academy strings are no exception: the sound is big, visceral, and impressively homogeneous. There ensued a white-hot performance of Bartók's Divertimento, the composer's final work written before fleeing Hungary and Europe, brilliantly conducted by Heinz Holliger and with intense emotional depth to the elegiac second movement. Not quite the master-student relationship as witnessed in Hesse's novel, but a powerful master-student collaboration.
I had to be admitted late to the Friday evening concert following a ticketing mix-up, but was seated in time for Brahms's Piano Trio No.3. The work is big-boned, minor-key Brahms with no end of crashing octaves in the piano – octaves made all the more crashing, it seemed, by Roman Rabinovich's heavy touch. Equally weighty attack by violinist Viviane Hagner and cellist Ditta Rohmann evened things out, insofar as everything sounded frankly overblown, but for the most part there was a kick to be gotten from the fervour of the playing.
As in the previous concert, the Holliger work programmed after the intermission felt underwhelming. There was much detail to be heard in the collage of excerpts from his 2001 work COncErto?, all of it immaculately played by members of the Merel Quartet, but it was the commitment of the performance rather than the music itself that lingered in the mind.
The second night finished with a classic work from fin-de-siècle Vienna. Brahms's Clarinet Quintet, written with overflowing admiration and affection for Richard Mühlfeld, his 'Fräulein Klarinette', offers a golden opportunity for a clarinettist to shine, which Reto Bieri did up to a point, but otherwise blended in with the strings. In terms of approach, a bit overly collegial – at least if you prefer to hear a clear contrast between clarinet and string quartet. And another, undoubtedly personal, complaint: the opening figure, which is so central to the fabric and identity of the entire work, was made to sound elusive wherever it appeared, and yet the phrasing elsewhere stuck to what one conventionally hears. Why this strange interpretive half-measure? These minor objections aside, the rest of the performance was given a lift by the rich tone colour of the Merel Quartet and did have its moments. Late Brahms can sound glorious but this ideal is harder to attain than it looks; it calls for weight but also flow, and while much of the writing is autumnal in temperament, so many phrases are sunny or feisty in character. And much of the playing, to be fair, reflected this complexity and sounded pretty slick too.
The third concert of Kamara.hu 2018 took place in the Cupola Hall, a studio space that almost pokes through the top of the Liszt Academy's monumental building. We gathered for a short programme based around the subject of time, which began with Helena Winkelman's The Clock. This contemporary meditation on the inexorable passage of time, inspired by Shakespeare's 12th Sonnet on the same subject, was written for the Merel Quartet and played here by the same musicians with a seriousness that seemed in accord with the piece. Winkelman's writing is austere and repetitive, with lengthy sections in chordal style and using a whole bow per note, which is visually and aurally quite mesmeric and doesn't go on for too long. The program mentions that when the piece was premiered at the Engelberg Chamber Music Festival in Switzerland, the town's church bell began to toll in unplanned counterpoint to the repetitions of the piece. In a delightful touch of whimsy, it was decided to replicate this in future performances. In the middle of the piece, a recorded bell began to sound, as if calling to us from some remote, picturesque Alpine village. This genuinely brought another dimension to the work, which suddenly felt more than the sum of its acoustic and recorded parts: music transformed into image; sound into immersive experience.
It may have been to do with the generous amount of Hungarian music programmed this year (at least compared to 2017), but the 'Danse de la fureur, pour les sept trompettes' and the other lively parts of Messiaen's Quatuor pour la fin du temps, all taken at quite a lick, sounded almost Bartók-like in their spikiness. In the slow movements, especially those for cello and piano and, at the very end, for violin and piano, the musicians took the prayerfulness that's so characteristic of Messiaen's writing and intensified it to extraordinary effect. Dénes Várjon's placement of the repeated chords which dominate the piano writing in the final two movements was very much a part of this, and showed the exquisite tension that can be created through dynamic control.
An hour or so later we moved into the Liszt Academy's sumptuous main hall. Kamara.hu always does one concert a year in this space and moving to the big hall makes it feel like a gala event. Haydn began the programme, but as with so much Haydn done immediately after audience members have settled into their seats, it felt routine. The Merel Quartet's playing was pristine, each movement had refinement and verve, and yet the music seemed too harmless and inoffensive. The envelope could have been pushed further.
After their superb Bartók the other day, it was wonderful to see the Liszt Academy String Orchestra take to the stage once more, conducted again by Heinz Holliger, for Sándor Veress's Hommage à Paul Klee. The hommage of this big multi-movement work for two pianos and string ensemble is quite specific: each movement addresses a different Klee painting, which were all displayed via projector screen in this performance. For me this recalled a Salzburg Festival concert a few years back, in which a dozen European and American composers, some of them quite famous, were commissioned to write pieces based on Salzburg's rich collection of public art. Photos of the art were also projected during the performances, and in a good number of cases it was a struggle to construct a connection between the music and the artwork that had supposedly inspired it (though the marathon nature of the event didn't help). With one or two exceptions this was also the case with the paintings here, which may be just as well, seeing as the music stands perfectly well on its own. Each of the seven movements is highly contrasted with plenty of invention, but overall the work has a buoyant and carefree character underlined by the virtuosic piano parts (in the fifth movement the two pianists crisscross the keyboard in frenetic contrary motion to one another, a stunt immediately imitated by the strings). This barnstorming performance had youth on its side, with more terrific playing from the Liszt Academy strings, and an illustrious pedigree too: not only did Veress happen to be Heinz Holliger's most influential teacher alongside Boulez, but Holliger and a fresh-faced Dénes Várjon also recorded this work twenty years ago with the Budapest Festival Orchestra and András Schiff. Here, Várjon was joined by festival co-director Izabella Simon, and one of the festival's nice traditions, at least based on the programmes this year and last, is that the two pianists do one work together in the main hall concert. As a married couple, the playing has a strong spark and their status as Hungary's second-most famous piano duet couple after György and Márta Kurtág has been well-earned.
After the intermission, there was a spirited performance of Beethoven's rarely performed Kakuda Variations for piano trio – but like the Haydn at the beginning of the evening, the performance by violinist Alexander Janiczek, cellist Ditta Rohmann and pianist Roman Rabinovich lacked a strong interpretive profile. Still, after some overbearingly loud accompanying in last year's festival, Rabinovich sounded much more like a chamber musician and potentially an interesting one.
Then followed music from the festival's most eminent guest that I could finally connect with. The world premiere of the piano miniatures 2 Albumblätter, getuscht (for Ilse von Alpenheim), played expansively by Dénes Várjon, stood out for their brevity, and yet concentrated within these small pieces was the most atmospheric and dramatic Holliger music of the festival. With Várjon remaining on stage and Holliger already sat beside him, there was a silent transition to three short works by Holliger's friend Kurtág, whose Beckett opera had premiered in Milan just a few days previously (hopefully to be seen in many more cities before long). These selections from Signs, Games, Messages contain much tight-lipped music, expressively speaking, but while it seems like Kurtág is wearing a mask, Holliger's playing felt stripped-back and exposed. He remains one of the world's greatest oboists, but the depth of personal expression here – the third piece, … ein Brief aus der Ferne an Ursula, refers to Holliger's wife – went beyond the mechanics of playing an instrument and doing it well.
Kamara.hu does completely different repertoire every year, with different musicians, but structurally the format has largely become settled, and as with the main hall spot for Várjon and Simon, it does seem to be another tradition to end the Saturday and Sunday evening concerts with something big, decadent and Romantic. No surprise, then, to see Schumann's magnificent Piano Quartet on the programme. Having last heard Anthony Marwood play a Steven Mackey violin concerto with David Robertson in Vienna some years ago, I was keen to hear him again and he turned out to be a highlight of this performance. Students could learn a lot about leading a string quartet from observing his subtle cues, and his limpid tone and cultivated phrasing sleekly floated above the texture. There was strong dialogue between all the musicians and only the cellist, Christoph Richter, might have been slightly more assertive, but momentum and drama were driven predominantly from the piano. In the big weekend setpieces, Dénes Várjon puts everything into the final movements and as the Messiaen had shown earlier, he's very good at building up tension over long stretches of music. But unlike in the Messiaen, here the release was heady, with a long coda that blazed. We go to festivals expecting special performances and this Schumann absolutely met that promise.
Sebastian Smallshaw
For more about Kamara.hu click here.