United Kingdom The Royal Ballet's La Bayadère: Dancers of The Royal Ballet, Orchestra of the Royal Opera House / Boris Gruzin (conductor). Royal Opera House, Covent Garden, 1.11.2018. (JPr)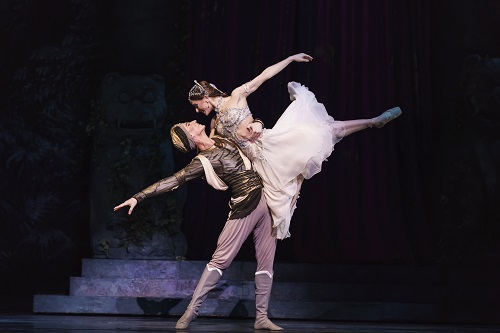 Production:
Music – Ludwig Minkus (orch. John Lanchbery)
Choreography – Natalia Makarova (after Marius Petipa)
Production conceived and directed by Natalia Makarova
Set designer – Pier Luigi Samaritani
Costume designer – Yolanda Sonnabend
Lighting designer – John B. Read
Cast included:
Nikiya – Marianela Nuñez
Solor – Vadim Muntagirov
Gamzatti – Natalia Osipova
The High Brahmin – Gary Avis
Rajah – Thomas Whitehead
The Bronze Idol – Alexander Campbell
Sandwiched between the Siegfried and Götterdämmerung of the final Ring cycle was the opening night of this revival of Natalia Markarova's 1989 production of La Bayadère. I always wonder what its 1877 creator Marius Petipa would think of it now with all the choreography it has accreted over the intervening years? Exoticism and hokum undoubtedly, so it is best not to think too deeply and just enjoy the spectacle and the wonderful showcase it provides for some talented dancers. Tim Scholl's programme essay ends 'As melodrama or costume drama. La Bayadère's most memorable contribution to the art of dance remains the Kingdom of Shades. The unforgettable magic of this scene, conjured in the purest steps of academic dance to the simplest of tunes, propelled the ballet to worldwide attention in an age of modernism and minimalism, at a time when dance audiences were ready to apprehend new beauty in a simple series of steps that spoke of a dream of infinity.'
I first saw the Kingdom of Shades on its own in 1982 as part of a double bill with – of all things – The Two Pigeons and with Rudolf Nureyev as Solor. When I saw the full ballet for the first time it was this production when it was new in 1989 and Sylvie Guillem was luxury casting as Gamzatti. Too rarely can The Royal Ballet put on stage dancers whose names can rank 'up there' with those legendary figures of the past but this was one of those occasions with their three best dancers, Vadim Muntagirov, Marianela Nuñez and Natalia Osipova, in the leading roles.
It is a few years since I have seen Makarova's staging of La Bayadère and despite all the orientalism, the exaggerated use of miming, and some OTT acting – as often before – it won me over in the end with its colourful tale of the eternal love triangle. It is one of several similar nineteenth-century ballets which allowed for exotic locations and possible allusions to even more exotic behaviour from the characters we see. The story is a familiar one: Nikiya (Nuñez) is a temple dancer and the young warrior Solor (Muntagirov) – who is in service to a tyrannical Rajah (Thomas Whitehead) – swears his eternal love. Of course it can only go downhill from here for the two lovers as the High Brahmin (Gary Avis) is infatuated with Nikiya and Solor becomes betrothed to Gamzatti (Osipova), the Rajah's daughter. So far so Giselle! But unlike Giselle, instead of going mad at her betrayal and dropping dead, Nikiya won't accept Solor's impending marriage to another woman, and when Gamzatti, gloats to her about it there is a 'catfight' and she attacks her rival with a knife. Cue a memorable – and dramatically intense and convincing – confrontation between Nuñez and Osipova that will be even better in closeup when this cast can be seen in the live broadcast to cinemas worldwide on 13 November.
The Rajah orders Nikiya's death and it is left to a poisonous snake hidden in a basket of flowers to do the deed. The High Brahmin – who is ready to abandon his holy vows – offers Nikiya an antidote to the snake venom on condition that she will be his but Nikiya chooses death because of Solor's perceived betrayal. In Act II Solor smokes opium to assuage his guilt and dreams that he is together with Nikiya in the splendid Kingdom of Shades. And in the final act Solor is still haunted by a vision of Nikiya and the gods decide to punish the wrongdoers and cause a temple to collapse on everyone as the High Brahmin marries Solor and Gamzatti. Although the lighting could have been better we then get a stunning apotheosis, as we see crumbling masonry and a huge statue of Buddha disintegrating, before the spirits of Nikiya and Solor are seen reunited.
Pier Luigi Samaritani's decors have always been evocative of an Orient of fantasy rather than reality, as are Yolanda Sonnabend's opulent costumes, all harem pants and saris. It was the Kingdom of the Shades that was the expected jewel in the crown of this ballet and here gets a suitable moonlit vista. Only in a drug-induced dream could 24 ballerinas in white tutus enter down a ramp at the rear one at a time and meander in arabesque slowly towards the front of the stage. They had clearly been impeccably rehearsed and throughout this and the difficult balances to follow – before taking their places at the edges of the stage and framing the ensuing dancing of the principals – if there was a wobble I did not see it. The three soloists (Yuhui Choe, Yasmine Naghdi, Akane Takada) performed their individual variations appealingly.
La Bayadère has three demanding central roles and Vadim Muntagirov, Marianela Nuñez and Natalia Osipova are all remarkable dancers – and credible actors – at the height of their powers. Marianela Nuñez has an almost feline subtleness and initially, from the pliant bend of her back to the gorgeous arch of her feet, her body emanated aching sorrow and loneliness. She is a very musical ballerina and using floaty, rippling arms to excellent effect spins out Ludwig Minkus's lines a way that flatters the waltzing score. When she meets her beloved Solor she becomes transformed and now sparkles. Nuñez then showed how fiercely protective Nikiya is of her love for him and I feared bloodshed as she confronted Osipova's scheming Gamzatti.
Vadim Muntagirov did not disappoint as Solor though he does not have so much dramatic drive as Nuñez and Osipova. His acting was a little muted in comparison though this helped to make Solor's confliction – over his love for Nikiya and a fatal attraction to Gamzatti – much more believable. Everything Muntagirov did was an eloquent counterpoint to the music and not just pure athleticism. He was grand and effortlessly flawless in all his bravura moments; his are the softest landings imaginable and his partnering is impeccable. If there was anything he could learn from his great forerunner Nureyev it is that he shouldn't make it look quite so easy!
Osipova in her debut as a Gamzatti was – as to be expected – superb and showed all her bejewelled character's haughty regalness and single-minded purpose to ensnare her man at all costs. She performed with a serene open-faced lyricism and during her pas de deux with Solor she was dazzlingly alluring with airy weightless leaps and spins of great speed and precision. Osipova will swop roles with Nuñez during the current run of performances and make her debut as Nikiya.
Gary Avis enjoyed himself immensely as the lusty High Brahmin and Alexander Campbell twirled away in his vignette as the Bronze Idol. The other major highlight of this performance was the playing of Minkus's Viennese-inflected score by the Orchestra of the Royal Opera House under Boris Gruzin. It all unfolded rather slowly only because scrupulous attention was being given to the dancers on stage. However, this allowed attention to linger on all the fine solo contributions from members of a virtuosic ensemble that might be playing Wagner one night and Minkus the next!
Jim Pritchard
For more about what is on at the Royal Opera House and live in cinemas click here.