United Kingdom Wagner, Schumann, Suckling and Beethoven: Scottish Chamber Orchestra / Nicholas Alstaedt (soloist/conductor), City Halls, Glasgow, 9.11.2018. (GT)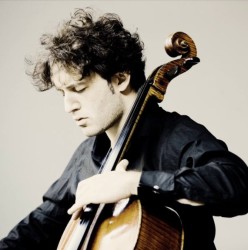 Wagner – Siegfried Idyll
Schumann – Cello Concerto in A minor, Op.129
Martin Suckling – Meditation (after Donne) (world premiere)
Beethoven – Symphony No.8 in F, Op.93
This rather unusual programme was explained by the German/French musician Nicholas Alstaedt as attempting to reflect upon the connection between Wagner's emigration from Germany against Schumann's inner emigration, a strange link but both embracing German romanticism, whilst Beethoven's Eighth presented the composer's resistance to order. The Wagner piece opened beautifully, with pulsating rhythm, and wonderful heavenly flute playing from Alison Mitchell, and the metier of the woodwind enforced by the clarinet of Maximilian Martin and Justin Sun on bassoon, this eulogy to the composer's love for Cosima, was graced by fluttering strings, and slowly evolving themes from Siegfried, the natural horn masterly played by Patrick Broderick, and the slow descent down into silence, capsulated in a beautiful scented idiom.
Having conducted without a baton, for the concerto, Alstaedt sitting with his back to the orchestra gestured his arm to open the initial bars before he started the cello chords, and throughout half sitting, half standing. He directed this piece remarkably well considering the technical difficulties of the arrangement, although to be honest, this orchestra often doesn't need a conductor in this repertoire. He adopted a brisk tempo, made more problematic for after his playing, he jumped up to conduct, before sitting down again for more masterly, tuneful – and dramatically captivating – romantic playing. It was a musical feat conducting a cello concerto and playing at the same time, and more so in such a difficult piece. However Alstaedt gave us a clear demonstration of his multi-faceted musicianship.
Martin Suckling has an association with this orchestra for several years and this piece – dedicated to the memory of the fallen in the Great War – forms part of the SCO Armistice Bells project in which people from all over Scotland recorded as many as 100 church bells from Orkney to Galloway to provide the electronic portion of this new piece, and which also formed part of workshops in primary and secondary schools in Scotland. As the composer explains, 'John Donne's famous "Meditation XVII" exhorts us to recognise our shared humanity, a plea which is utterly contemporary in a world where self-interest and insularity threaten to divide communities and smother alternative discourses. Donne's reflections are triggered by the tolling of a distant bell, the sound of which provides the basic material for this piece.' The work all started rather startlingly with the intonation of 82 bells, heard repetitively and when heard over shimmering microtonal strings, and as the bells died away, the strings played a rather sad lament – or dirge to be accurate – a threnody to those who died in wars far away. The wind section produced sharp piercing shrieks disturbing the funereal idiom, and the bell ringing returned to close this piece which is, in my opinion, one of the best from this young Glaswegian composer that I have heard. The question for any newly written composition is will it be heard again? Well thankfully, it will be heard again next month, and I suspect it will be heard frequently in years to come. Suckling is developing into a very fine composer.
Beethoven's Eighth opened on the burst of sound from happy and joyful chords, so often this work is underrated against the earlier symphonies – but what a great work it is! So often it is never regarded in the same light as the symphonies before and after it was written. What masterly playing by the two bassoonists, and the entire woodwind section, this orchestra really are superb in Beethoven, and here Alstaedt showed how good a conductor he is directing a briskly executed symphony. He brought out all the energy and strength of Beethoven's score; in the second movement; Allegretto scherzando, there was both humanity and grace mixed with anecdotal humour more in kinship with Haydn's late symphonies. In the minuet – by playing the wind against the cellos all as if a joke amongst the players – there was riotous playing which seemed quite spontaneous! In the finale; Allegro vivace, the fleet footed strings rushed to the finishing line, with chirpy woodwind, breezy, elegant and bursting with joy, produced quite magical playing. The anecdotal thread was never far away, and this was a brilliant close to an excellent concert.
Gregor Tassie
For more about the SCO click here.