United Kingdom Smetana, Grieg and Nielsen: Saleem Ashkar (piano), Bournemouth Symphony Orchestra / James Feddeck (conductor), Lighthouse, Poole. 31.10.2018. (IL)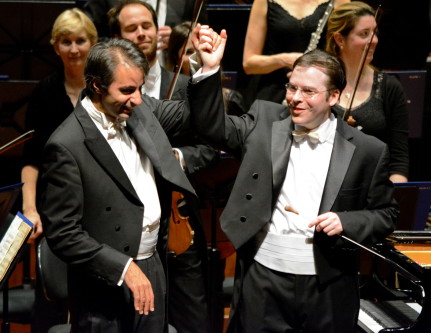 Smetana – Vyšehrad, Symphonic Poem from Ma Vlást
Grieg – Piano Concerto in A minor
Nielsen – Symphony No.4 'The Inextinguishable'
As we approach Armistice Day, Nielsen's Fourth Symphony 'The Inextinguishable', first performed on 1st February 1916, seems particularly relevant. The senseless slaughter, suffering and destruction clearly deeply affected Nielsen. His response was this darkly-hued yet affirmatory work that reminds us of the elemental Will of Life and tell us that 'Music is Life, and like it, is inextinguishable'. The symphony is cast in four movements, four sections played without a break. James Feddeck, with his usual animated physicality and sweeping long-baton approach, delivered a commanding and searching reading from the explosive power of the opening Allegro with its contrasting lyricism, through the charming pastoral second Poco allegretto section with woodwinds to the fore over pizzicato strings, to the intensity of the Adagio with its gorgeous violin solo, but violent volatility. Then, finally to the tremendous battle between the two sets of timpani set at opposite ends of the concert platform, which forms the climax of this extraordinary work. It was a truly electrifying experience. Yet in the end the chaos is overturned and peace and the positive life-force prevails.
Saleem Ashkar delivered a poised and pleasingly nuanced performance of the ever-popular Grieg Piano Concerto. I was particularly appreciative of Ashkar's delicacy and sensibility through the lovely Adagio central movement. The Bournemouth Symphony Orchestra, always professional, provided admirable and committed support under Feddeck's refined direction. Audience response was predictably enthusiastic, although the numerous empty seats for this concert were noticeable.
Now, I do appreciate the wonderful job the BSO programme planners do, and I appreciate that they have to balance the adventurous with the popular, the latter to get 'bums on seats', but I wonder if the popular concerto spot could be a little more adventurous, forsaking for once the Grieg, Tchaikovsky and so on. For instance, I wonder if consideration might be given to Saint-Saëns's delightful Piano Concerto No.2. Or, recognising the BSO's fine harpists' talent, why not Ravel's enchanting septet, Introduction and Allegro? It allows the spotlight to shine also on the principals of the string sections and the Orchestra's fine flute and clarinet talents.
Smetana's Vyšehrad, the first of his symphonic poems from Ma Vlást, is infrequently heard – concertgoers are much more familiar with his 'Vltava' ('The Moldau). Vyšehrad is the castle high above the river in Prague. Two harps announce music seeking to capture the splendor, tournaments and battles of old until the harps return to round it off. It has to be said that Smetana's inspiration had yet to reach the heights of 'Vltava' – to this reviewer's ear, there are passages that teeter towards banality. Still, under Feddeck's enthusiastic direction, it was interesting, to hear something other of Ma Vlást.
Ian Lace